With optimism, the 'power of a good game helps you perform better and go on to win'
Updated: 2017-03-24 07:11
By Evelyn Yu in Hong Kong(HK Edition)
| | | | | | | | | |
| --- | --- | --- | --- | --- | --- | --- | --- | --- |
|   | | Print | | Mail | | Large Medium  Small | 分享按钮 | 0 |
Raised by two Chinese musicians in Austria, Yat Siu had his finger on the pulse, as far as music goes, at a relatively youthful age.
He had his first stint on stage at 15 when he began delighting audiences in theaters, doing his thing on the piano, flute and cello. Far from the thought he was already the cat's whiskers, Siu reckoned he was still "behind the curve".
"My mom has a perfect pitch. It took me sometime to accept that I'm not like her," admits the 44-year-old serial entrepreneur.
He doesn't look like being in that genre - chief executive of Hong Kong's biggest game developer company. He looks being the typical geek with a wiry frame, donning a black sports blaze, wire-brimmed glasses and sports shoes. He could easily be mistaken for any of his programmers at his office in Cyberport - a sprawling retail-and-entertainment complex and home to a cluster of the SAR's technology and digital talents on the southern shores of Hong Kong Island.
Siu had a greater inclination to computers, his music and tech-savvy parents bought him a computer in the 1980s and the self-taught programmer was soon capable of coding musical composition software.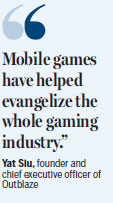 Compared to music, Siu says the satisfaction of programming comes from fast results. Back in those days, he had to practice for years, sometimes up to eight hours daily, and still thought he wasn't talented enough and probably too "old" among this peers in Vienna, where competition among classic music prodigies was intense.
In programming something however, he could see the output instantly. And, most importantly, he was fascinated by the empowering ability of computer science.
"The purpose of computers is to make tools to make it possible for everyone to do something. In those days, you couldn't compose music unless you had a degree in music. But, nowadays, with a GarageBand (a popular music creation app) and a sense of melody, you can compose music. It took us decades to get there, but that's the power of the computer."
When Siu set foot in Hong Kong in the 1990s, e-mails didn't even exist. With foresight, dedication and hard work, he went on to launch the city's first business internet service provider Hong Kong Online.
Being a young entrepreneur in Hong Kong isn't a walk in the park, he reminisces. He harks back on the "hostile" environment back in the 90s, not only because he had "really long hair" at the time, he says in jest, pointing to its length running down to his waist. The thing was that most of the companies he tried to sell his products to had no interest whatsoever in the internet - they barely knew what it was and it took him a long time to help bring the market to the fore.
What he learned from his musical background is constant practice and mastery, which matters in everything, And, what he discovered later in his gaming business is optimism, all of which, Siu says, have benefited him a lot in his career today.
"A good game has one incredible overarching quality which is optimism. No matter how many times you've tried and failed, in the end, you can somehow win. You can tell a badly-designed game may force you to pay to win, but the power of a good game design and game play can motivate you to do better."
evelyn@chinadailyhk.com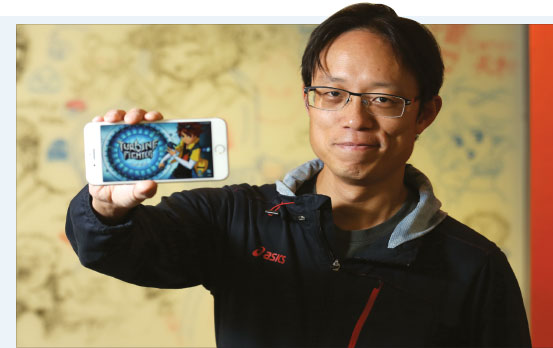 Imbued with devotion and enthusiasm in the smartphone game business, Outblaze's Chief Executive Officer Yat Siu says he'll strive to educate children through games. Parker Zheng / China Daily
(HK Edition 03/24/2017 page9)