The big picture
Updated: 2017-03-24 07:08
By Chitralekha Basu(HK Edition)
| | | | | | | | | |
| --- | --- | --- | --- | --- | --- | --- | --- | --- |
|   | | Print | | Mail | | Large Medium  Small | 分享按钮 | 0 |
Art Basel HK breaks fresh ground by introducing curated shows into a space primarily meant for deals and sales. Chitralekha Basu reports.
Visitors to Art Basel Hong Kong (ABHK) this year might have noticed a frail, elderly man with a canopy of wispy white hair around his head, sitting surrounded by a cluster of admirers in the Gallerie Gmurzynska booth as the shutterbugs fall over each other to click his picture. He is the Bulgarian artist Christo Javacheff. The hallmark of his art is wrapping up famous monuments and landmarks. While it seems nothing is too dauntingly huge for this man to cover and bind up, as if these were consignments being readied for shipping - he once wrapped two and a half kilometers of coastline and cliffs in Little Bay, Sydney - the mighty Christo too seems to have started small.
Three early works by Christo from the 1960s are on show at ABHK. A mysterious object covered and tied up in a striking red polyethylene sheet and horizontally-laid on a raised platform, like a corpse, makes the centerpiece. Mathias Rastorfer, co-owner of Gallerie Gmurzynska, says these relatively smaller pieces "radiate the energy" that also informs Christo's signature works, which are usually gigantic, "bigger than life, installations that are only up for 10 days and then they are gone forever". The show, says Rastorfer, is a "lifetime opportunity to see the earliest mature examples of Christo's historic masterpieces" which have been shown together only once before.
Christo is among the 19 artists chosen from across the world to be presented in the context of their entire oeuvre and artistic philosophy at ABHK. Some of them, like the Chinese-French master of modernist painting, Sanyu, are deceased. As to the artists currently active, the exhibits, mostly, were created some years, often decades, ago. Scattered across two levels at Hong Kong Convention and Exhibition Centre, these artworks - informed by the history of the times they were created in and sometimes having made history in the world of art themselves - together make the Kabinett section. This is the first time Art Basel has introduced Kabinett to its Hong Kong edition.
Rastorfer, who was on the Art Basel Miami Beach selection committee where the idea of Kabinett was first mooted, says, showcasing pieces from an artist's past, might, in fact, be particularly useful at art fairs, given these spaces could "sometimes feel like too much all at once". The Kabinett concept, he says, "allows a more in-depth possibility to learn about one artist or one curated exhibition. You could say they are like watering holes where the curious novices, as well as the experienced connoisseurs, can gather."
The idea of incorporating curated shows within a fair where people primarily come to shop and have a good time rather than delve into the nitty-gritty of an artist's journey might sound slightly unusual. ABHK director Adeline Ooi, however, insists "there is far more" to the fair she manages than "sales and deals". "We are always looking for ways to give the Hong Kong show greater historical depth, and provide an even stronger education layer, allowing our audiences to see, discover and learn about the artists, time periods, and movements. Kabinett provides the platform for galleries to create a more focused presentation and showcase particular aspects of their program that audiences may not be familiar with."
Indeed, ABHK's Kabinett debut features relatively unknown facets of widely familiar names. Take the cluster of black-and-white photographs of derelict snow-covered landscapes shot by the Iranian filmmaker Abbas Kiarostami on show at Rossi & Rossi, for instance. Gallery owner Fabio Rossi, who brought these images to ABHK, says "Kiarostami was a photographer even before he started making films. He used these images to express what he thought he was unable to do through his films."
On the slightly quirkier side, there is Keiichi Tanaami's 1975 short film, Crayon Angel, playing on a loop. The mod-psychedelic images in the film resonate with the commercial illustration and animation video created by the artist, which are very generic to the post-war art from Japan.
Kabinett also features Kwon Young-woo, a pioneer of South Korea's Dansaekhwa art movement of the 1970s, which was about artists manipulating the tools they used in a big way. Ripped canvas and paint seeping and spilling beyond the frame are among some of the generic features of this school of art.
"Kwon passed away in 2013 and was not able to see Dansaekhwa acknowledged internationally the way his colleagues, like Park Seo-Bo and Ha Chong-Hyun, have," says Lee Hyun-sook, chairwoman, Kukje Gallery, who is representing the artist. "Through Kwon's archive of catalogues, leaflets, and articles, as well as handwritten letters and photographs, audiences will have the chance to better understand the artist's background. These materials give insight into Kwon's values, thoughts, and reasoning that led him to make his innovative artistic decisions."
Qiu Xiaofei combines painted canvas with recycled paper, fabric, knitted material and designed lighting to brilliant effect, presenting the trashy and the covetable in a single frame. "The works are meant to blur the boundaries of material, painting and space," he says.
His three artworks, put up by Hong Kong's Pace Gallery, are not exactly from antiquity though. Qiu created them only last year. Then his career graph has been spiral rather than linear, says the artist. Like the recycled raw material he uses to paint, Qiu keeps re-visiting his earlier creations and "the already used elements in them will possibly be used again in new work".
In other words, each of Qiu's installation-paintings contains the history of the artist's evolution. Each is a Kabinett unto itself.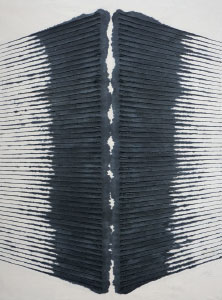 Kwon Young-woo is a pioneer of South Korea's Dansaekhwa art movement, which was often about manipulating an artist's tools.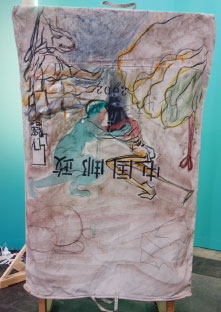 Qiu Xiaofei combines painted canvas with recycled paper, fabric, knitted material and designed lighting.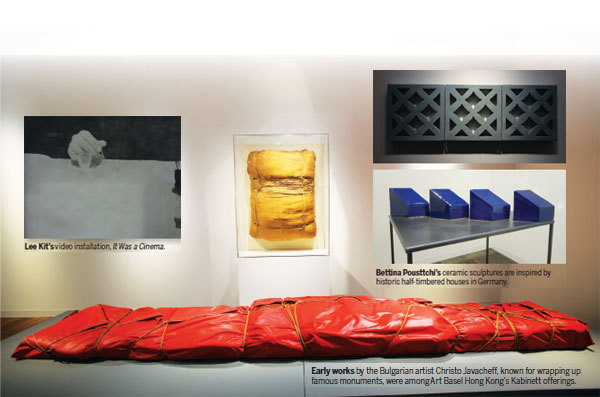 Early works by the Bulgarian artist Christo Javacheff, known for wrapping up famous monuments, were among Art Basel Hong Kong's Kabinett offerings.
(HK Edition 03/24/2017 page1)