We need a doer, not a talker, as our next leader
Updated: 2017-03-23 07:35
By Eugene Chan(HK Edition)
| | | | | | | | | |
| --- | --- | --- | --- | --- | --- | --- | --- | --- |
|   | | Print | | Mail | | Large Medium  Small | 分享按钮 | 0 |
Eugene Chan writes that Carrie Lam shows a firm grasp of policy issues and, moreover, she is ready to get things done
In a matter of days, the 1,194 Election Committee members will cast their vote to elect the fifth-term Chief Executive of the Hong Kong Special Administrative Region. Let's pray they are guided more by pragmatic considerations than some questionable popularity ratings.
With near-blanket media coverage in the last few weeks of the CE election campaigns, I am sure most Hong Kong citizens are now familiar with the respective views of the CE candidates - retired judge Woo Kwok-hing, former financial secretary John Tsang Chun-wah and former chief secretary for administration Carrie Lam Cheng Yuet-ngor.
Lam, the widely accepted hot favorite, is characterized by her can-do spirit and will-do attitude and eagerness to tackle some of our most intractable problems, in particular housing for all and better career options for the younger generation. She frankly admitted to being a policy wonk which gives the reassuring impression that she can deliver. She presents far more detailed policy initiatives than her two rivals, who often fall back on talking in general terms when it comes to explaining their respective manifestos. Her track record in more than three decades of public service is second to none, covering just about all major policy areas including education, development and social welfare - precisely the current major bones of contention among various sectors of the community. In dealing with all hot-button issues of the day under her watch, her steadfast determination to do the right thing, and not take the popular and easy way out, has earned her the moniker of "tough fighter".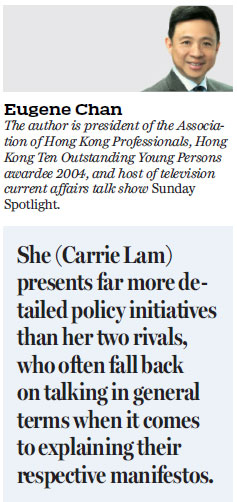 Time and again she has demonstrated not only her understanding of issues, but fearlessness to prescribe bitter medicine with a timeline. She most recently impressed many in the middle class with her bold housing initiative to create a new homeownership scheme for first-time homebuyers. Another breakthrough suggestion was to allow subsidized housing to be rented out without the need to pay land premiums. To boost education opportunities, Lam promised to inject an additional HK$5 billion to meet expanded program needs. The go-getter planned to reach out to different political parties and stakeholders to lobby for their support at the first opportunity so the funding can be made available for the upcoming academic year in September.
Tsang on the other hand distinguished himself by repeatedly claiming he is the only candidate capable of unifying our fractious society. In the most recent CE forum, he snidely remarked to Lam that "a good leader should not just work hard, but more importantly, work smart. And if you can only work hard, but not smart, you are at best suited to be a subordinate, and not a leader."
Unsurprisingly, the media-savvy Tsang has launched a number of video clip interviews and produced a slick promotion campaign that has caught the eyes of many as he has used the social media outlets such as Facebook to their fullest. No wonder he leads in some opinion polls. But crunch time will come when the electioneering glitz fades and he is confronted with the harsh reality of actually troubleshooting the countless urgent issues that start to land on his desk. That's when politicians discover their ephemeral popularity could be a double-edged sword - when their supporters expect them to deliver - or else! Let's hope our electorate is wise enough to choose a no-nonsense candidate over a suave candidate. The job of choosing a CE is too serious to prioritize form over substance.
As for Woo, he has understandably demonstrated his superior legal knowledge and experience as Electoral Affairs Commission chairman at every turn. In the process, he has sadly been acting more like a political commentator than a candidate himself. He revels in milking political juice from various controversies that have dogged the West Kowloon Palace Museum, the Wang Chau project and the over-budget Express Rail Link, blaming the other two candidates for negligence as they were principal officials. Undoubtedly the biggest attention-getter in his manifesto was his commitment to restart constitutional reform without the National People's Congress Standing Committee's (Aug 31, 2014) framework. This gamble, as expected, has garnered considerable media and public attention.
So what must we look for in our next leader? We have serious issues to deal with, foremost is placating a generation of young people driven to "Occupy Central" and the Mong Kok riot. We need a leader unafraid to implement temporarily painful but effective solutions in dealing with social unrest, economic under-development, an education system that needs overhaul, and a host of other issues that could determine the trajectory of Hong Kong for another generation.
At the final CE forum, Lam declared "I am ready". It struck me as a confident reassurance, not arrogant boast. Her sincerity came through, all the more by her lack of public relations polish. I share the sentiment of a local commentator who said this of Lam: "If a woman is to become our next leader, I don't want her to be nice or nurturing. I want her to be tough and get things done."
(HK Edition 03/23/2017 page8)