Waste charging scheme all stick, no carrot
Updated: 2017-03-23 07:35
By Amanda Yik(HK Edition)
| | | | | | | | | |
| --- | --- | --- | --- | --- | --- | --- | --- | --- |
|   | | Print | | Mail | | Large Medium  Small | 分享按钮 | 0 |
After years of consultation and discussion, the Hong Kong Special Administrative Region Government unveiled its municipal solid waste disposal charging scheme on Monday. Few people question the need for polluter-pays waste charging based on quantity to encourage waste reduction. However, instead of resolving a perennial problem, the scheme could complicate the issue.
Of the many questions raised, this one stands out: How exactly is charging HK$31 to HK$55 a month going to reduce household waste when there are few or no alternative ways of handling waste?
Realistically, there are only two ways waste can really be reduced. One is recycling waste, the other is changing consumption habits.
Taipei has been touted as a waste-reduction success story, with its stellar record of shrinking municipal waste from 1.1 kg per capita per day in 2000, when it introduced the "Per-Bag Trash Collection Fee Program", to 0.39 kg in 2010, an impressive drop of 65 percent.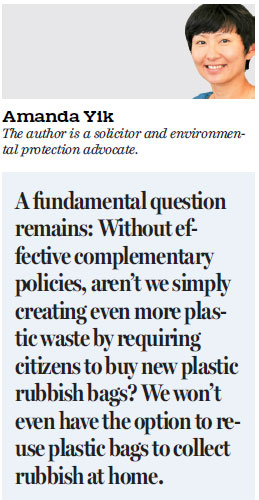 In comparing ourselves with Taipei, we must bear in mind that Taiwan has one of the most efficient recycling systems in the world, with a 55-percent-plus recycling rate. Household waste is classified into raw food waste, cooked food waste, general refuse and other categories such as plastic and paper to enable composting, further processing and other forms of recycling. For instance, an institutionalized system turns two-thirds of Taiwan's overall food waste into feed for 5.5 million pigs.
Their iconic, Beethoven-blaring garbage trucks are often seen accompanied by a smaller recycling truck, manned by workers or volunteers that help sort recyclable waste into different categories. Workers will not collect from you if your waste has not been properly sorted.
If you have seen one of those trucks in operation, you will notice how citizens have to personally throw garbage into the back of the truck, under the "Keep Trash off the Ground" policy. This policy, together with a resource recovery scheme, was implemented years before per-bag waste charging was implemented in Taipei. This gives people time to develop a habit of classifying waste and separating out the recyclables. Interestingly, all recycling services are free.
At present, recycling in Hong Kong relies very much on the goodwill of its citizens. While Hong Kong people can pay for their sorted waste to be collected by private enterprises, many still usable resources continue to end up in landfills.
Meanwhile, many people have lost trust in the city's current efforts to promote recycling. Too many of us have witnessed waste collection workers at one of those blue-brown-yellow recyclables collection bins lumping every type of waste into the same bag at the end of the day, negating the civic-spirited citizens' careful separation of their trash earlier.
Once waste charging is implemented, there will be a surge in recyclables that people don't want to throw away as waste and be charged for, but where will these recyclables go?
During the consultation period, green groups urged the government to implement meaningful complementary measures such as banning useful resources from disposal at the landfills, compulsory waste separation at source, putting in place and supporting recycling facilities, and building a local recycling industry by providing land and infrastructure. Despite measures taken by the government, we have yet to see any of these take root.
What about changing consumption habits? Do consumers have real choices or are they at the mercy of unsustainable market practices? Unnecessary packaging is rampant in supermarkets, and restaurants seldom provide smaller portions at cheaper prices. Waste charging may encourage consumers to change habits and seek out businesses that provide less wasteful options, but the question is - do we have real, affordable and accessible choices?
And then there are numerous questions around enforcement. Will more non-biodegradable plastic rubbish bags flood the market? Will the older population understand the complicated gradations of official rubbish bags? Will fly-tipping create a sea of garbage around public rubbish bins? How will violators be caught without 24/7 surveillance? Is it sufficient to appeal to people's civic-mindedness? Do we really want to see officers from the Environmental Protection Department patrolling our staircases? One can't help but wonder whether the district councils have been duly consulted before this announcement, and if so, what their views were.
After all, a fundamental question remains: Without effective complementary policies, aren't we simply creating even more plastic waste by requiring citizens to buy new plastic rubbish bags? We won't even have the option to reuse plastic bags to collect rubbish at home.
Hong Kong deserves an integrated and holistic waste treatment scheme that includes efficient waste separation, recycling and waste collection. It must be a system that empowers citizens to participate in and assume responsibility for waste reduction by providing both incentives and viable options.
Having first proposed waste charging back in 1995, it took the government 22 years to come up with the current waste-charging scheme. We now have two years before the charges will be levied in 2019. What we will need is nothing short of a miracle - a paradigm shift not just in the throw-away culture of our society, but an infrastructure that helps everyday citizens reduce domestic waste.
(HK Edition 03/23/2017 page8)