Talent a key factor in boosting HK innovation
Updated: 2017-03-21 06:53
(HK Edition)
| | | | | | | | | |
| --- | --- | --- | --- | --- | --- | --- | --- | --- |
|   | | Print | | Mail | | Large Medium  Small | 分享按钮 | 0 |
Take a moment and ask yourself what you have spent money on most in the past months apart from accommodation, food and other daily necessities. If you're an average person like me, you would find you bought lots of applications and software that you didn't even know you needed.
To improve the sound of my computer, I went straight to the online store to download a music player program that can replay files recorded in "lossless" formats instead of going to the specialty shop in Wan Chai Computer Centre to buy a new amplifier. Since then, I've been a regular customer at several major online music stores.
The change in consumers' habits, especially in developed economies, has much wider implications than personal behavior. It is making a big impact on, among other things, global trade and investment, which in turn can reshape the future of the economy of Hong Kong, a regional trade hub.
Hong Kong's export trade, which comprises mainly re-exports to and from the Chinese mainland, has been on the decline in line with the fall in global trade. Much of the decline was blamed on contraction of consumer demand in the United States and Europe following the 2008 credit crisis, which plunged the world into a prolonged recession.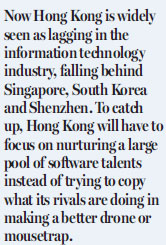 But the recovery in US consumer spending since last year didn't seem to have lifted global trade from the slump. To be sure, economists expect a pickup in international shipments by an estimated 12 percent this year from last year. But the projected longer-term growth rate is still far short of the yearly average in pre-recession days.
Unsurprisingly, shipping companies have taken a serious beating. The collapse of South Korea's Hanjin Shipping last August was a case in point.
Hanjin, and many other shipping companies, made the wrong bet in 2010 by rushing to place new ship-building orders to take advantage of cheap and widely available loans from international banks. They are now paying the price for underestimating the magnitude and durability of the global recession.
Many shipping firms are trying to address the problem of an oversupply of tonnage by enhancing efficiency with bigger ships while scrapping smaller vessels. Before there are clear signs of sustained recovery in world trade, shipping companies' shares are best left untouched by ordinary investors.
The impact of consumer buying habits is also being felt in manufacturing. Take smartphones for instance. This product has become so common that future growth is expected to be driven more and more by replacement sales.
Phone makers produce new models with shorter and shorter frequencies. But trying to convince consumers to upgrade to a new model is becoming harder because innovation is limited by slower advances in the already mature technologies behind the smartphone.
Samsung pushed the envelope a little too hard with Note 7 resulting in a global recall of the defective product and a lot of egg on corporate faces. Even the indomitable Apple faces the challenge of re-inventing the iPhone, despite robust sales.
Some of the once-dominant hardware manufacturers in the US and elsewhere have refocused on the more lucrative business of software development. In doing so, they have set an example for Hong Kong in its desire to catch up with its regional rivals in innovation and creativity.
Some years ago, I interviewed a Hong Kong entrepreneur operating out of a cramped office with a dozen staff writing financial programs. His clients included some of the major international banks. He said Hong Kong was the undisputed regional center for financial software development despite the lack of government subsidies.
Now Hong Kong is widely seen as lagging in the information technology industry, falling behind Singapore, South Korea and Shenzhen. To catch up, Hong Kong will have to focus on nurturing a large pool of software talents instead of trying to copy what its rivals are doing in making a better drone or mousetrap.
Hong Kong has obviously done that before and there is no reason why it can't do it now, with a bit of encouragement and direct help from the government. This will be taxpayers' money well spent.
The author is a veteran current affairs commentator.
(HK Edition 03/21/2017 page7)