Strong team crucial to success of the next administration
Updated: 2017-03-17 08:05
(HK Edition)
| | | | | | | | | |
| --- | --- | --- | --- | --- | --- | --- | --- | --- |
|   | | Print | | Mail | | Large Medium  Small | 分享按钮 | 0 |
The election of Hong Kong's next Chief Executive is currently the only thing people are talking about. Every day all newspapers and electronic media give overwhelming coverage to election-related topics. This is hardly surprising. Given that Hong Kong is facing so many deep-seated problems, people naturally have great expectations about the next administration. We have a severe shortage of usable land which in turn has translated into very high property prices. Hong Kong now has fewer opportunities for young people to move upward socially. We have an aging society which badly needs to provide more welfare. We have to deal with greater income inequality. These are just some of the problems Hong Kong now faces. The enthusiasm which people have demonstrated during the election of the next CE manifests their desire to see some major breakthroughs in government policies.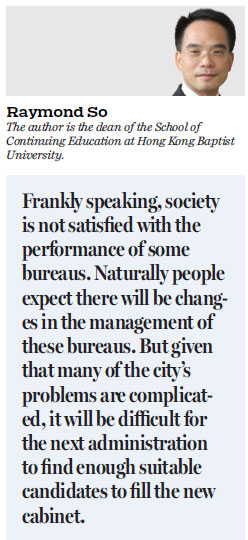 Because of this, the next administration will have a tough job ahead. People now hold high expectations for the next administration; they want a quick fix to those problems. Sadly, it is unrealistic to expect this. This means there will not be any honeymoon period for the next administration, no matter who gets elected. All CE hopefuls must accept this reality.
The uncertainties facing the next administration will also make it difficult to recruit enough competent appointees for its cabinet. Frankly speaking, society is not satisfied with the performance of some bureaus. Naturally people expect there will be changes in the management of these bureaus. But given that many of the city's problems are complicated, it will be difficult for the next administration to find enough suitable candidates to fill the new cabinet. Although Hong Kong has a lot of talented people, the "political kitchen" is so "hot" that not many of them will be willing to give up their own promising careers to join the government. In short, the new CE is likely to have a very difficult task finding the needed talents. This could create a vicious cycle. Without the best talent on board, the formulation and execution of policies will be affected. If that is the case, society's discontent will not be relieved. When that happens, the new government could face greater difficulties.
Theoretically, recruiting the necessary number of cabinet members is possible. Many smart people in the private sector should be excited about joining the government as secretaries for bureaus. But running a government bureau requires a set of totally different skills. Given the unfavorable political climate, it is unclear whether or not we can find sufficient qualified people to come on board. Without able leadership in a particular policy bureau it will not be able to achieve its desired objectives. In the past, we have observed that many secretaries were from sectors where they were well respected for their professional excellence. But once they joined the administration, they couldn't put their expertise to full use in the execution of policies. In simple terms, appointing unsuitable candidates to policy bureaus will do more harm than good to Hong Kong and to the secretaries themselves.
From an outsider's point of view, the election of the new CE is only the first challenge to the next administration. The next challenge is formation of the new cabinet. Without enough suitable talent on board, the next administration could find it hard to achieve its policy goals, no matter who wins the election.
(HK Edition 03/17/2017 page1)