Tea total
Updated: 2017-03-17 08:02
By Maggie Beale(HK Edition)
| | | | | | | | | |
| --- | --- | --- | --- | --- | --- | --- | --- | --- |
|   | | Print | | Mail | | Large Medium  Small | 分享按钮 | 0 |
You could be starting your day with a cup of tea - as most of us do - and carry on drinking your favorite blends through the rest of it. Surely there's a variety of tea to suit all tastes and appropriate to the hour and place. And there's no need to feel left out at the cocktail hour either if you're a sworn tea drinker.
Whether you're teetotal, pregnant, de-toxing or just not in the mood, it's fashionable nowadays to ask for the non-alcoholic drinks menu in bars and restaurants around town. You may not want a normal soda, but something that looks like a cool, fun and even slightly quirky beverage.
Savvy drinkers will be happy to know that there are actually some great non-alcoholic mocktail options available in some of our most up-market bars. And some of the most delicious ones are made with a base of tea - yes, TEA!
This city's unique blend of Eastern and Western influences has resulted in an exotic range of food styles with something to suit every taste, and of course tea is available everywhere.
The variety includes whole leaf black teas, golden flowery orange pekoes and the strong flavors of old leaf souchong. The basic types include black tea that undergoes full fermentation, semi-fermented tea such as oolong and the unfermented green teas so popular everywhere.
Tea experts at Twinings Tea tell me that in the days gone by, tea leaves were weighed and packed in paper and put inside a plastic bag. But such packaging caused the quality of the tea leaves to deteriorate quickly, and lose their aroma. Now tea leaves are vacuum-packed in high-density packs that come in attractive designs.
My constant companion throughout a work day is a Lady Grey - a light black tea containing the aromas of citrus fruit flavors, bergamot, orange and lemon. Come cocktail hour and all I need to do is add a couple of ice cubes and an appropriate decoration of leaves or fruit to give my tea a makeover.
You can drink your tea steaming hot or ice-cold and also cook with it. Try poaching pieces of chicken with brewed green or oolong tea instead of just water. To avoid a bitter taste in your food, just add two teaspoonfuls of dry tea to a jug of room temperature water for 20 minutes and then strain the liquid into the casserole or pot with the chicken and proceed as usual.
Tea is served all across Hong Kong. People go to the traditional cha chaan tengs for their signature milk tea made by blending strong black tea and condensed milk. For deluxe tea served in the finest chinaware with strawberry sweet cake you need to check out the cafeterias in high-end hotels!
And, speaking of cakes, during the afternoon tea hour the Palm Court lobby lounge in the Langham, Hong Kong serves a pistachio and white chocolate macaroon filled with a dash of jasmine tea flavored cream as well as a daisy-shaped delicacy placed on a buttery base of sabl breton with raspberry mousse and chantilly cream. The savories include tomato patch made with smoked salmon and cream cheese, chicken with dijon mustard, and green pea hummus with sesame paste.
The afternoon tea selection at the JW Marriott hotel in Pacific Place includes delicious desserts such as the long-time favorite Portuguese egg tarts, as well as cupcakes and a Hong Kong Opera cake. And the selection in JW Cafe includes yuan yang (the generic Hong Kong milk tea and coffee), chestnuts and egg tarts. Available on Level 5 between 3:15 and 5pm on Saturdays and Sundays.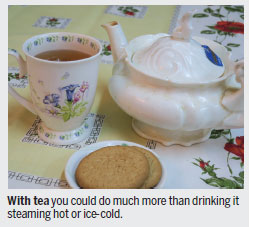 (HK Edition 03/17/2017 page1)