The price of borrowing
Updated: 2017-03-17 07:29
By Shadow Li(HK Edition)
| | | | | | | | | |
| --- | --- | --- | --- | --- | --- | --- | --- | --- |
|   | | Print | | Mail | | Large Medium  Small | 分享按钮 | 0 |
As Hong Kong residents'debts to private money lenders have grown alarmingly over the past decade, Shadow Li speaks to scholars and experts about finding possible ways out of the crisis.
Hong Kong has witnessed a decade of debt - with families in the city owing more than double what they did in personal loans a decade ago.
Personal loans, which constituted only 12.8 percent of the total household debt in 2005, grew to 22.4 percent in 2015, according to a Legislative Council report published in November 2016.
The report also showed that Hong Kong families on average carry a debt burden of HK$646,100 - 85 percent more than the HK$349,100 they owed in 2005.
The figures suggest that personal loans in Hong Kong are being accumulated at a much faster rate than that of family debts, which include mortgage loans, credit card advances and personal loans.
Scholars and social workers helping to steer people out of debt crisis have cautioned that such an outstanding debt burden on families might cost them dear if allowed to accelerate at the current rate.
"Spending money needs to be taught and learned," said Yip Siu-fai, professor at the Department of Social Work and Social Administration, University of Hong Kong. "Back in the old days, the situation was quite different. We didn't get to use credit cards once we entered university like today's youth do."
According to statistics from the Hong Kong Monetary Authority (HKMA), the ratio of the city's average household debt to GDP increased from 54 percent to 67 percent between 2005 and 2015, which suggests the growth of household debt has outpaced that of household income.
But there is lending which is not logged in the official records of the HKMA, which regulates authorized institutions such as banks.
Social cost
At the end of 2016, there were 1,848 money lenders or private financial services providers in Hong Kong, as recorded by the official licensor, the Companies Registry. People who have been turned down by banks owing to bad credit history and unstable income sources often borrow from these agencies.
"Hong Kong has full employment and yet around 1 million people live in poverty. The salaries drawn by the low-income group are unable to provide them a life with dignity," said Yip, explaining why people with meager means are often forced to borrow money.
Frontline social worker Pinky Yung Lai-ping, who heads the debt and financial capability project at Caritas Hong Kong - an NGO helping debt-ridden people find a way out of crisis - said in 2015 her team received requests to look into 6,909 cases, a 70-percent rise compared to the 4,037 cases recorded in 2005.
She warned that the soaring debt could lead to many intangible social costs, such as rifts within families and, in the worst-case scenario, family disintegration.
The men in the middle
Currently, money lenders are regulated under the Money Lenders Ordinance. Anyone ready to pay an application fee of HK$10,000 to the Companies Registry to obtain a license can join the market.
Calling the ordinance a toothless tiger, Yung said the government should set up a finance and debt consultation center to act as a watchdog - just as the Consumer Council protects consumers' rights against unscrupulous sales.
In the absence of stringent regulations, the market has seen a surge of middlemen with dubious credentials. They often trick borrowers into taking up loans and demand a hefty cut from such transactions, calling it an administration fee.
"In an extreme case a borrower taking a loan of HK$1 million can get only a fifth of that sum," said Gilly Wong Fung-han, chief executive of the Consumer Council.
In 2015, the consumer rights watchdog received a total of 165 complaints involving personal loans, of which 51 were about financial intermediaries. Among them, 75 percent had to do with dubious sales practices.
Advertisements by money lenders are required by the Financial Services and the Treasury Bureau to explicitly put on a warning: "You have to repay your loans. Don't pay any intermediaries."
To try to contain the increasing incidence of scams involving intermediaries, the government has introduced additional licensing requirements for money lenders since Dec 1, 2016. These include asking money lenders to name their approved middlemen in their license. All intermediaries should be appointed by money lenders and registered with the Companies Registry before they go into business.
But those measures do not involve amending the law or coming up with a new licensing scheme for intermediaries.
Stopping the rot
Secretary for Financial Services and the Treasury Ceajer Chan Ka-keung said while speaking at the LegCo recently that the legislation on intermediaries will take a while to come through, but even if a new law is in place, illegal operators can find ways to bypass the law.
Chan said the funds money lenders borrow from the banks are less than 1 percent of the overall amount loaned out by banks - not big enough to rock the stability of the financial system - and hence there is no need to bring money lenders under the HKMA's supervision.
But without an official record of private lending, there is no full picture of the situation, Yip contended.
Wong, on the other hand, said that without amending the law, it will have limited effect on tackling the problem of intermediaries.
Another issue that needs to be dealt with right away is building a healthy spending concept in the community. Social worker Yung said a lot of advertisements being played during peak TV hours are from money lenders.
Yung believed these are exaggerated and should be subject to tighter regulation, similar to the government requiring advertisements of baby milk powder to be free of unproved claims.
Even then, "It is like water off a duck's back," argued Gilly Wong, citing the similar example of warnings on cigarette packages.
Public education may seem clich, but it is necessary, said Wong, as it can build the right spending concept and counterbalance tempting advertisements luring consumers to borrow.
An unhealthy borrowing habit is detrimental to society, leading to many social problems, such as family disharmony and unproductivity among youth, Wong said. She added that measures to regulate intermediaries are the right direction to go in, but a thorough review is still needed.
Contact the writer at
stushadow@chinadailyhk.com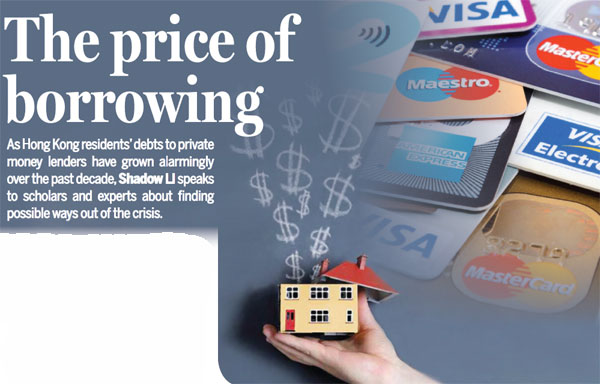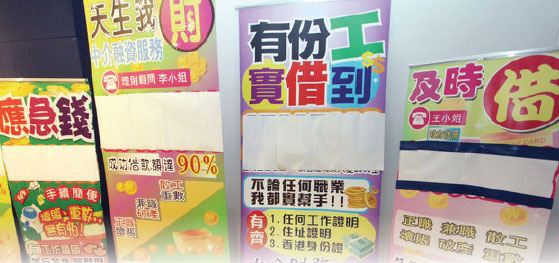 Personal loans advertisements. Provided to China Daily
(HK Edition 03/17/2017 page7)