Carrie Lam shows leadership, compassion
Updated: 2017-03-16 09:33
By Thomas Yeung(HK Edition)
| | | | | | | | | |
| --- | --- | --- | --- | --- | --- | --- | --- | --- |
|   | | Print | | Mail | | Large Medium  Small | 分享按钮 | 0 |
Thomas Yeung writes that during the debate, the former chief secretary showed that she is not only eloquent, experienced and humble, but also offers a comprehensive and pragmatic manifesto
The first televised debate in the 2017 Chief Executive election was held at a time when many voters were probably still trying to decide who to vote for. With the March 26 CE election approaching, it is vital to have a critical insight into the overall performance of the three candidates. This is so we can make an informed judgment on who possesses the strongest leadership skills essential for a good Chief Executive. I will try to focus on Carrie Lam's performance during Wednesday's televised debate, her campaign manifesto and some of her past record.
Lam's performance in the debate must have won the applause of the majority of Election Committee members. They had to put up with the disappointing performance of two incompetent and unprepared rivals. But Lam's speech reflects a full understanding of the government practices and policies and a strong determination to achieve "results". She successfully utilized the debate to increase voters' knowledge on critical issues, and to reinforce "pro-establishment" positions. For instance, during the two-hour debate, Lam's strong vision of a stable educational environment for young people and the considerable understanding of the needs of teachers, students and parents were impressive. We can be optimistic about the future after hearing what is in her manifesto. She confirmed she will inject much more annual recurrent expenditure into education. Her vision matches the strategic direction of the SAR government. I believe the debate has made it easier for the majority of the Election Committee members to make a decision on polling day.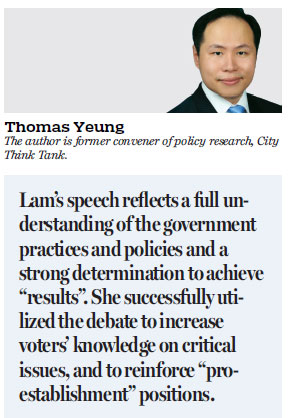 Lam's manifesto emphasizes engaging young people and also attracting skilled people. This reflects a shift in the government's commitment to a more stable, inspiring and "talent-oriented" environment. Lam has demonstrated great persistence in advocating this. For instance, she proposed establishing a high-level youth development committee to harness skilled young people. She also wants to provide full-time Central Policy Unit positions to 20 to 30 young people in her new administration.
Lam's manifesto reflects some of the ideas advocated by the government of the current CE Leung Chun-ying, who has shown pragmatism and common sense in dealing with housing problems and different ideas from people advocating "big market, small government". Realizing many Hong Kong citizens who are low- to middle-income earners either have to rent or buy very small apartments at high prices, Lam advocates producing more housing units for first-time homebuyers. As we know, housing problems are of great public concern. The situation has got so bad that the Leung administration described it as a crisis. Finding a long-term solution, however, is easier said than done because the land-shortage problem dates back to previous administrations. Lam promises to proactively improve the land supply without ignoring short-term needs. This shows that she can also adopt a pragmatic approach.
Lam's more than three decades of service in the government has given her considerable experience in leadership and administration. It also provided her with plenty of opportunities to show her concern for the disadvantaged. This was noted by Judith Mackay, the World Health Organization senior policy adviser, in a recent article published in China Daily (March 9, 2017). She said Lam showed considerable compassion and support for the families of SARS victims in 2003. She launched the We Care Education Fund to take care of children who had lost one or both parents to SARS. Since 2003, over 40 children affected by the disease have graduated from university. The advisory committee still meets regularly to discuss issues relating to the families involved.
Based on my own observations at some social activities when she was still chief secretary, Lam is a lively, charming but also a humble person. Her tough public image is probably based on a biased view developed by the media and rivals in what is still a male-dominated political world.
(HK Edition 03/16/2017 page9)