Insurers reeling from capital curbs
Updated: 2017-03-15 07:55
By Luo Weiteng(HK Edition)
| | | | | | | | | |
| --- | --- | --- | --- | --- | --- | --- | --- | --- |
|   | | Print | | Mail | | Large Medium  Small | 分享按钮 | 0 |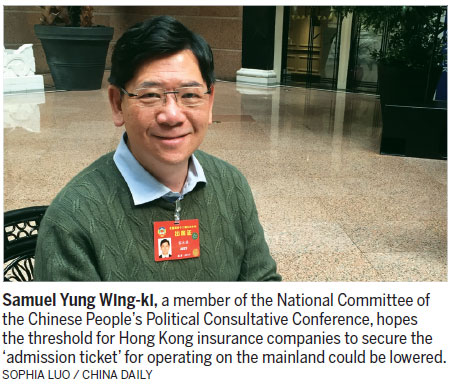 Hong Kong insurance companies are clamoring for a degree of policy relaxation to strike a balance between the security of foreign exchange reserves and investor protection, as well as to underpin the health of the Chinese mainland's insurance sector.
The mainland authorities last year moved to curb insurance purchases by mainland residents in Hong Kong amid fears of capital flooding out of the economy too quickly. The regulations have left insurers in the Asian financial hub feeling the pinch.
UnionPay - the nation's biggest bank card provider - has capped overseas insurance product purchases at $5,000 since February last year. Mainlanders were banned from buying "investment-related insurance products" with UnionPay debit and credit cards in Hong Kong in October.
Circumventing a cap by swiping UnionPay cards multiple times was halted at the end of last year. From the start of this year, the State Administration of Foreign Exchange has tightened scrutiny of individuals' foreign currency purchases, marking the latest attempt to restrict the months-long capital exodus.
"From the perspective of a safe level of foreign exchange reserves, a raft of earlier measures to crack down on illegal outflows is understandable, which also calls for coordination and collaboration from Hong Kong insurers," Samuel Yung Wing-ki, a member of the National Committee of the Chinese People's Political Consultative Conference and executive district director of AIA International, told China Daily in Beijing.
The mainland's "rainy day" funds had dropped all the way to $3.01 trillion last month - from their peak of $3.99 trillion reached in mid-2014.
However, Yung believed that policyholders' interests should also be taken into account. This also had much to do with whether the country's foreign-exchange controls could be smoothly carried out.
Insurance purchases, he pointed out, were not an effective tool for taking money across the boundary within a short space of time. Insurance product buyers normally could not reclaim their principal and expect returns without investing for five to 10 years.
In a bid to avoid possible losses, existing policyholders may desperately hunt for other improper, if not illegal, ways to skirt restrictions and bring in money to pay premiums, since the previously valid payment channel was blocked.
"That may eventually run counter to the nationwide campaign against illicit capital flight," Yung said.
He believed a more reasonable way to strike a balance was to ease restrictions on UnionPay cards for existing policyholders, with the curbs remaining valid for any potential new clients from the mainland.
As the mainland authorities tightened their grip on mainland residents buying policies from Hong Kong's insurers, local insurance companies would shift their focus back to the Hong Kong market, at least for the time being, Yung reckoned.
For the first three quarters of last year, mainland visitors spent HK$48.9 billion on insurance policies in Hong Kong, accounting for 37 percent of insurance sales for individual business during the period and going far beyond the HK$31.6 billion for the whole of 2015, according to data from the Office of the Commissioner of Insurance in Hong Kong.
"You can certainly interpret the statistics from various angles. For one thing, the mainland people's contribution hovers at 37 percent, indicating that the local market still has some potential to be tapped," Yung said.
Insurers also targeted foreigners and mainlanders working in Hong Kong as potential customers. Still, in the long run, the massive mainland market was a land of opportunity that Hong Kong insurers could not afford to be excluded from, Yung observed.
Under the Closer Economic Partnership Arrangement, Hong Kong insurers eligible for access to the mainland market are required to operate in the SAR for no less than 30 years and set up an office on the mainland for no fewer than two years, with total assets of not less than $5 billion.
"Basically, very few local insurance companies could meet the criteria, which means almost no Hong Kong insurer obtains the 'admission ticket' to make inroads into mainland market," he noted.
Yung hoped the threshold could be lowered, letting Hong Kong's well-established and experienced life insurance companies to head north. This would introduce advanced experience to the mainland, where investment-hungry insurers often adopt aggressive strategies that come at the expense of their solvency and policyholders' interests.
sophia@chinadailyhk.com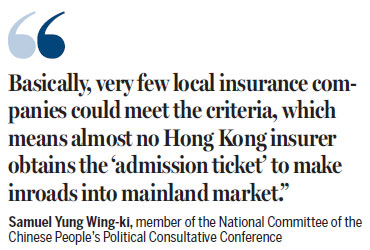 (HK Edition 03/15/2017 page8)