'Health services industry'drive bleeds public hospitals
Updated: 2017-03-14 07:17
By Ho Lok-sang(HK Edition)
| | | | | | | | | |
| --- | --- | --- | --- | --- | --- | --- | --- | --- |
|   | | Print | | Mail | | Large Medium  Small | 分享按钮 | 0 |
Ho Lok-sang argues that the next CE must urgently reform the public health system in HK - particularly in the wake of a worrying rise in medical blunders
I am truly worried about a vicious circle in the making: More and more Hong Kong people patronize private hospitals because our public hospitals are not up to the mark; private hospitals profit from the increased demand and draw more skilled manpower to work for them and services at public hospitals decline further, aggravating the exodus of patients to private hospitals.
The private 500-bed Gleneagles Hong Kong Hospital recently opened. It is a joint operation between the Singapore-based medical company Parkway Pantai and Hong Kong-based developer NWS Holdings.
The hospital was reported last year to be hiring 500 nurses at 1.5 times the normal salaries. There is no question these new hires are experienced nurses; most will come from our public hospitals.
With Hong Kong essentially not allowing importation of doctors, Gleneagles' doctors would mostly be senior staff again drawn from our public hospitals. Gleneagles has positioned itself to offer superior services. To do so it has no place for junior medical staff.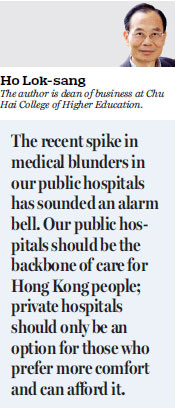 The hospital reportedly aimed to offer medical services at prices affordable to at least two-thirds of Hong Kong people but many prices of its "packaged services" are higher than the highest rates in other private hospitals.
Prices for colonoscopy and gastroscopy under anesthesia, for example, are listed at HK$16,527 and HK$13,180, respectively. These compare with HK$10,080 and HK$7,000 at the Hong Kong Sanatorium and Hospital, and HK$6,400 and HK$6,100 at the Matilda International Hospital, respectively.
The hospital claims package prices quoted are all-inclusive and may not be directly comparable with those quoted by other hospitals. But it also noted that patients who suffered from chronic illnesses or were obese would be rated as medium risk and would be subject to a 20-percent surcharge. "High risk" patients, particularly cancer patients, would be subject to itemized charges.
The hospital was given prime land at Wong Chuk Hang by the SAR government at a concessionary leasing price, apparently under the policy of promoting the healthcare services "industry", which is one of the six "priority industries" to be promoted as an economic development strategy.
Gleneagles pledges to provide at least 51 percent of inpatient bed days at packaged rates, with 70 percent of the bed days set aside for local residents.
Presently, the Hong Kong government is still promoting its Voluntary Health Insurance Scheme. It hopes to siphon off middle-class patients who can afford it to the private sector. But the risk is that as the private sector expands, the quality of public healthcare will fall, as a result of an increasing manpower shortage.
It should be noted that private hospitals do not welcome patients with complicated problems. Thus public hospitals are left having to treat difficult cases with increasingly junior staff.
The likely result of all this is that medical blunders will increase. Indeed, the recent record is quite alarming. There has been a string of such incidents that should not have happened. One could say that what may appear to be impossible blunders and mistakes will happen from time to time. But when such serious blunders happen one after another, that is a warning signal that the system is indeed under stress.
Just this past week, one patient who needed brain surgery had the wrong side of their skull cut open. Secretary for Food and Health Ko Wing-man said it was likely that the incident was a result of a brain scan mix-up.
Another major incident occurred in the same week. A Hong Kong cataract patient had complications after surgery due to an infection; the eye operated on had to be removed.
Within the same week, news broke out that one patient died of necrotizing fasciitis, or the flesh-eating disease, which was caused by bacterial infection. The patient was not diagnosed in time to receive proper treatment.
Back in 2015, the South China Morning Post ran "A brief history of Hong Kong's medical blunders" (July 22, 2015). But then the incidents were not as frequent.
The recent spike in medical blunders in our public hospitals has sounded an alarm bell. Our public hospitals should be the backbone of care for Hong Kong people; private hospitals should only be an option for those who prefer more comfort and can afford it.
The concern is that these days Hong Kong people increasingly see private hospitals as life savers - and our public hospitals are no longer a viable option. This vicious circle must be stopped.
Government policy must not add to the vicious circle by further promoting the "health services industry". Unless Hong Kong is ready to import large numbers of medical personnel from overseas, developing the "health services industry" will only jeopardize our public hospitals. Whoever wins the Chief Executive election must make this his or her top priority.
(HK Edition 03/14/2017 page9)