Taking language to a higher dimension
Updated: 2017-03-14 07:16
By Feliks Cheang in Hong Kong(HK Edition)
| | | | | | | | | |
| --- | --- | --- | --- | --- | --- | --- | --- | --- |
|   | | Print | | Mail | | Large Medium  Small | 分享按钮 | 0 |
Hong Kong Polytechnic University's Department of Chinese and Bilingual Studies takes a long stride forward, blending science and art to help those with learning difficulties
The notion that a university's language departments is merely about literature, language learning and translation has become outdated.
The Department of Chinese and Bilingual Studies (CBS) of Hong Kong Polytechnic University proves that language studies are going toward discipline-crossing - a common ground where arts meets science, and multilingual education offers practical skills and enriches work experiences.
Speech and language disorders are often overlooked or not seen as pivotal in local undergraduate programs. CBS's expertise, however, extends to studies of linguistic aspects of communication disorders. These focus on language interaction with individuals with acquired language disorders.
The department is wising up to the reality that there is a growing demand of people with speech, language and literacy deficiencies as well as swallowing disorders.
Students have the option of focusing on areas related to communication disorders, while they will be able to serve in junior positions in different allied health sectors, such as speech therapy departments under the Hospital Authority, non-governmental organizations (NGOs), and other private healthcare sectors in Hong Kong, the Chinese mainland or even overseas. They will also be able to work in research labs in cognitive and communication sciences, while they will gain valuable, industry-relevant insight in addition to sharpening their social skills and building their confidence.
"Students are not restricted as a speech therapist-to-be," said Chan Shui-duen, the interim head of the department. Many of the graduates here have transferred their experience across different careers. "I see recent grads with humanitarian organizations; I see them being teachers, social workers, and even civil servants."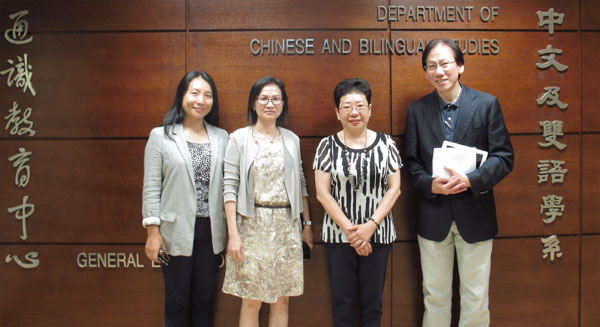 From left: Yao Yao, assistant professor of CBS; Roxana Fung Suk-yee, associate head and associate professor of CBS; Chan Shui-duen, professor of CBS; Leung Man-tak, the program leader of the Master of the Speech Therapy and associate professor of CBS
Ambitious graduates may also pursue a Master of Speech Therapy degree to become a recognized speech therapist in 30 months. First of its kind for Hong Kong and the mainland, this postgraduate program was introduced in 2013 amid the surging demand for such services.
"We have our strong linguistic research to back up our clinical experience in the Speech Therapy Unit (STU)." said Dr. Leung Man-tak, the program leader of the Master of the Speech Therapy and an associate professor of the department. "That's what makes us stand out among other speech science departments in the city, if not China."
STU is a platform the department set up four years ago to serve education and research purposes through the provision of speech therapy services. The clinic provides student placements in a wide range of communication and swallowing disorders, coupled with the biggest team of experienced professional therapists in Hong Kong.
"We can't control who visits our clinic," Leung tells us. "Through observing the symptoms of patients with different ages, education and language backgrounds, our students can gain more experiences that they won't come across in textbooks and lectures."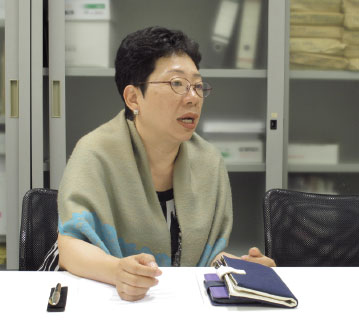 Chan Shui-duen, professor of Department of Chinese and Bilingual Studies
The department fends off theory-heavy curriculum. One of the savviest departments led by top-tier faculties in the university, CBS also provides training in bilingual communication, language education, language technology - everything from bilingual translations to multilingual interactions.
"We want to make the courses not only research-oriented, but also applicable as well as interesting," said Roxana Fung Suk-yee, the associate head and associate professor of the department.
With Chinese and English at the center of the program, graduates are well-positioned to work in bilingual or even multilingual environments as corporate representatives, journalists, translators, negotiators, marketing personnel, tourism executives, public relations practitioners and more.
Growing from a trilingual secretary training program, the department has kept its faith with training ambitious and adroit interpreters.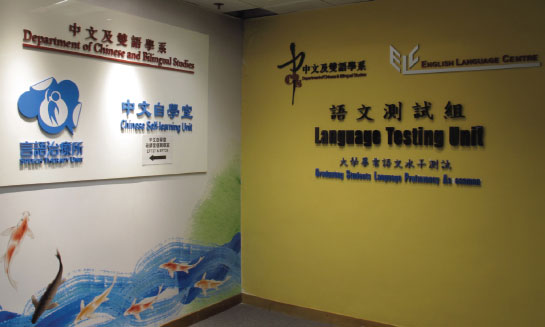 The Speech Therapy Unit of the Department of Chinese and Bilingual Studies
Home to the best interpretation training laboratories in Hong Kong, CBS boasts its curriculum which emphasizes the training of practical translation and interpreting skills. The training enables students to work in different specialized fields.
Students can also specialize in the studies of bilingual corporate communication. The curriculum of the undergraduate program equips them with not only language-mediated communication skills but also culture-specific communication skills, familiarizing them with the practice in the workplace.
"For journalists-to-be, we have a high-definition digital video studio and an audio studio," she adds. "Our students can get used to the real workplace environment as early as they are here."
Learning from doing is what CBS has been advocating. Moreover, the faculty members stress that bilingual, or even multilingual, proficiency is in strong demand across a wide spectrum of professions in society.
Yet high multilingual proficiency is not enough, according to Yao Yao, the undergraduate program leader. One must know how to apply his or her linguistic ability in the career, not to mention the real life. She considers it important to look beyond the confines of a traditional theory-based, research-oriented language and linguistics department.
"We are always at the frontline of the trend," said Yao. "We're breaking the boundaries, and dare to do so."
feliks@chinadaliyhk.com
(HK Edition 03/14/2017 page1)