Luis in wonderland
Updated: 2017-03-10 07:18
(HK Edition)
| | | | | | | | | |
| --- | --- | --- | --- | --- | --- | --- | --- | --- |
|   | | Print | | Mail | | Large Medium  Small | 分享按钮 | 0 |
A two-part show of the fantastically imaginative dreamscapes by Luis Chan, a leading figure among China's first generation of modern painters, is now on in HK. Pearl Liu reports.
The Hong Kong artist Luis Chan (1905-1995) had once said that one must never serve one's friends moon cakes - an idiomatic expression in Cantonese which suggests a lack of imagination on the part of the host.
Even the most astute of critics would probably never accuse Chan of dishing out the same fare throughout his career. He kept re-inventing his style - evident in the dramatic transitions from his early realistic Western-style watercolor to the phantasmagorical western-Chinese-hybrid dreamscapes created in his later years. These shifts and variety of styles had made Chan one of Hong Kong's most iconic artists.
An exhibition of Chan's paintings, titled Jazz with Luis, is now on at the Hanart TZ Gallery in Central. While offering a panoramic view of the artist's extraordinary career, the show also maps the unique ways in which the evolution of Chan's work coincided with the vicissitudes Hong Kong went through in the 20th Century. Many of these paintings are being exhibited for the first time.
"Chan loved to dance and organise parties and the show is an invitation to the audience to share in his sense of enjoyment of life," says Johnson Chang, the director of Hanart TZ Gallery and curator of the exhibition.
Looking at these paintings is like entering the artist's dreams. In many of them eccentric and brightly colored creatures appear against the backdrop of mountains and seas, all drawn in a style integrating Chinese and Western sensibilities. The random juxtaposition of unlikely objects - a butterfly under the sea, double suns in the sky and even vague human faces on mountains - is characteristic of Chan's later paintings.
Born in Panama in 1905, Chan moved to Hong Kong with his family in 1910 and lived here until his death in 1995. His training, with the Press Art School in London, was conducted through correspondence. Not surprisingly, Chan's early paintings were Western-style landscapes. These were so perfect in their execution that they earned him the sobriquet: "king of watercolor in Hong Kong". It wasn't until the late 1960s and early 1970s that his style went through a marked change and the paintings became more abstract.
Chang, who had worked extensively with Chan since the 1980s, believes the artist did much to advance and brighten the city's art scene.
"I love both of Luis Chan's styles. The magical fantastic landscapes are a joy to explore, and they are particularly special for anyone who has grown up in Hong Kong," said Chang. "It is easy to flippantly claim Hong Kong is an uncultured business-driven city and I used to believe the same while I was growing up. That was until I saw Luis Chan's paintings."
Jack Lee, an academic associated with the East-West Studies program at Hong Kong Baptist University, put in years of research to produce a book on Chan. He says while artists tend to stick to a particular style once "it has been well-received by the public that was not the case with Chan. During the 1960s, he experimented with all the major avant-garde styles of the period - collage and fauvism, for example." Hunmor is a very important element in Chan's art, he adds.
Chan himself spoke about the importance of change in his artistic philosophy in a documentary.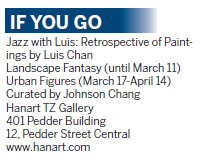 "All the time, I would like to change. I always like that because it's no use trying to do something with which you are familiar all the time," he said in an interview.
Chan's transition, from being a follower of Western painting techniques and sensibilities to developing his own unique style may be read as a metaphor for Hong Kong's journey through the passage of time.
While in the early 1900s, as an undeveloped British colony, Hong Kong yearned for Western culture, over the years, the city has come into its own, adapting modern concepts from the world over as well as those from mainland China, says Lee, drawing a parallel with Chan's artistic trajectory.
In many ways, Chan clearly has presented a tableau story that nobody of his generation managed to tell, says Chang.
"I can only say Luis Chan is, for me, Hong Kong's greatest artist and he was a singular creative figure. As a first-generation Chinese modern painter it is evident that Luis Chan has no parallel in the history of Chinese modern art," said Chang.
The exhibition comes in two instalments. The first, titled Landscape Fantasy, is on until tomorrow. It's probably a good idea to catch this one and then wait for part two, called Urban Figures, which opens on March 17. Together they delineate the scope of Chan's artistic imagination and also help show how the two principal themes of his works relate to each other.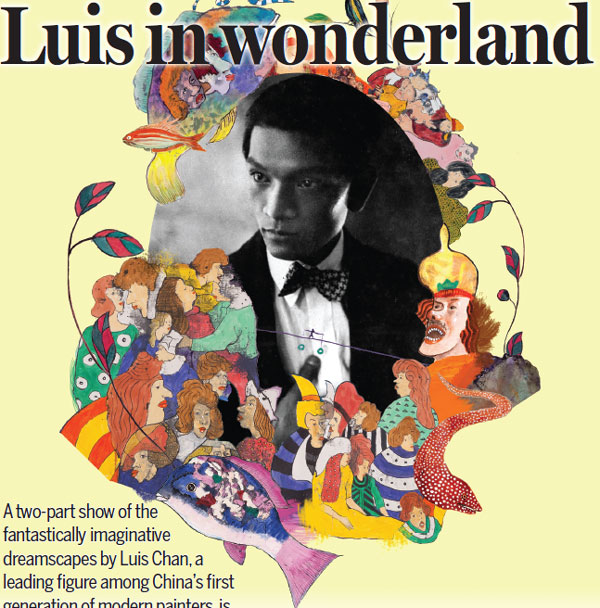 (HK Edition 03/10/2017 page1)