Suicides among young people point to need for life education
Updated: 2017-03-09 07:15
By Ho Lok-sang(HK Edition)
| | | | | | | | | |
| --- | --- | --- | --- | --- | --- | --- | --- | --- |
|   | | Print | | Mail | | Large Medium  Small | 分享按钮 | 0 |
The spate of suicides among youngsters since the school term started this year raises questions about whether the problem lies with our education system, our teachers, our parents, government policy, or society.
What is certain is that life education will go a long way to helping students find a sense of direction, restoring their mental health and enhancing their well-being.
Unhappiness may be associated with pressures, personal relations, health problems, a loss of a sense of self-esteem or self-worth, anger, anxiety, or any of a host of other things.
Cases reported show most suicidal young people do not seek to kill themselves because they encounter financial difficulties or suffer health problems. The immediate trigger could include an argument with parents, the souring of personal relations, examination pressures, heavy workload from school, disappointment with examination results, and frustrations with the job market. But it almost always reflects a lack of "mental capital" - the mental capability to cope with life's challenges.
Secretary for Education Eddie Ng Hak-kim reportedly said a lack of career-planning education was a source of pressure on university students.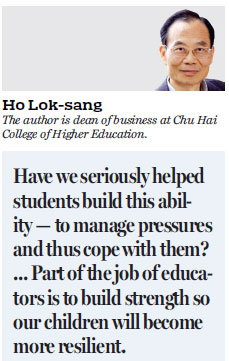 He also said reality may not match the expectations of parents, peers or the students themselves. This could put tremendous pressure on students. He stressed later that he did not directly associate suicides with a lack of career-planning education, but believed that strengthening such education would be helpful and should be encouraged.
The mismatch between reality and expectations is indeed a source of pressure; excessive pressure makes people unhappy. But some people can deal with pressure; others can manage to avoid excessive pressure.
Have we seriously helped students build this ability - to manage pressures and thus cope with them? Of course we should avoid creating excessive pressures on young people, but they must learn that pressure is unavoidable and from time to time all of us have our share of frustrations. Part of the job of educators is to build strength so our children will become more resilient.
It is unfortunate that the introduction of Liberal Studies into our school curriculum has done little to help students in this regard. The Curriculum and Assessment Guide of Liberal Studies lists three areas of study: Self and Personal Development, Society and Culture, and Science, Technology and the Environment.
Since Personal Development and Interpersonal Relationships, under Self and Personal Development, is the first module among six, I would have thought that schools and the examination authority would put a lot of emphasis on this.
Yet it appears from past papers that this module is more like window-dressing than an important element of the curriculum. If students are not able to take good care of themselves, how can they take care of the various social concerns under the other six modules?
Take the 2014 sample exam as an example. There are questions on "the two difficulties that the Hong Kong government faces in governing Hong Kong"; "two conflicting core values in Hong Kong and if the consequences of such conflict on Hong Kong will become more serious in the future"; "whether you agree that public demonstrations and rallies will enhance the quality of life in Hong Kong"; and "whether the costs of wind power will outweigh benefits".
If these are the only kinds of questions asked in examinations, will teachers spend time coaching students on how to cope with the stresses arising from personal relations, disappointments and other challenges of life?
"Personal development" is very much about "whole-person development". A person who benefits from whole-person development will not worry too much about underachieving in examinations and will be more concerned about discovering and developing his or her potential.
A person who is educated about interpersonal relationships will understand respect for others and will not force his or her will on others. He or she will be able to accept breaking up with a girlfriend or boyfriend.
Another thing he or she should understand is the need to avoid entering into a sexual relationship with a teacher. But, last year, a 31-year-old male secondary school teacher in Hong Kong pleaded guilty to sexual intercourse and indecently assaulting three minor students, some with consent and some without.
In this particular case, even the teacher was shown to be unable to take good care of himself. He ruined his own career and failed to protect the best interests of his students.
There is currently a public debate over whether Liberal Studies should continue to be a compulsory subject. To my understanding, life education should be a compulsory component of the school curriculum, and all teachers should have a basic training in it.
Life education is more fundamental than sex education and must be taken seriously. It does not have to be taught as a separate subject, but the contents of life education - respect for life, respect for others, a holistic view of achievement, the dimensions of personal development, and particularly how to learn from mistakes through honest reflection - should be covered one way or another.
Every teacher should also teach by example. Every teacher needs to be equipped to handle life education if he or she has not yet learnt about it.
(HK Edition 03/09/2017 page8)