Security top concern of central government
Updated: 2017-03-08 07:26
By Tony Kwok(HK Edition)
| | | | | | | | | |
| --- | --- | --- | --- | --- | --- | --- | --- | --- |
|   | | Print | | Mail | | Large Medium  Small | 分享按钮 | 0 |
Tony Kwok writes that due to HK's vulnerability to meddling by hostile foreign forces, the extraordinary powers invested in the CE require candidates to be trustworthy enough to protect national security
After securing the honor of being the first foreign head of state to visit the newly elected President of the United States Donald Trump, Britain's Prime Minister Theresa May was received back home by a chorus of criticism for inviting Trump for a reciprocal visit.
The Mayor of London Sadiq Khan wasted no time in voicing his strong objection - though there is nothing he could do to prevent Trump from setting foot in London. Such power rests with the central government, while the mayor's power is limited to dealing with the domestic affairs of the city.
However, the power of Hong Kong's Chief Executive is much broader than that of any city mayor by virtue of the autonomy that the central government has bestowed on the Hong Kong Special Administrative Region. For instance, no other city government can issue its own banknotes or passports and decide its immigration or monetary policies.
That is why even organizations banned on the Chinese mainland, such as the cult organization Falun Gong, are allowed to operate in Hong Kong. To take this hypothesis further, the CE could even allow personae non grata of the mainland such as the Dalai Lama to visit!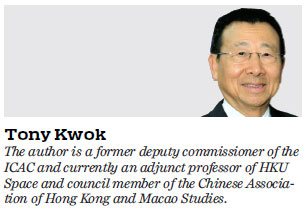 However unlikely such a scenario might be, this explains the central government's insistence on maintaining its prerogative to appoint the candidate selected by the CE Election Committee as specified under Article 45 of the Basic Law.
Senior central government officials have emphasized on many occasions that Beijing has a dynamic authority to appoint or reject the winning candidate; the central government is prepared to exercise this without hesitation as it sees fit. This goes against some "pan-democrats'" assumption that Beijing would simply rubber-stamp the Election Committee's decision.
Deng Xiaoping prescribed with obvious great foresight that "Hong Kong people ruling Hong Kong" is subject to a most important rider that Hong Kong cannot be used by foreign powers as a destabilizing base to attack China.
This warning was no mere scaremongering, as shown by whistleblower Edward Snowden's dramatic revelations on US spying activities in Hong Kong. Trump's undisguised hostility toward China as a presidential candidate and now president speaks volumes of the real external threat against China through Hong Kong.
It is worth noting that Beijing's earlier stated policy on Hong Kong has always focused on "maintaining the prosperity and stability of the SAR". In recent years, its primary concern has shifted to "protecting China's sovereignty". Its new emphasis is telling.
Beijing's concern is all the more understandable after Hong Kong has failed in its duty to legislate for Article 23 of the Basic Law for the past 20 years.
It is worth pointing out that all jurisdictions have their respective laws to ensure internal security. The Hong Kong SAR distinguishes itself in not having one in its law books. It also rejected such a proposed law deemed by respected international legal experts as far more liberal than comparable legislation in leading democracies.
Thus it should surprise no one that Beijing must insist all CE candidates be trustworthy enough to ensure the security of the SAR. Hence it is in everybody's interest that Beijing states unequivocally its bottom line on the acceptability of the chosen CE candidate, rather than risking a constitutional crisis in having to reject the winner.
The hard facts are that Hong Kong's GDP now constitutes less than 3 percent of the whole country's - no longer a major concern of the central government. Hence Beijing's primary concern must be a CE's unswerving commitment to national security, and ability and willingness to protect China's sovereignty.
It's no secret that Hong Kong has always been a hotbed for foreign intelligence and clandestine operations. In fact, it has recently been revealed that one foreign government has already set up a special task force to monitor the CE election.
We should not be surprised that the central government might possess intelligence on foreign threats against Hong Kong and must take steps to preempt them.
Hong Kong people should know full well that any color revolution in the city will only end up bringing nothing but pain and economic suffering in its wake.
As Zhang Dejiang, head of the Standing Committee of the National People's Congress, puts it: "At the end of the day, it is the Hong Kong people who would have to foot the bill." I believe there are things in life that one is wise enough not to test.
(HK Edition 03/08/2017 page8)