Debunking three myths about the CE election
Updated: 2017-03-07 07:06
By Zhou Bajun(HK Edition)
| | | | | | | | | |
| --- | --- | --- | --- | --- | --- | --- | --- | --- |
|   | | Print | | Mail | | Large Medium  Small | 分享按钮 | 0 |
Zhou Bajun says that despite the misleading information by the opposition, Carrie Lam's policy package is pragmatic and workable
The fifth-term Chief Executive election has entered the final stage as the three candidates are ready to debate their policy packages in public before the CE Election Committee (EC) members cast their ballots on March 26.
The opposition camp is determined to do everything it can to stop former chief secretary Carrie Lam Cheng Yuet-ngor from winning the election. This is why they have concocted three myths to mislead and confuse EC members as well as the public.
The first myth is that only the candidate(s) nominated by EC members of different political stripes can unite Hong Kong society and advance social harmony.
Retired High Court judge Woo Kwok-hing collected 180 nominations but all came from opposition EC members, while Carrie Lam won 580 nominations entirely from pro-establishment EC members.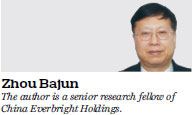 Former financial secretary John Tsang Chun-wah received 165 nominations, mostly from opposition EC members, with just a handful from pro-establishment EC members. This shows the first myth is tailor-made for Tsang's benefit.
Some people have tried to make sense of this myth, pointing to the numbers of directly elected lawmakers from the pro-establishment and opposition camps in Legislative Council elections.
They claim Tsang is best suited for the CE's office because most of his nominations came from opposition parties, which have so far dominated LegCo seats decided by geographical constituency votes. They maintain this should give Tsang the edge over Lam in leading Hong Kong society toward unity and harmony. Tsang, naturally, agrees with such assumptions and has practically dared Lam to win opposition EC members' votes on March 26.
Woo was seen as pro-establishment because he served as a High Court justice for many years. But he depended entirely on opposition nominations because he shares the same stand on many important issues as the opposition. It is safe to say he has gone through a complete change of heart in his political views.
Tsang also joined the CE race as a pro-establishment hopeful and did a political about-face similar to Woo's but he for some reason stopped short of matching the latter's every move.
That and some other minor factors afforded Tsang a small amount of nominations from pro-establishment EC members. If he goes out of his way to stop Lam from winning the CE election he will have to subscribe to the other two myths and side with the opposition wholeheartedly.
The second myth is that whoever intends to carry on the good policies introduced by the outgoing CE is a "Leung Chun-ying 2.0" and therefore unfit for the CE's job.
Lam made it clear when she announced her bid for the CE office that she planned to keep Leung's successful policies in place while presenting her own style of governance. That is why the opposition camp has labeled her "Leung 2.0".
Based on a wrong assessment of the reason Leung decided not to seek reelection, the opposition parties assumed the central government found the current government incompetent and would adjust its Hong Kong policies and strategies dramatically.
They also made the wrong conclusion about what is dividing Hong Kong society by blaming Leung and his executive team for every problem they can think of. To debunk the second myth we must accurately evaluate the current government's work as well as accurately analyzing Hong Kong's political situation.
Tsang served as financial secretary in the current SAR government for more than four years until he quit with about 10 percent of the full term left. He simply cannot shirk responsibility for the achievements or mistakes the current-term SAR government has made.
And if Lam is a "Leung 2.0", there is no good reason to spare Tsang the label. Here the name Leung Chun-ying represents the whole fourth-term government, not just the CE alone.
It was the illegal "Occupy Central" movement that divided Hong Kong society to an unprecedented degree. The opposition parties intended to blackmail the central government with that illegal movement so that Beijing had to give them the governing power over the SAR or watch Hong Kong suffer.
That means everything that happened afterward - including their separatist chorus and countermeasures taken by the SAR government and patriotic parties - are solely their responsibility.
The third myth is that Hong Kong can accomplish universal suffrage-related constitutional reform and legislation for Article 23 of the Basic Law as well as breakthroughs in such deep-rooted problems as the maddening real estate market in the next five years.
Both Tsang and Woo contend in their campaign platforms that they can achieve those goals in the next five years, while Lam offers no timetable for restarting the constitutional reform or Article 23 legislation.
She is focused on improving the economy and people's livelihoods instead. At first look Lam seems less daring than the two men. But closer examination shows her policy package is pragmatic and workable, whereas Tsang and Woo are "up in the air".
The nominations situation shows that Hong Kong's political rivalry remains as obvious as ever, which means the next-term SAR government has little chance of winning the two-thirds support for an electoral reform package that meets all the legal requirements.
As for efforts to boost economic development and resolve some of the deep-seated issues that have hurt Hong Kong for years, people have no good reason to believe the fifth-term SAR government can allocate enough resources in the next five years when the opposition lawmakers go all-out in obstructing the lawful administration of the government every step of the way as they have done in the past.
(HK Edition 03/07/2017 page8)