Budget gets to grips with some key long-term issues
Updated: 2017-03-03 06:58
By Raymond So(HK Edition)
| | | | | | | | | |
| --- | --- | --- | --- | --- | --- | --- | --- | --- |
|   | | Print | | Mail | | Large Medium  Small | 分享按钮 | 0 |
Financial Secretary Paul Chan Mo-po delivered his maiden budget last week. Unlike previous budgets this one did not attract too much attention.
This is understandable since there are just four months left in the current administration's term, with a new government set to commence in July.
Theoretically, the financial secretary will be in office for just four months. Any major changes or policies that required commitment from the next government would not be desirable at the moment. People understand this major constraint and they did not have high expectations for this budget.
Nevertheless, it would be unfair to say the latest budget is merely a makeshift one. Hong Kong people are very pragmatic. When they scrutinize the budget they often look at the "sweeteners" offered, and how many of these they are entitled to.
It was not surprising to see people complain about the absence of cash handouts. Very often people do not understand the importance of the budget in allocating financial resources to implement measures laid down in the Policy Address and other government initiatives.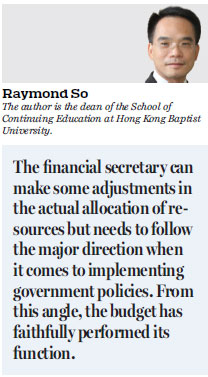 The financial secretary can make some adjustments in the actual allocation of resources but needs to follow the major direction when it comes to implementing government policies. From this angle, the budget has faithfully performed its function.
Some criticized the budget because they felt it did not give away sufficient cash to relieve their financial burden. Obviously, they misunderstand the budget's objectives. Based on what I have observed from newspaper coverage, many people see the government as a listed company and budget "sweeteners" as special dividends.
But I would say people should take a progressive attitude when examining the budget.
The budget surplus for the current fiscal year is now estimated at more than HK$90 billion. The lag in accounting work means there is still a month to go in the current fiscal year - the actual surplus could be higher.
Making efficient use of this huge surplus will test the financial secretary's philosophy when it comes to managing public finances.
Paul Chan made it clear that he had adopted a philosophy of investing for the future. That is why one third of the estimated surplus was distributed as "sweeteners" and two thirds was reserved for other purposes.
This is a very typical approach - keeping sufficient reserves for investing in the future. Some may argue that the "reinvestment" ratio is too high. But given that we have an aging population and need to build a knowledge-based economy, investment for better healthcare services and in human capital is badly needed.
This reinvestment ratio is also consistent with the policies put forward in the Policy Address. From this angle, we cannot say that the budget is not fulfilling its intended function.
Rather, it is doing what it should do. We simply cannot expect that budget measures will resolve all the problems Hong Kong faces.
It will not be realistic to expect the budget to initiate fundamental changes to Hong Kong's overall financial position. The financial secretary has made it clear that while there is no pressing need to expand the tax base in one or two years, we cannot ignore the fact that Hong Kong's tax base is too narrow; there is a real need to review this issue in the future.
He announced in the budget that a new committee would look at the tax structure to be established. This is a clear indication that the government is well aware of the problem; concrete actions are now in the pipeline.
When we take all these facts into consideration, it will be unfair to say that the latest budget is actually a makeshift one. Indeed there are initiatives proposed on a forward-looking basis. The biggest constraint on the budget is that the financial secretary cannot initiate too many policies that require substantial commitments from the next administration.
(HK Edition 03/03/2017 page1)