Print media rebounding after a brief depression
Updated: 2017-03-01 07:52
By Siu Sai-wo(HK Edition)
| | | | | | | | | |
| --- | --- | --- | --- | --- | --- | --- | --- | --- |
|   | | Print | | Mail | | Large Medium  Small | 分享按钮 | 0 |
I bumped into Hong Kong University of Science and Technology Vice-President for Institutional Advancement Eden Woon Yi-teng at a Lunar New Year gathering. He told me in an elated tone about Western media reports that people are starting to invest again in the print media. This, of course, challenges the saying that newspapers are a sunset industry.
I did not have time to ask Woon for details. But after I returned to the office, I read reports that the New York Times and the Washington Post, newspapers that have frequently fought with US President Donald Trump recently, have successfully returned to profits. The latter is even planning to hire more reporters.
What then are the reasons for the revival of these two old-time newspapers?
Various theories have been put forward by the industry, but the most "realistic" one was related to Trump, who is not only unpopular, but has been hitting out at the media, with the two newspapers among his key targets.
Trump also accused the media of fabricating news, and his team came up with the chic term "post-truth". But it seemed that the fiercer his attacks, the higher the media's viewership and readership.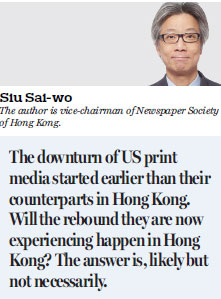 The latest reports from the "war zone" was that the Washington Post was willing to spend money on advertisements to hit back at Trump, who, in turn, refused to take part in functions hosted by journalism bodies, declaring that there was no need for him to deal with the media.
That major news events and controversies boost newspaper circulation is a commonly acknowledged phenomenon. Yet apart from the right conditions, it is also important that the industry itself makes an effort, and the revival of the Washington Post is an immediate example.
The paper had once been great. But its obsolete mode of operation has caused circulation and revenue to fall, so much so that it had to look for a buyer.
Undaunted by talks about the "death of the print media" and "online media is the future" as old newspapers went downhill, internet tycoon and Amazon founder Jeff Bezos bought the Washington Post.
But unlike those who take a dim view of the print media, he did not give up the newspaper's print edition. Clearly, he understands that the credibility of a newspaper comes from its print presence, and the print edition is the greatest symbol of status that differentiates a respectable newspaper from low-cost online publications.
As such, Bezos stated clearly from the start that he had no intention of killing the print edition, but will continue to run it hand in hand with the online version.
The pasture on the other side is always greener. Bezos treasured the high-entrance barrier of print media, and made good use of this unique advantage. The Washington Post engaged itself in the US presidential election storm, and won much support from US citizens. As a result, the hit rate and circulation for its online and print editions rose simultaneously.
This proved that the online tycoon's view on print newspapers is right on the money, at least preliminarily.
Applying Bezos' perspective to Hong Kong, we can see that the situation is rather similar. Many heads of organizations have often regurgitated the comment "Few people read newspapers now."
Ironically, whenever a major news event happens, they will call up chief editors of newspapers to explain the intricacies of the events to them. Afterward, they will comment, "After all, it is traditional newspapers and magazines that have higher credibility."
We can't blame these organization chiefs for being self-contradictory. After all, they aren't media experts. As many newspaper operators are, themselves, doomsayers about the print media, how can we expect those outside the industry to ascertain the validity of such a belief?
But in urgent situations, intuition and common sense took over to tell them that it is right to trust traditional newspapers and television stations, whose credibility are established brick-by-brick over a long period of time.
The downturn of US print media started earlier than their counterparts in Hong Kong. Will the rebound they are now experiencing happen in Hong Kong?
The answer is, likely but not necessarily. Different timing, location and operating strategy produce different results. When the US print media were down on their luck their counterparts in many regions in other parts of the world remained robust. Likewise, while the online media are burgeoning in the US, few of those in Hong Kong are financially healthy.
What is certain is that information and credibility are always assets for any media. What is happening in the US is inspiring, but we still have to rely on our own courage and efforts to face up to the stiff challenges of tomorrow.
More joint efforts to stop human smuggling
Hong Kong and Guangdong officials met on Tuesday to exchange information and discuss more ways to jointly stem the flow of illegal immigrants into Hong Kong via neighboring Guangdong. Thousands of illegal immigrants a year have found their way into Hong Kong in recent years by land or sea via the mainland. In response, relevant authorities in Hong Kong and Guangdong have stepped up joint efforts to intercept the growing number of illegal immigrants by all means necessary. They have been doing this with considerable success.
However, the human-smuggling rings have shown no sign of stopping and actually have come up with even more ways to evade the police. This is why law enforcement departments here and in Guangdong are boosting anti-human-smuggling measures to stop illegal immigration into Hong Kong through the mainland.
The majority of illegal immigrants are from poor regions in South and Southeast Asia. Many illegal immigrants cannot pay the "snakeheads" up front; they are hard pressed to find money. Some of them have to agree to work for local criminal rings once they are in Hong Kong. But first they need to convince the authorities they are "asylum seekers" instead of illegal immigrants. They do this by taking advantage of existing rules that allow them to seek "non-refoulement protection against expulsion."
It should be noted that "non-refoulement protection against expulsion" is a product of the Cold War era. It is now primarily used by illegal immigrants for completely unjustifiable purposes, including criminal activities to pay for their dangerous journeys arranged by human-smuggling rings. Such ill-conceived ingenuity by organized crime calls for the Hong Kong Police Force and the border security department in Guangdong to be vigilant in the fight against these criminal enterprises.
It is in the best interests of Hong Kong and the mainland to maintain such cooperation between the Hong Kong police and the border control force of the Guangdong public security department for as long as necessary. In addition to cutting off human-smuggling routes, greater efforts are needed to uncover the criminal rings behind such evil exploits. There is a complete "food chain" of human smuggling ruthlessly exploiting illegal immigrants' livelihoods and even their lives. They must be stopped at all costs.
The best way to kill a snake is cut off its head, as an old saying goes. In doing so it is also necessary to derail the illegal "money trains". This can be done by abolishing the counterproductive "non-refoulement protection against expulsion".
(HK Edition 03/01/2017 page8)