Tax policy unit hailed as the 'brightest spot'
Updated: 2017-02-23 07:44
By Luo Weiteng in Hong Kong(HK Edition)
| | | | | | | | | |
| --- | --- | --- | --- | --- | --- | --- | --- | --- |
|   | | Print | | Mail | | Large Medium  Small | 分享按钮 | 0 |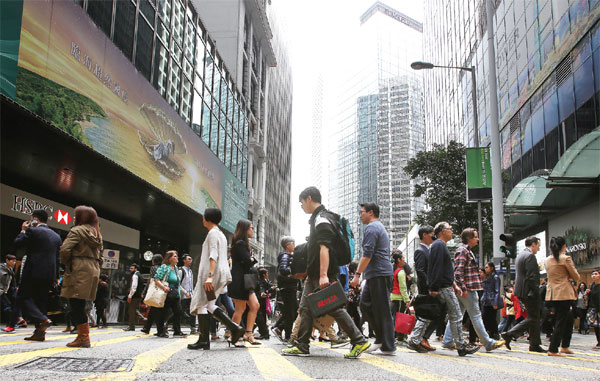 Salaries taxes will be slashed by 75 percent, capped at HK$20,000 for the coming year, which is expected to benefit 1.84 million taxpayers. A plan to set up a long-anticipated tax policy unit is one of the biggest surprises in Financial Secretary Paul Chan Mo-po's maiden budget speech. Parker Zheng / China Daily
A plan to set up a long-anticipated tax policy unit in the Financial Services and the Treasury Bureau (FSTB) has been welcomed by tax experts, who called it one of the top highlights of the 2017-18 Budget and a major thrust for the financial hub's long-run competitiveness.
Curtis Ng, convener of the Budget Proposals Sub-committee at the Hong Kong Institute of Certified Public Accountants, believed that beyond a slew of proposed tax sweeteners, the creation of such a unit will be the brightest spot for this year's Budget which, otherwise, is a conservative one with no shocks and few surprises as before.
Paul Ho, a partner of financial services tax at Ernst & Young in Hong Kong, echoed similar views, saying he was more than happy to see the government having ultimately responded to the public's year-long clamor for a comprehensive review of the city's tax regime.
"Setting up a tax policy unit is a positive signal. It marks a bold move for the government to review Hong Kong's outdated tax system, which, however, hasn't been examined for some 40 years," he said.
"What matters is that with a tax policy unit well underway, Hong Kong is looking to sharpen its long-term edge as a tax jurisdiction," he added.
Financial Secretary Paul Chan Mo-po said in his maiden budget speech the new body will seek to "examine the international competitiveness of our tax regime and address the problem of a narrow tax base".
As tax concession and taxation structure adjustments become a global trend in competing for investment and shoring up targeted industries, promising companies may vote with their feet to move to other jurisdictions if Hong Kong lags behind and moves slowly, while a narrow tax base remains a real and much-discussed issue.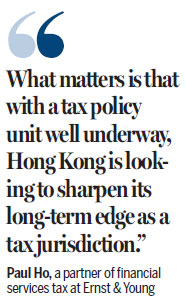 Putting all eggs into one basket also threatens to jeopardize the financial hub's fiscal sustainability and affordability. Revenue from land sales accounted for 14 percent of the government's revenue for the fiscal year 2015-16, and profits tax contributed to 31 percent of the revenue in the same fiscal year, with the financial and real-estate sectors - the twin pillars of the local economy - contributing more than 40 percent of the profits tax receipts.
Hong Kong's 2016-17 fiscal surplus of HK$92.8 billion also came from the far higher-than-expected land revenue and stamp duties on properties.
Davy Yun, a tax partner with Deloitte China in Hong Kong, believed that a regular and thorough review of Hong Kong from the macro perspective is exactly what industry experts and the local business community have been yearning for over the years.
But, more importantly, the new tax unit should kick-start a review immediately and get down to the nitty-gritty rather than spending too much time studying the plan and dragging its feet.
"Normally, it'll take a few years for a new tax category to be studied and discussed in public consultations. No matter what the conclusion might be, the point is that policymakers should move on to study the pros and cons and work on the delicate details," Yun said.
The planned policy unit is expected to be set up by the administration within this year, with its members likely to include the financial secretary, top officials of the FSTB and the commissioner of the Inland Revenue Department, with new positions added for four non-senior officers.
Yun said the new body should also bring in tax experts and economists instead of being completely dominated by government officials.
sophia@chinadailyhk.com
(HK Edition 02/23/2017 page3)