HK enterprises face opportunities as well as challenges
Updated: 2017-02-22 07:47
By Zhou Bajun(HK Edition)
| | | | | | | | | |
| --- | --- | --- | --- | --- | --- | --- | --- | --- |
|   | | Print | | Mail | | Large Medium  Small | 分享按钮 | 0 |
The Hang Seng Indexes Co Ltd (HSIL) announced on Feb 10 two significant developments. One is that the 23-year-old Hang Seng China Enterprises Index (HSCEI) will undergo a significant change, in which both red-chip stocks and mainland non-State-owned ones will be included in the HSCEI; a detailed plan will be revealed in August. The other major change is that mainland non-State-owned automaker Geely Automobile Holdings Ltd, hailing from Zhejiang province, will replace Hong Kong-based Li & Fung Group as an HSI component stock; while State-owned HSI component picks will see some adjustments, beginning with the departure of the oldest one - Tsingtao Brewery - and the arrival of the Post Savings Bank of China, which got listed last year.
With public attention fixed on the 2017 Chief Executive election, some local electronic media chose to ignore the above news completely, although the two decisions by the HSIL reflect a structural shift in the Hong Kong economy which should be followed closely.
Tsingtao Brewery held its IPO on the Hong Kong Securities Exchange as the first ever H-share offer in 1993. In the following year, HSIL introduced the HSCEI exclusively for H-shares of mainland-registered companies. It has not changed since then. As for Hong Kong-registered companies controlled by mainland capital and listed in Hong Kong, the HSIL has created a separate index for them - the Hang Seng China-Affiliated Corporations Index, commonly known as the "red-chips" index.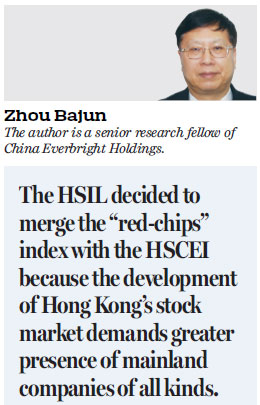 The HSIL decided to merge the "red-chips" index with the HSCEI because the development of Hong Kong's stock market demands greater presence of mainland companies of all kinds. Currently, the total value of assets managed by global exchange-traded funds (ETFs) and exchange-traded products (ETPs) that track the performance of the HSCEI has reached $9.1 billion (about HK$71 billion). However, the HSCEI has been dominated by State-owned financial chips while IT shares are scarce. Meanwhile, the "red-chip" index covers a more diversified and evenly spread sphere but has not made it big all these years. Its market recognition still pales badly in comparison to the HSCEI. On the other hand, the number of mainland-based non-State-owned enterprises listed on the Hong Kong Stock Exchange has been growing rapidly. It will boost the trading volume of the stock market as well as the market values of individual mainland companies listed here if all of them are represented by one index. This will be called the "China index of the Hong Kong market".
Behind this technical adjustment lies the integration of Hong Kong's economy with that of the mainland and the linking-up of Hong Kong's stock market with those on the mainland.
First of all, major H-share companies' business operations used to be concentrated on the mainland but have now expanded operations here and are handled by their Hong Kong branches. Examples include top State-owned financial institutions such as the Industrial and Commercial Bank of China (ICBC), Construction Bank of China (CBC) and Agricultural Bank of China (ABC), and telecom giants like China Telecom and China Mobile. Second, major "red-chip" firms used to operate mostly or only in Hong Kong but now they will all have mainland operations as well. Take China Resources for example, its business scale has expanded several times since its mainland operations started. Third, non-State-owned companies operated only on the mainland when they went public in Hong Kong but have begun exploring the Hong Kong market since the scope of their business grew larger. All these things indicate that the economic integration of Hong Kong with the mainland has been increasing.
Having said this, without the Shanghai-Hong Kong Stock Connect and Shenzhen-Hong Kong Stock Connect, it may not have been necessary to merge the HSCEI with the "red-chips" index and include non-State-owned enterprises as well. In other words, only after the Hong Kong stock market hooked up with Shanghai and Shenzhen did Hong Kong and overseas investors find the need for a new "China Index of the Hong Kong Market". This will facilitate their growing direct investment in the Hong Kong stock market and indirect investment in the mainland economy.
Also worthy of note is that while the HSIL plans to launch the "China Index of the Hong Kong Market" later this year, the very first H-share, Tsingtao Brewery, has been taken out of the HSCEI, and one of Hong Kong's older family businesses - the Li & Fung Group - has been replaced by mainland non-State-owned enterprise Geely Automobile. These adjustments reflect the highs and lows of listed companies in both Hong Kong and the mainland in response to their structural changes and upgrades of industries.
All said, Hong Kong enterprises should be inspired by the decisions announced by HSIL. For a start, they have to expand their mainland business operations as much as they can regardless of what industry they belong to. This is because their markets in Hong Kong are almost if not already saturated. With economic globalization currently in danger of reversal, Hong Kong companies have no choice other than teaming up with the mainland. Another important thing they need to do in order to thrive during the era of knowledge-based economies is to hasten business reorientation and transformation. One advisable move is to embrace artificial intelligence and e-commerce.
(HK Edition 02/22/2017 page8)