Recent events show HK is getting boring
Updated: 2017-02-22 07:47
By Lau Nai-keung(HK Edition)
| | | | | | | | | |
| --- | --- | --- | --- | --- | --- | --- | --- | --- |
|   | | Print | | Mail | | Large Medium  Small | 分享按钮 | 0 |
Lau Nai-keung writes that while Hong Kong is becoming more politicized and polarized, it is also becoming rather more predictable and tedious
Hong Kong is becoming increasingly more politicized. This is bad. What's even worse is that the city is no longer interesting.
I am not so sure which is more boring: the "love letter" that Chief Executive contender Carrie Lam Cheng Yuet-ngor received from her husband, or the journalists who are trying to prove that the letter was written by a staffer.
In order to make the whole election more trivial, dissident lawmaker Claudia Mo Man-ching is complaining about the generic two-page letter that she received from Lam's office seeking her support. Mo found not one but two mistakes. First, Lam was addressing Mo the wrong way, without showing her sufficient respect; and second, Lam's office paid too much for the stamp. A HK$2.90 stamp was used, when for letters under 30 grams a HK$1.70 stamp would have been sufficient. "I am worried about how this lady (Lam) manages her finances," Mo said on Facebook, claiming Lam was "disconnected with reality".
We know what that is all about. The dissidents are against anything that they perceive as being related to the central government. They believe Lam is "Beijing's choice", and therefore hate her. After witnessing what they did to Chief Executive Leung Chun-ying in the last few years, we have no illusions as to what is going to happen to a Lam administration if she is elected. So Mo's juvenile Facebook post was unwarranted.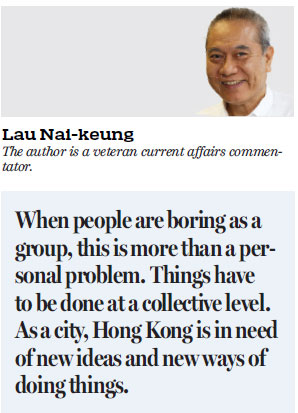 It is now absolutely clear that some people in Hong Kong simply reject anything to do with the mainland. Before they pretended that they loved their mainland compatriots, and justified their reservations about the central government by mentioning the mainland's economic "backwardness" and "lack of human rights". Now these excuses are gone, it is clear that these China-hating Hong Kong people loathe mainlanders as much as they loathe the central government.
We know who these people are. They are just boring whiners. And when whiners will not stop and make everyone miserable and unproductive, there comes a point when we have to tell them that enough is enough.
Being boring is a sin, when you strive to bore others - or when you simply make no effort to avoid it. The famous Catholic theologian St. Thomas Aquinas had this to say in his masterpiece Summa Theologica: "In human affairs whatever is against reason is a sin. Now, it is against reason for a man to be burdensome to others, by offering no pleasure to others, and by hindering their enjoyment." Further, he points out: "A man who is without mirth, not only is lacking playful speech, but is also burdensome to others, since he is deaf to the moderate mirth of others."
When people are boring as a group, this is more than a personal problem. Things have to be done at a collective level. As a city, Hong Kong is in need of new ideas and new ways of doing things. Let's do something radical. What we want least of all is politicians opening their mouths and having nothing coming out but "universal suffrage" and "rule of law".
I am not saying that democracy and the rule of law are not important, but they are not going away simply because we stop paying lip service to them for a day or two.
We have to be real. It is alright to be an artist who supports the dissidents, just don't put up a few yellow umbrellas and call it installation art. It is also fine to support the establishment, but try not to take so many of those cheesy selfies with the rich and the powerful.
Politicians suffer when they make politics trivial and boring. Citizens lose interest and ignore the real issues. Without the attention required no genuine consensus can be reached. Right now politicians grab attention by doing things like being violent, but that's not a healthy way to be interesting. To be truly interesting our government has to be innovative and to change from the inside.
(HK Edition 02/22/2017 page8)