World's freest economy needs to stay on course
Updated: 2017-02-21 07:39
By Tim Collard(HK Edition)
| | | | | | | | | |
| --- | --- | --- | --- | --- | --- | --- | --- | --- |
|   | | Print | | Mail | | Large Medium  Small | 分享按钮 | 0 |
In the run-up to what may prove a difficult Hong Kong budget for 2017-18, there is at least one piece of good news: The annual index of comparative economic freedom issued by the US Heritage Foundation has named Hong Kong as the world's freest economy for the 23rd consecutive year. In what has become a classic rivalry, Hong Kong just pipped Singapore for the title.
In a rapidly changing world Hong Kong's progress has shown the value of consistent application of principles, whatever the temptation to trim one's sails to temporarily prevailing winds. Ever since Sir John Cowperthwaite, Hong Kong's financial secretary from 1961 to 1971, laid down the foundations of an economy left to itself with minimal government interference and taxation, Hong Kong has stuck to its course; at the time of the return of sovereignty to China, the territory's Basic Law endorsed this course and kept it at the heart of the Hong Kong SAR's economic management. The Heritage Foundation report also stressed the importance of Hong Kong's highly developed legal framework, ensuring property rights and the rule of law.
The newly installed Financial Secretary Paul Chan Mo-po has given the news a warm welcome. In a statement on Feb 16, he re-emphasized the government's unfailing commitment to maintaining the territory's favorable business environment and the free market principles which underpin it. He promised that "the government will also strive to enhance our financial infrastructure and foster closer economic cooperation with major trading partners, so as to strengthen Hong Kong's leading position as an international city". This report and the financial secretary's response are particularly appropriately timed, giving Chan the opportunity to lay down the guidelines for this week's budget.
So, world's freest economy for 23 years in a row; a consistently successful economic policy maintained for half a century: Is this any excuse for Hong Kong to rest on its laurels, however glorious? It would be a very unwise financial secretary who did that, and the government of Hong Kong has a good record for avoiding unwisdom and complacency. For a start, the world's economic situation has become extremely complex, the outlook is most unsettled, and old certainties are beginning to dissolve.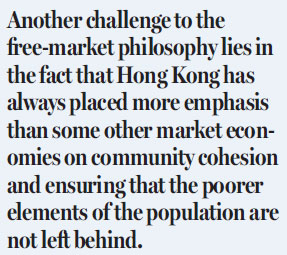 For example, who would have expected the US to veer away from the path of international free trade, which the Americans have preached for decades as strongly as Hong Kong people have, and threaten to adopt a strategy based on protectionism and mercantilism? But, insofar as it is possible to disentangle the rhetoric of the Trump administration from reliable policy commitments, this is the course the US appears to be setting.
By all appearances, the banner of global free trade seems now to be carried by China, with President Xi Jinping affirming this steadfastly in Davos in January. This would appear to indicate a strong alignment between HKSAR and mainland economic policy. However, in the almost 40 years of the mainland's reforms and opening-up policy, the mainland has promoted several differing paradigms of opening up to the outside world, with Hong Kong's established non-interventionist free-market paradigm now being just one of many dotted around the coast of China, with different degrees of state control and encouragement. The challenges have been pointed up sharply by the development of China's regional grand project, the Belt and Road Initiative. Any hope that Hong Kong would easily secure control of the financial structuring of large parts of this project, purely on the basis of the territory's previous record, has shown itself to be over-optimistic. Hong Kong will have to struggle for every piece of the action here - which is only right and proper, according to the capitalist principle that competition drives innovation, improvement and efficiency. But it will not be easy, and there will be temptations to drift away from the straight and narrow path of free market orthodoxy for immediate advantage. Hong Kong must play to its established strengths and resist temptation of short-term fixes.
Another challenge to the free-market philosophy lies in the fact that Hong Kong has always placed more emphasis than some other market economies on community cohesion and ensuring that the poorer elements of the population are not left behind. This, as we will no doubt find out in the forthcoming budget, provides a constant and irreversible upward pressure on government expenditure, which does not allow the government to keep its hands off the economy to the extent that a real free market purist might wish for. But Singapore, Hong Kong's nearest rival, also places great emphasis on community cohesion, which cannot be coincidental - though Singapore is far more diverse than Hong Kong and thus faces different problems. All the same, there is a tricky balance to be struck, as there is between dealing with current problems and laying the foundations for a brighter future. But it is clear that Hong Kong's economic and legal system remains on the right track, and offers clear policy guidelines to this and future governments.
The author is a sinologist and former British diplomat in Beijing for nine years. He now works as a freelance commentator and writer.
(HK Edition 02/21/2017 page8)