Being a member of HK's FCC is an honor and a pleasure
Updated: 2017-02-20 10:08
By Bob Lee(HK Edition)
| | | | | | | | | |
| --- | --- | --- | --- | --- | --- | --- | --- | --- |
|   | | Print | | Mail | | Large Medium  Small | 分享按钮 | 0 |
Recently, I had the honor to be granted membership of the Foreign Correspondents' Club Hong Kong (FCC).
The FCC is probably the most famous press club in the world. Founded in 1943, the FCC's first base was in Chongqing during the dark time of the Japanese invasion. It then moved to Nanjing, then to Shanghai and finally to Hong Kong in 1949. Its members have been witnessing history unfolding across Asia, covering news in words and pictures - including World War II, the Korean War, the Vietnam War and other exciting events. Battle-weary reporters and photographers used the FCC as a much-needed haven during visits to Hong Kong.
Nowadays, the FCC continues to serve as the most popular and well-connected club in town where journalism is constantly celebrated. Because of the FCC, many in journalism have a refuge from the cold, rain or heat. People can relax by having a drink at the Main Bar after a day of hard work and tight deadlines.
There is an old saying that home is where your heart is. The FCC, at Lower Albert Road in Central, has for decades remained home for many Hong Kong-stationed correspondents.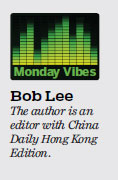 In this "small circle", a closely knit media community, you can always see reporters from both the West and the East, newly arrived or long-staying, sharing news-related information, chatting and cheering like old friends. All this helps create the vibrant culture which has made the FCC so famous.
The club has had as members some of the most distinguished journalists of modern times. A case in point was the late Clare Hollingworth. She first reported the outbreak of World War II from Poland in August 1939 as a stringer for The Daily Telegraph. She passed away last month in Hong Kong at the venerable age of 105. Clare remains a tremendous inspiration to all FCC members. The Club's walls - fully decorated with many world-famous photographs of the ages - bear testimony to great events.
Journalism conferences and workshops are frequently run here, like the ongoing series "Meet the Editor". This allows young and seasoned professionals to explain how to handle today's challenges. This helps to educate us on new developments like fake news, fake facts and alternative truth.
One thing I like most about the FCC is that it frequently hosts "Club Lunches" where political leaders, diplomats, scholars or newsmakers are invited to share their insights and expertise.
It is also a fun place, with a mix of nostalgia, inspiration and entertainment. Charity or other extravaganzas are organized from time to time. This brings some fine musical talents to the FCC, getting the crowd on their feet and raising the roof of the Main Dining Hall.
Many may opt to escape journalism for higher-paying jobs, like Club President Tara Joseph, who described her "bittersweet departure" in the latest issue of The Correspondent. She left Reuters after 25 years of working as a journalist. As a veteran journalist working for various media outlets at home and abroad, I understand how she feels. But fortunately, despite all the ups and down, I have always loved being a journalist with a die-hard passion.
(HK Edition 02/20/2017 page1)