How we spend defines who we are
Updated: 2017-02-20 10:08
By Rachei Cartland(HK Edition)
| | | | | | | | | |
| --- | --- | --- | --- | --- | --- | --- | --- | --- |
|   | | Print | | Mail | | Large Medium  Small | 分享按钮 | 0 |
Hong Kong is a society that sometimes seems to be in love with money, spending it and enamored with expensive things. We therefore seem to believe that every problem can be solved with money and, in particular, every social problem could be solved if you throw enough money at it. With the annual budget due to be announced on Feb 22, this characteristic has become more pronounced lately.
However, deep down, we know this is a foolish way to look at things. There is an English proverb "throwing good money after bad". Money spent foolishly is clearly not going to solve any problems. When we pay our taxes we have to hope the government will spend our money wisely and to the benefit of all. The financial secretary in turn must rely on individual departments to come up with good ideas and implement them conscientiously. If I were the financial secretary I would operate a mental traffic light system when it came to planning expenditure.
For example, I would give a green light to any spending proposals that came from the Food and Health Bureau. Spending on health and medical items is very close to the heart of the public and they have amply demonstrated their faith in the able leadership of Dr Ko Wing-man and Professor Sophia Chan. We should have confidence in their ability to map out the best strategies in this important area. There would be no harm in giving them a blank check!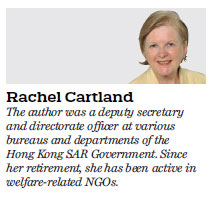 Infrastructure is often regarded as a safe bet when it comes to public spending as it's seen as a long-term investment, a prime creator of employment opportunities and aid to economic development. However, in the case of Hong Kong I would award it only an amber light. Too often recently, infrastructure projects have proved controversial. "White elephants" have been used to describe some of our most ambitious infrastructure projects too advanced to be axed.
Education expenditure, currently the biggest consumer of the Hong Kong budget, would be another candidate for the amber light. I would give out the relatively small sums required to repair and renovate our government schools. Anyone who goes regularly to these will know how they mostly look dingy and unloved, definitely the poor relations of the posh fee-paying schools. I would also look seriously at the wise words that have come recently from the Legislative Council's Public Accounts Committee on the subject of higher education opportunities. Should we tip the balance of the undergraduate intake more in favor of local Hong Kong society? Should we consider increasing the number of our universities so that fewer of our qualified applicants have to be disappointed?
On the other hand, I would definitely scrap the Territory-wide System Assessment (TSA) and the latest manifestations which are TSA in disguise. This is a project which seems to be universally loathed by teachers, parents and children alike and with never a clear explanation of what it will achieve. I would also cast a critical eye on two of the planks of the current Hong Kong education system: the Diploma of Secondary Education (DSS) and the Direct Subsidy Scheme schools. The first seems now to be handicapping our efforts to be a modern innovative city with a workforce well qualified in science and technology. The DSS is also making the process of education a joyless one for our children while reversing the social mobility on which Hong Kong's success was built.
And the red light? That will be reserved for the cash sweeteners that have become a budget feature in recent years. Of course, it's nice to have a few extra thousand dollars filling out your wallet and for those suffering financial difficulties it will be as welcome as warm rain in springtime. However, I have yet to find this "freebee" practice defensible in terms of genuine merit. On the contrary, there are too many horror stories of ID card holders who for many years have been living overseas and not paying Hong Kong taxes coming back just to claim this windfall.
"Money may not be everything," I heard a wise professor say, "but lack of money is everything". We should be grateful for the many years of careful stewardship of Hong Kong's finances that leaves us able to pick and choose as to our spending priorities. So let us not be lulled by our good fortune into indiscriminate distribution of largesse - even just to win the good will of our citizenry. Prioritization should be dictated by identifying the most deserving of all clamoring needs, and not by those who speak at the highest decibels.
The financial secretary should be guided by the long-term impact of his decisions, and not to gain short-term plaudits. Ensuring a more equitable society where our senior citizens can enjoy a dignified existence and providing reasonable opportunities to help our talented young entrepreneurs to launch a promising career are all worthy considerations.
(HK Edition 02/20/2017 page1)