Farmland reform buzzing in from the sky
Updated: 2017-02-17 07:34
By Chai Hua in Shenzhen(HK Edition)
| | | | | | | | | |
| --- | --- | --- | --- | --- | --- | --- | --- | --- |
|   | | Print | | Mail | | Large Medium  Small | 分享按钮 | 0 |
Drones, like robots, have become more prolific in social and business life as the industry continues to scale new heights, particularly on the Chinese mainland.
Their functions have also grown more creative, like dispatching gifts to loved ones on Valentine's Day or hanging up lanterns and firecrackers during the Lunar New Year. In agriculture, they're charged with an even bigger task - eliminating pests by spraying pesticides on farms, orchards and plantations.
Li Caisheng, who founded Shenzhen Eagle Brother UAV Technology Co Ltd - a manufacturer of agricultural unmanned aerial vehicles (UAVs) - claims their drones can carry a workload of up to 50 times that of laborers.
Born to a peasant family in Jiangxi province, Li had the horrifying experience of seeing his father and neighbors poisoned while spraying pesticide with equipment mounted on their backs.
Li says only women and the elderly are now left in villages on the mainland tending to their farms and, for them, spraying pesticide is an arduous and dangerous job.

His painful childhood memories returned to haunt him in 2012 as he got acquainted with the farm drones industry, forcing him to quit his well-paid job in Shenzhen and splash his life savings on developing agricultural UAVs.
In late 2014, the 40-year-old entrepreneur set up Shenzhen Eagle Brother with four partners.
Like many startups, their first product - a single rotor UAV capable of carrying only 10 kilograms of pesticide and flying for seven minutes - was frowned upon and shunned by clients. But, this did not deter Li and his team.
A year later, they launched a new type TY-787 with a 17-kilogram bearing capacity and a flight endurance of up to 25 minutes.
According to Li, the new device can spray pesticides over 400 to 500 mu (about 0.0607 hectares) of land in one day, while manual workers can only cover 8 to 15 mu. The UAV can also save 30 to 40 percent pesticide if the chemical used is specifically for aviation spraying, as well as 90 percent water.
Last year, the company came up with an intelligent UAV, which can fly to a designated spot to add pesticide by itself, and stop spraying automatically when not needed, thus avoiding repetition or missing out on spraying work.
Li says they can also work in any complicated environment or landform and even at night, thanks to its autonomous obstacle-avoiding control system.
More importantly, this single rotor unmanned helicopter can deploy a multi-spectral camera to collect data and transmit them to the cloud - a step closer to precision agriculture analysis.
Li believes precision agriculture will be the future of farm drones. "It can tell us which chemical element the crops lack and the exact area, so we can decide what to do precisely and accordingly."
Drones, however, remain out of reach for many farmers as they're expensive. The TY-787, for instance, is tagged at 168,000 yuan ($24,463), but the startup plans to bring it down to around 130,000 yuan this year. Along with government subsidy for farmers, Li says the device will soon be more affordable.
So far, drone buyers have been getting subsidy of between 30 and 50 percent from the authorities in some provinces, including Henan, Shandong and Jiangsu. Li Weiguo, who heads the Ministry of Agriculture's farm mechanization department, said earlier this month aid will be expanded to areas where plant protection drones are used.
"Farmers can also buy just the services," said Li, adding that some young people in rural areas have become professional farm drone operators, charging farmers just 10 yuan for each mu covered.
With the rapid development of the drone industry in recent years, competition has heated up as more companies enter the fray.
In November 2015, Shenzhen-based DJI Innovation Technology Co - the country's largest commercial drone manufacturer - upped the stakes by launching a multi-rotor agricultural drone and had reportedly sold 2,500 of them countrywide within a year.
Shenzhen Eagle Brother posted 30 million yuan in revenue last year - a five-fold increase over that of the previous year. Li says they have yet to make a profit, but is convinced that the "cake" is big enough for all manufacturers.
According to official data, the mainland had only 4,890 farm drones as of June last year, while total agricultural land covered 2 billion mu. Even if all the drones are deployed, they can cover only about 0.075 percent of the total area.
Besides the domestic market, Li says they had sold hundreds of farm drones to Southeast Asian countries last year, including Laos and South Korea, and is eyeing markets in the United States, Australia and countries in the Caribbean.
"My drones will help them grow coffee beans," Li said in jest.
grace@chinadailyhk.com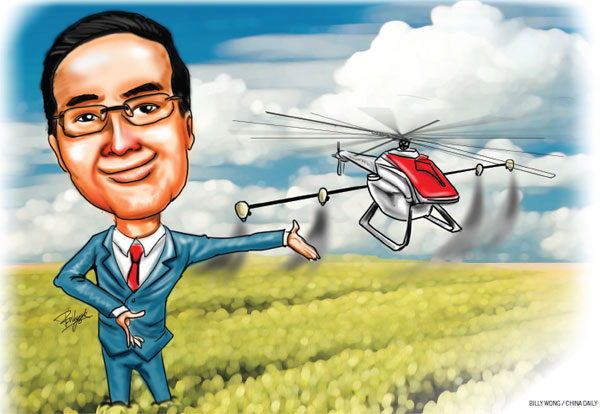 (HK Edition 02/17/2017 page8)