Riding out the storm - we did!
Updated: 2017-02-17 07:34
By Sophie He(HK Edition)
| | | | | | | | | |
| --- | --- | --- | --- | --- | --- | --- | --- | --- |
|   | | Print | | Mail | | Large Medium  Small | 分享按钮 | 0 |
HK retailers saw one of the worst years on record in 2016, but TSL jewelry group decision-maker Estella Ng tells Sophie He shrewd running and strategy had helped them win the day.
When the going is rough, riding the tiger with skill and shrewdness may not be that hazardous after all.
That's what probably Tse Sui Luen Jewellery (International) Ltd (TSL) - one of Hong Kong's oldest and well established jewelry and investment chains - found as the city's retail industry underwent one of the toughest years on record in 2016 amid a global economic downturn and a shattering slump in tourist arrivals, says Estella Ng Yi-kum, the group's deputy chairperson, chief strategy officer and chief financial officer.
It was, indeed, a dreadful time for local retailers, in particular, the jewelry trade, but good companies can still rake in the dollars in a challenging environment, she believes.
"In the heyday, companies may still go bust. But, in bad times, with good management and strategy, they may still be able to make it with handsome profits," she tells China Daily.
TSL, which has been in business for 46 years, performed relatively well last year, driven to a great extent by its operations on the Chinese mainland, having recorded decent growth of 1.5 percent year-on-year in terms of same-store sales.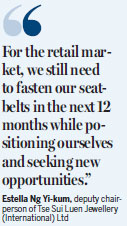 The market, she predicts, will remain volatile in 2017, mired in uncertainties, politically and economically, as the world tries to fathom out the aftermath of such shocks as Britain abandoning the European Union, and the protectionist and combative policies of new White House occupant, US President Donald Trump.
"For the retail market, we still need to fasten our seatbelts in the next 12 months while positioning ourselves and seeking new opportunities."
The Chinese mainland, Ng says, will continue to be TSL's future growth engine as the country currently accounts for more than 60 percent of the group's entire operation.
TSL, which is also engaged in property holding and the logistics and supply-chain business, will open up a further 100 franchised stores on the mainland in the next two years. At present, it owns 316 stores there, including 115 franchised outlets.
"We're on target," says Ng. "The ratio of our self-run and franchised ones is 2:1. So, for every franchised outlet, there're two self-operated stores. A few years down the road, the number of our franchised stores will take up 70 percent of our total on the mainland. This means that the pace of opening up new franchised stores there will be much faster than that of self-operated ones."
Eye on mass market
In Hong Kong, TSL keeps the number of stores at around 26 but, for the past two years, its business strategy has changed as it tries to replace some of the stores at prime tourism centers with ones that are near MTR stations. The aim is to cater more to local residents and the mass market as the mainland tourist pool shrinks and people's shopping behavior changes, says Ng.
Currently, about half of the chain's local stores are located in prime tourist centers, while the rest are focused on the mass market.
According to Ng, the appetite for jewelry and diamonds among the middle class is still very strong. While about 22 percent of TSL products are made of gold, the rest are mainly jewelry and diamond creations, and the company is cooperating with international designers to launch cross-over products.
"We've also widened the price range. We're not just targeting high-end products. We do have affordable ones for those looking for something that's reasonably priced - products that you can wear every day to work or use as small gifts for yourself."
Young consumers are not left out either.
"We're not just focusing on large diamonds, but also on smaller ones with elegant designs that are much admired by younger consumers. You can see the appetite as it's on the rise as opposed to traditional products."
Apart from shifting business strategy, TSL has jumped on the e-commerce bandwagon - a sector that may be small for the company, but is growing very fast.
E-commerce potential
In 2015, when TSL launched its e-commerce platform, the revenue generated then was about HK$5 million, while the second year raked in between HK$30 million and HK$40 million.
Ng believes e-commerce does have great potential with a huge market and a trend that everybody is following, particularly on the mainland.
E-commerce accounts for some 3 percent of the group's turnover and it aims to lift the proportion to 5 to 10 percent in the next few years.
"Fundamentally, we're trying to get our products across to different types of consumers, regardless of whether you're a sophisticated client, from the middle class or a teenager. Whenever they visit our stores or our websites, there's always something for them to buy."
According to TSL's latest interim report, the group's net profit dropped 24.1 percent to HK$11.7 million, while turnover fell 11.6 percent to HK$1.55 billion for the six months ended August 31, 2016, compared with the corresponding period in the previous year.
Contact the writer at
sophiehe@chinadailyhk.com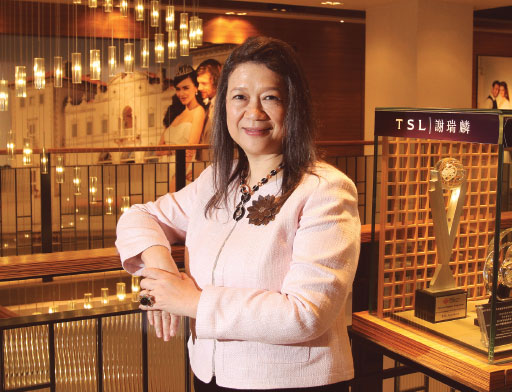 Estella Ng Yi-kum, deputy chairperson of Tse Sui Luen Jewellery (International) Ltd, says the group had prudently navigated the economic downturn in 2016. The jewelry chain has now set its sights on the Chinese mainland market, which will continue to be its future growth engine. Parker Zheng / china daily
(HK Edition 02/17/2017 page9)