Determination needed to tackle education problems
Updated: 2017-02-16 07:31
By Raymond So(HK Edition)
| | | | | | | | | |
| --- | --- | --- | --- | --- | --- | --- | --- | --- |
|   | | Print | | Mail | | Large Medium  Small | 分享按钮 | 0 |
There is a saying that everyone in Hong Kong is an expert in education. This is not without reason. We all are entitled to 12 years of compulsory education, and the government is now subsidizing kindergartens. Hence, everyone in Hong Kong is eligible to receive some form of free education. Also, education is viewed as a long-term investment in human capital. Needless to say, people will have their own ideas on how education should be developed. It is not surprising to see that all Chief Executive election candidates have presented their own views on this important topic in their election campaigns. When I inspect the ideas put forward by the candidates, I can hardly see significant differences. The problems or challenges faced by the education sector are well known. What is needed is a great determination to get the job done.
From this point of view, the next government needs to have experienced educators in the cabinet so that a more holistic view on education can be achieved. There are many experts in education. These experts are often very experienced in their own domains. But they may not be familiar with the operations of the other areas.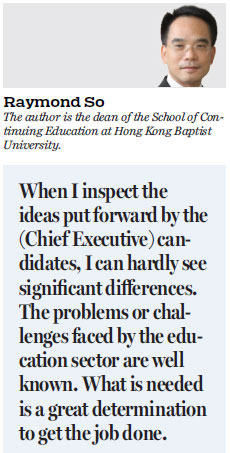 Take pre-school education, for example. Currently, the government has a scheme to subsidize kindergartens. However, to be eligible for these subsidies, the kindergartens have to adopt the prescribed local curriculum and observe certain rules and restrictions. These rules and restrictions tend to emphasize standardization and blur the positioning of individual kindergartens. Also, Hong Kong parents now prefer their young children to receive more lessons in English and Putonghua than in the local dialect. If a kindergarten joins the subsidy scheme, it may have to revise its curriculum to meet local requirements.
In addition, problems faced by teachers in pre-school and elementary education will be very much different from those faced by teachers in higher education. Young children have diverse backgrounds and they have different learning needs, while university students have attained basic learning skills and they enter universities on a competitive basis. These examples suggest it is very difficult to find an expert who is well versed in all aspects of education to be in charge of this important task.
Apart from identifying suitable members for the next cabinet, it is equally important to formulate and execute a long-term strategy for education. Many educators abhor the notion that education is an investment for the future. To these educators, education is about transforming people and this should not be considered as an investment. Education is a noble thing and should not be given a price tag. But we also need to remember that Hong Kong has no natural resources and that economic success depends largely on the quality of our human resources. We simply cannot overlook the economic aspect of education - that it is an important investment in human capital.
From this perspective, an important element in education deserves greater attention. This is vocational education. The government is aware of the importance of vocational education and a lot of effort has been made to promote it. However, there is a big gap between the expectations of young people and the government's strategy for vocational education. Young people have a rather negative view of vocational education, attaching an "inferior" label to it. This is because of the obsolete concept of "blue collar" vs "white collar". When we look at the data, it is interesting to see that Europe has a higher percentage of young people pursuing vocational education than Hong Kong. Vocational education is also called "professional education" in Europe. Many universities of applied sciences have been set up to provide vocational education. This is to remove the negative stigma on vocational education and enhance its status. The European experience can be a lesson for Hong Kong.
The above-mentioned problems and challenges suggest that improving the quality of education will be a tough job for the next administration. There has been a lot of controversy about local education in the past five years. The next government will need considerable determination to tackle these problems.
(HK Edition 02/16/2017 page7)