More efforts needed on labor and land shortages
Updated: 2017-02-15 07:42
By David Wong(HK Edition)
| | | | | | | | | |
| --- | --- | --- | --- | --- | --- | --- | --- | --- |
|   | | Print | | Mail | | Large Medium  Small | 分享按钮 | 0 |
David Wong argues that anotherurgent task facing the next government in HK must be to rebuild the working relationship between the executive and legislative branches of government
The main focuses of the Policy Address delivered by the Chief Executive on Jan 18 were the phasing out of the Mandatory Provident Fund (MPF) offsetting mechanism, developing country parks and infrastructure development, etc. But it also included many other policy agendas which are noteworthy. There is no question that the CE and his team have worked very hard in the past four and a half years to implement his election manifesto. It is up to the people of Hong Kong to judge whether he has basically implemented all his election promises.
The government's continued support for innovation and technology is praiseworthy. However, the overall business environment in Hong Kong has deteriorated, with the retail and tourism sectors in a sharp decline. According to economic reports, the profit margin of small and medium enterprises (SMEs) fell from 9.8 percent in 2010 to 2.8 percent in 2014. It was disappointing that there were no new measures proposed to support SMEs, which are the backbone of Hong Kong's economy, employing the vast majority of Hong Kong's employees. In light of the economic and political uncertainties over the global horizon, there should be more government support for SMEs.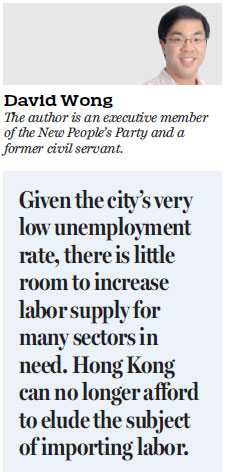 There are two bottlenecks constraining Hong Kong's economic development: The lack of land and labor. Land development has been a hot topic in recent years given the continued rise of property prices. Most people understand the need for and support the development of new land and reclamations outside the Victoria Harbour. Constrained by high rents and a lack of space, most industry cannot develop properly and grow. Shortage of manpower also can be felt in many sectors, especially those that do not appeal to young people, such as elderly care, construction, cleaning and many other blue-collar jobs. Given the city's very low unemployment rate, there is little room to increase labor supply for many sectors in need. Hong Kong can no longer afford to elude the subject of importing labor. Basically, imported labor won't affect the job opportunities and wage levels of local workers. There should be a more flexible mechanism for processing labor import applications, and sectors other than the elderly care industry should also be allowed to import labor. A possible first step is to allow government-led projects to import construction workers because such practice is relatively easy to monitor and implement.
A three-tier retirement protection scheme was proposed to provide cash allowance to the elderly in need. This is another major initiative to enhance retirement protection. Overseas experiences have proved that "pay-as-you-go" universal pension schemes, despite contributions from employers, employees and government, are financially unsustainable. Constrained by limited resources, the government was right to focus on helping those truly in need. Obviously, the proposed means test and sizes of monthly allowances should be thoroughly discussed by members of the community in the coming months.
Despite government efforts to increase land supply, the annual supply of public rental housing units in the coming five years is only 18,900 instead of the targeted 28,000. There are now over 300,000 people on the waiting list and the promise of a three-year waiting time has been broken. One of the worst results is the prevalence of subdivided flats across Hong Kong. It is estimated that there are around 200,000 people living in around 88,000 subdivided flats. Many of these units have structural and fire hazards, yet forcefully evicting the tenants would only make them homeless. The government needs to tackle this problem with new thinking. One of the suggestions is for government to purchase existing industrial buildings, then retrofit them into subdivided flats that meet structural and fire safety standards. Obviously, these units would be of lower quality than public housing units and only serve as temporary accommodation before the tenants could be moved to public rental housing units.
Seeking changes while preserving stability was the election slogan of the incumbent CE. In the past five policy addresses, there were many measures to alleviate poverty and lots of resources were allocated to improving welfare and education. Unfortunately, the relationship between the executive and the legislative branches has been very tense and society has been polarized. For Hong Kong to move steadily forward, it is crucial to rebuild the working relationship between the executive branch and the Legislative Council.
All legislators who support the "One Country, Two Systems" principle should be regarded as partners. In the past few years, Hong Kong has experienced too much political confrontation and society has become more divided. I hope that the current administration can focus on livelihood issues and try to avoid unnecessary arguments during its remaining months in office.
(HK Edition 02/15/2017 page8)