Terrifying MTR fire offers vital lessons
Updated: 2017-02-14 07:14
By Paul Surtees(HK Edition)
| | | | | | | | | |
| --- | --- | --- | --- | --- | --- | --- | --- | --- |
|   | | Print | | Mail | | Large Medium  Small | 分享按钮 | 0 |
Paul Surtees argues that while HK's subway system may be the envy of the world, last week's shock blaze has put the spotlight on some of its shortcomings
Last week's alleged arson on a crowded train traveling under Hong Kong's scenic Victoria Harbour was shocking in many ways; and one way it shocked lies in what that dreadful incident tells us needs to be done to enhance on-train security.
It can first be admitted that Hong Kong's super-efficient Mass Transit Railway (MTR) system is the envy of the world. It transports millions of passengers every day, cheaply, expeditiously, promptly, comfortably and (usually) very safely. However, all these routine levels of effectiveness make for greater levels of public distress when things do go wrong on the system's shining trains.
Our MTR system is one of Hong Kong's internationally recognized success stories and is much imitated overseas. But it is still not perfect as this shocking event reveals. As several official investigations and enquiries will now proceed into this ghastly fire, a few suggestions are made here on minimizing similar occurrences in future, and to enhance security.
During the evening rush hour last Friday, a passenger allegedly ignited a blaze on the cross-harbor journey to Tsim Sha Tsui Station. Some of those unfortunate passengers are now fighting for their lives in hospitals; others have been scarred for life by their severe burns. No doubt hundreds of others are deeply traumatized.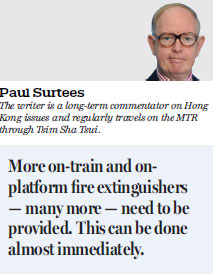 It has since emerged that that particular train had no closed-circuit television, meaning that the driver was unable to quickly find out what the problem was on his train. Clearly, CCTV now needs to be installed on every MTR train, and closely monitored by the driver.
Many of those needing medical attention last Friday night were overcome by fumes rather than the deadly flames themselves. Apparently, the whole packed trainload of passengers was subjected to smoke and fumes from the single burning carriage.
This points to the urgent necessity of dividing each carriage from its neighbor by having closed doors between them - doors that can only be opened in an emergency. The slight inconvenience so caused in terms of the passengers no longer being able to readily walk the whole length of the train should be balanced against the extra security provided.
In this case, at least the smoke would have been confined to one carriage had inter-carriage doors been installed.
It was clear that no effective overhead sprinkler system was available to be deployed in the burning carriage. The MTR needs to look into how such systems can be introduced on all its trains. In addition, more on-train and on-platform fire extinguishers - many more - need to be provided. This can be done almost immediately.
For quite some time after this burning train was stopped at Tsim Sha Tsui, and after the terrified passengers had exited, the flames were seen to continue in the by-then empty carriage. Some foolhardy young passengers then entered the burning carriage - endangering themselves - to capture images on their smartphones. It was unfortunate that the flames were not doused faster, or the crime scene secured earlier.
Having said that, scores of Hong Kong's ever-ready firemen and police officers were deployed to the scene very swiftly, reflecting once again the superb levels of efficiency of both emergency services. The ambulance and hospital staff also worked well to help in this emergency. The scenes captured for social media by escaping passengers show plenty of firemen and police officers on the platform but only a smattering of uniformed MTR staff.
It is all very well for the MTR's bottom line to generally limit the on-train staff to just one driver, thus avoiding paying salaries to others working on board, but having at least a patrolling guard and perhaps also a deputy driver - like a co-pilot on a plane - on the train would do much to reassure the traveling public.
As a side benefit, the guard could draw transgressing passengers' attention to the rules of MTR travel, such as the widely ignored, supposed (but unenforced) ban on eating or drinking. The enforcement of MTR by-laws would be more effective too with the installation of CCTV cameras, a practice now prevalent in many metropolitan cities around the world. They would also serve as a deterrent to criminals intent on causing harm to the innocent public.
(HK Edition 02/14/2017 page7)