The'St. John woman'in a timeless fashion world
Updated: 2017-02-10 08:51
By Duan Ting in Hong Kong(HK Edition)
| | | | | | | | | |
| --- | --- | --- | --- | --- | --- | --- | --- | --- |
|   | | Print | | Mail | | Large Medium  Small | 分享按钮 | 0 |
Chief Executive Officer of St. John Knits International Bruce Fetter, who has been with the group for nearly 15 years since 1997, believes its core value hasn't changed over time - it's all about quality and timeless fashion.
St. John came into being in 1963 - the creation of former model Marie St. John and husband Robert Gray. Its business rolled out initiatively from a single dress designed specifically for a woman's honeymoon. The product was recognized and appreciated by her friends and gradually found its way to the shelves of a department store in California.
"I was very fortunate being able to join this company at the time when the founding family was there and I spent nine years working with them and learned a lot," recalls Fetter.
He ultimately ended up as the company's co-CEO with a daughter of the founders until new ownership took over, so he left for a while before being soon invited back to St. John.
Fetter says he has no qualms about professing his love for the brand, as well as the people in the town, and feels very proud to be part of the business.
In the early days, he recalls, they had spent a long time figuring out the core materials to be used for the products, including natural fiber wool, and nailing the problem that some clothing materials were scratchy at that time. As time progressed, they began specializing in women's knitwear made of wool and rayon yarn.
"We want the clothes to maintain their shape and be comfortable at work or travel so that anyone wearing them could feel she could go places and look her best. We also wanted them to be durable. We think we've achieved that after years of evolution and accumulation and, for the past 54 years, we think we've done a great job in delivering the promise of quality."
St. John then started working with people in Australia and across the globe in search of the right materials, and later began twisting and creating yarns themselves, building up their own dye houses so that they could dye the materials with the colors of their choice.
"St. John is truly a vertical business that enables the company to manage and control every step in the process, including maintaining the quality of the clothes and creating our own actual styles in the way which many other companies may not have the luxury to do so," elaborates Fetter.
St. John prides itself in being a value designer, he says, although at a lower edge of the designers' world. "We're able to do our business profitably with prices that are lower than those of some of our upper-tier peers."
As for St. John's target customers, Fetter says: "Rather than the age range, what I would like to talk about is a woman's lifestyle." The target client is often someone who's successful or in the middle of her career or maybe someone who isn't working but is involved in her community or social setting and wants to dress beautifully and look good in what she's wearing.
The "St. John woman" boasts a level of success in the affluence. "You don't buy designer apparel if you don't have the financial means," he argues.
"Those who like to buy our clothes and for whom we design our clothes are those aged 30 or 35 who do get excited about our products. But, in reality, most of our clients are probably in their late thirties or forties and who continue wearing our clothes through life."
Fetter does not hide the possibility of St. John being his last job, adding that it's great to work in a business that every employee enjoys working for, and his management strategy is to offer directives to his staff rather than the details of how to get there.
tingduan@chinadailyhk.com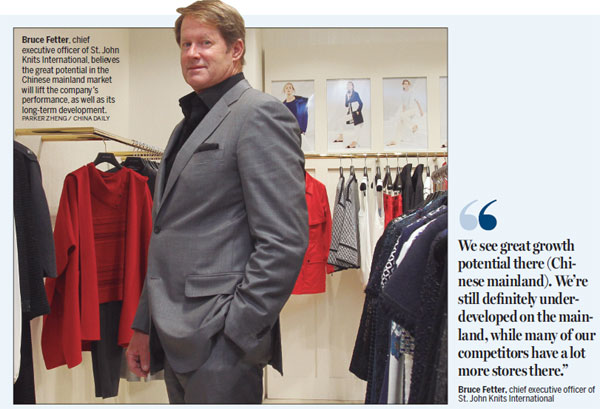 (HK Edition 02/10/2017 page9)