Young ambassadors of ancient art
Updated: 2017-02-10 07:24
By Agnes Lu(HK Edition)
| | | | | | | | | |
| --- | --- | --- | --- | --- | --- | --- | --- | --- |
|   | | Print | | Mail | | Large Medium  Small | 分享按钮 | 0 |
The 'Rising Stars'of Cantonese Opera are also doing their bit toward getting more young people interested in this traditional performance art form. Agnes Lu reports.
It is hard to believe Alan Tam Wing-lun is only 23 years old. He talks like a seasoned professional. Then his dedication to the art of the Cantonese opera is already more than a decade old.
His attachment to the traditional art form began even earlier, with a visit to the local video store with his father. Tam remembers he could not take his eyes off the image of the heroine of The Floral Princess on a video box cover. Watching the video, Tam, then quite small, fell in love with the traditional art form instantly. He started training in Cantonese Opera soon afterwards, at an incredibly young age of 3.
"I was always fascinated watching the audience rushing to the front and encoring loudly each time a show ended. It was really exciting that these Cantonese Opera artists could receive so much love and attention from their fans. So I wanted to perform on stage as well," says Tam, now a professional Cantonese opera actor, having played numerous roles in various opera classics.
Tam was one of a bunch of highly-skilled young performers featured in the third edition of Rising Stars of Cantonese Opera performances, held at Ko Shan Theatre from Feb 3 to 8. Fourteen young promising actors were selected by Xiqu Centre in the West Kowloon Cultural District for extensive tailor-made training and the Rising Stars series of performances was meant to showcase the fruits of their labor. The performances included two full-length romantic comedy productions and an evening featuring excerpts from four classic productions.
Tam played the male lead in A Marriage of Confusion, a comedy. He had put himself through a rigorous practice schedule and yet seemed slightly nervous before going on stage. "I couldn't fully remember the moves during the action scene on the first day of the show so it was as if I was passing through a dream on the stage," says Tam. He was more confident on the second day "but I had to constantly keep my headwear from falling down". Finally, on the third day Tam played his part without making mistakes but in his excitement didn't realize he was rushing through it. "My partner almost struggled to catch up," he laughs. Luckily, the audience responded positively and loved his performance.
Chan Kei-ting, 27, although a returnee from a previous edition of the Rising Stars program, was nervous too before the show began. She was playing the maid in the two comedies and had spent much time trying to fathom how one was different from the other - based as they were in different periods in history.
The hardest part of her job, says Chan, was to learn to hold the audience's attention while improvising on stage. "In A Marriage of Confusion, there is a scene where another maidservant and I are on stage while the female lead does a quick costume change backstage. In the libretto there're only two lines, which is far from enough (to fill the time until the heroine returns). So we have to constantly think of things to say while keeping an eye on the progress backstage," she said.
Catch 'em young
Chan grew up in the walled village in Tsing Yi where they still observe the ritual of Shengongxi - a celebratory performance to mark the days associated with certain gods and other festivals where Cantonese Operas are performed as part of the ritual. Chan has always been an enthusiastic follower of Shengongxi which ties up with her passionate attachment to the Cantonese Opera form.
She had decided she was going to become a Cantonese Opera actress quite early on, which intrigued some her friends who assumed the normal thing for a young girl in this day and age would be to play the guitar, or do karaoke.
Tam's experience wasn't all that different from Chan's. "My classmates would ask me why I liked the Cantonese opera as they didn't find any joy listening to it. They liked pop songs," Tam said.
Both Chan and Tam had the determination and the guts to embrace a traditional Chinese art form that does not seem to have much currency with the young generation any more. Law Ka-ying, the artistic curator of the Rising Stars of Cantonese Opera program and himself a widely respected performer, says he understands that there are too many diversions in the lives of young people today to have time for Cantonese opera. "Our main audience is mostly above 45, the sort who finally have the time and leisure to appreciate this artistic and exquisite art," he said.
The most effective way to popularize Cantonese opera among young people, he suggests, would be to bring them to the theatres before they step into adolescence. That way they would be exposed to a traditional art form before their interests are claimed by more trendy stuff.
Tam and a few other young artists have formed a group to take the art form to schools. They even designed games to help elementary school students understand the musical notation used in Cantonese Opera. They also gave seminars and lectures in colleges to help resolve possible confusions about the art form.
Tam doesn't expect his friends to turn up at one of his shows very soon though. As for those who do seem to take an interest in the performance art form, Tam usually recommends starting with a fun, light-hearted production. "If it's too abstruse or artistic, they'll probably be bored to death," he says, laughing.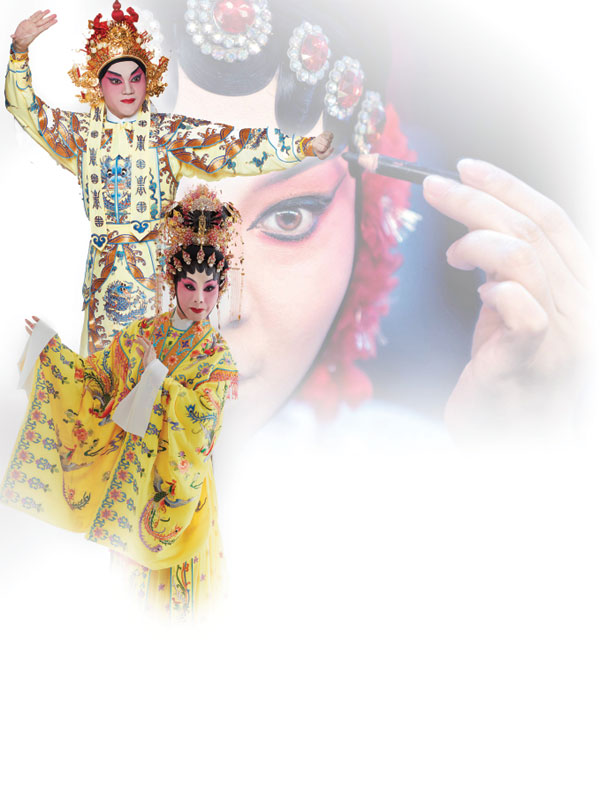 Alan Tam Wing-lun and Chan Kei-ting are among the young Cantonese Opera professionals who are trying to popularize the performance form among their peers.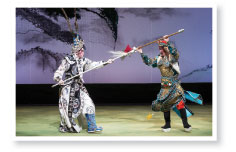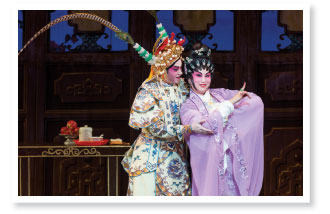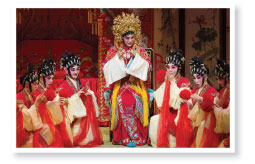 The comedy opera, A Marriage of Confusion, was staged as part of the Rising Stars of Cantonese Opera series of performances this week.
(HK Edition 02/10/2017 page1)