Why A&E fee increase is not a long-term solution
Updated: 2017-02-09 09:32
By Raymond So(HK Edition)
| | | | | | | | | |
| --- | --- | --- | --- | --- | --- | --- | --- | --- |
|   | | Print | | Mail | | Large Medium  Small | 分享按钮 | 0 |
The Hospital Authority announced its plan two months ago to raise the fees charged by the Accident and Emergency (A&E) departments of its hospitals to HK$220 a visit. The aim is to reduce the cases of "abuse" of A&E services, as many A&E patients are not actually emergency cases.
For many people, A&E departments are an alternative to outpatient clinics. When they cannot obtain treatment from outpatient clinics, A&E departments provide the necessary medical treatment. As a result, patients usually need to wait for a long time at A&E departments before they can see the doctor. Very often, the waiting time for non-emergency cases can be over four hours. The problem is that such a long waiting time puts tremendous pressure on hospitals. To those who really need emergency medical treatment, it will have a negative effect on service quality. The proposed rise in the A&E service charge aims to reduce the number of "abuse" cases.
The A&E charge has not been increased for many years. The experience of previous fee increases suggests there will be an immediate drop in A&E visitors. However, such a fall has been short-lived. When people get used to the new fee, the number of cases will rebound. The real problem lies in the inadequate number of outpatient places provided by the Hospital Authority. Also, private doctors charge much higher service fees than the new fee of HK$220 proposed by the Hospital Authority. It is only natural for patients to prefer public medical services over private doctors. Put simply, the latest fee increase cannot achieve the desired policy objective. It can recover some of the costs, but it cannot solve the problem of long waiting times for A&E visitors.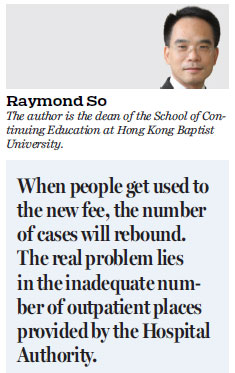 The Hospital Authority is well aware of these problems. But this move still serves the purpose of alerting the public to this problem. It forces us to think carefully about the future of our medical system.
The proposed increase in A&E charges also shows us that Hong Kong's current medical system relies too much on public finance. If we are to have a sustainable public medical system, we clearly need to have more participation in the medical system by the private sector.
To resolve the problem, apart from more participation of the private sector in the medical care market, more public hospitals, clinics and medical professionals are required. This of course means more resources are needed. But building more hospitals and clinics is easier said than done. This is because of Hong Kong's serious problem of a shortage of land. Even if we have the financial resources, competition for land between housing and medical needs will emerge. Worse still, hospitals are subject to economies of scale. It will not be sensible to build a big hospital with lots of empty beds in one district while there are long queues of patients in another district. This suggests a very complicated planning process which does not have an immediate solution.
In future, when the problem of a growing aging population becomes more serious, the pressure on A&E services will only increase. People always say that prevention is better than cure. Of course, when it comes to the aging problem, proper handling and prevention can help to relive some of the problems. But this is not only the job of the medical profession. It also needs help from other sectors. For example, a well-planned elderly care system can help relieve the current strong demand for medical services.
Needless to say it is a difficult task - especially when different government departments and various sectors are involved. Each government department and sector will have its priorities, so cooperation and coordination are always difficult to implement. This will certainly be a major challenge for the next administration.
(HK Edition 02/09/2017 page8)