Corporate structural defects perpetuate HK's livelihood problems
Updated: 2017-02-08 07:19
By Zhou Bajun(HK Edition)
| | | | | | | | | |
| --- | --- | --- | --- | --- | --- | --- | --- | --- |
|   | | Print | | Mail | | Large Medium  Small | 分享按钮 | 0 |
It is safe to say three of the most controversial questions facing Hong Kong society today are: Is standard working hours legislation necessary? Should the offset mechanism in Mandatory Provident Fund (MPF) be phased out and how? And should universal retirement protection be adopted? The reason why these questions have emerged but defied efforts to solve them has a lot to do with Hong Kong's corporate structural defects.
According to long-term service standards, manufacturers hiring 100 or more workers each are considered large enterprises, while non-manufacturers hiring 50 or more workers are seen as big enterprises. Even with such modest definitions of corporate size, over 98 percent of enterprises in Hong Kong have been small- and medium-sized enterprises (SMEs) for decades.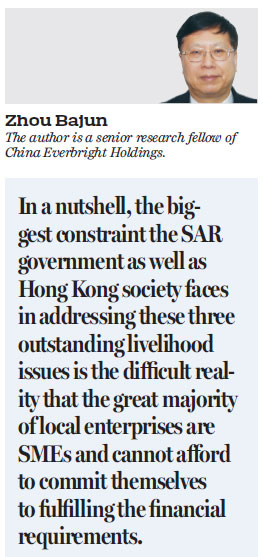 With this reality in mind it shouldn't be hard to understand why employers use the MPF to offset severance pay and/or long-service pay; why the last household survey conducted by the Census and Statistics Department found 17.2 percent of employees (540,000 people) had not signed labor contracts with their employers; why 61.1 percent of employees (1.92 million people) signed labor contracts that do not specify how overtime is compensated; and why of those who signed contracts with no compensation for overtime mentioned (1.55 million people), 444,100 worked overtime in the week prior to taking the survey - 440,000 of whom are used to working overtime for free.
In addition, because the great majority of local employers are SMEs that can only afford to offer low-paying jobs, many workers in Hong Kong cannot support themselves in retirement with their meager savings and very limited MPF. That is why public demand is so strong for universal pension protection by the government.
However, the government's efforts to address these issues have been hampered by Hong Kong's corporate structural defects.
In his final 2017 Policy Address, outgoing Chief Executive Leung Chun-ying has proposed "to progressively abolish the 'offsetting' of severance payments or long-service payments against MPF contributions. The proposal contains three key elements. First, the abolition will have no retrospective effect - in other words, employers' MPF contributions before the implementation date of the proposal will be "grandfathered". Second, as some severance payments or long-service payments' functions overlap with those of the MPF system, the amount of severance payments or long-service payments payable for an employment period from the implementation date could be adjusted downward from the existing entitlement of two-thirds of one month's wages to half a month's wages as compensation for each year of service. Third, the government will share part of the expenses on the severance payments or long-service payments of employers in the 10 years after the implementation date of the abolition to help employers, especially SMEs."
This proposal by the SAR government has failed to win appreciation from the working class because it would allow employers to reduce severance payments or long-service payments. It has been met with opposition from many employers, too, because the great majority of SMEs in Hong Kong would not be able to stand the financial burden of MPF contributions and extra payments for retiring workers without the ability to offset part of them with their MPF contribution.
The outgoing CE also ruled out in his final Policy Address the adoption of universal retirement protection by the current-term SAR government because senior citizens have different needs in retirement; some may require social welfare while others don't and some may just need a little allowance. That means a "one-size-fits-all" approach in universal retirement protection is unrealistic and would fall short of some people's real needs.
It should be noted that the government understands the universal retirement protection system is meant to show respect for the elderly, not for poverty alleviation. The reluctance to adopt it mainly comes from fear of increased fiscal strain on government finances. A government-sanctioned study in "long-term fiscal planning" from March 2014 found that Hong Kong may find its fiscal balance turning red (incurring structural fiscal deficit) in the 2029-30 fiscal year, or even within the next 10 years, without the universal retirement protection system. That sounds a good enough reason for the government to rule out universal retirement protection in the foreseeable future.
Regarding standard working hours legislation, the current-term SAR government formed the Standard Working Hours Committee in 2013, but representatives of employers and employees have not been able to agree on anything substantial and the labor side has pulled out of committee meetings. The remaining members of the committee presented a report to the CE last month suggesting that standard working hours legislation should only require employers to include compensation for overtime in their employment contracts, without offering a specific standard for working hours. It can be interpreted as saying conditions are not ripe for Hong Kong to set standard working hours at this time.
In a nutshell, the biggest constraint the SAR government as well as Hong Kong society faces in addressing these three outstanding livelihood issues is the difficult reality that the great majority of local enterprises are SMEs and cannot afford to commit themselves to fulfilling the financial requirements.
(HK Edition 02/08/2017 page8)