HK should fund successful artists as support for arts pays off
Updated: 2017-01-25 10:16
(HK Edition)
| | | | | | | | | |
| --- | --- | --- | --- | --- | --- | --- | --- | --- |
|   | | Print | | Mail | | Large Medium  Small | 分享按钮 | 0 |
Hong Kong has allocated specific funding for elite sports and athletes because, it is argued, successful sportspeople are good ambassadors for Hong Kong and good role models. The same argument, surely, could be applied to artists and performers for whom standards of excellence are at least as high and whose longer active careers provide more time for the investment to pay back.
It might have been argued in the past that Hong Kong lacked sufficient depth and variety in local artistic institutions to make good use of such public support. But that argument is becoming increasingly hard to make. This point came home during a recent concert celebrating Hong Kong tenor Warren Mok's anniversary of 30 years "in the business" which served as a reminder, if one were needed, of much that is right and even more that is improving about Hong Kong's cultural scene.
Mok, Hong Kong's first international operatic singer, and still the most well-known, returned to Hong Kong more than a decade ago with an acclaimed international career under his belt, to found and run Opera Hong Kong and lay institutional foundations for the art form's local growth. The transition from performer to builder is no mean feat. Those who say that Hong Kong's entrepreneurial skills aren't deployed - or aren't relevant - for the arts haven't been paying attention.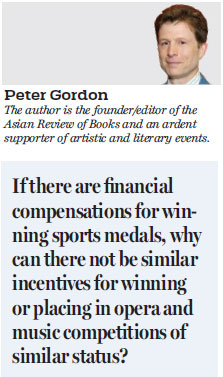 A decade or even three are not perhaps enough time to become an institution, even in fast-moving Hong Kong, but it is important to look at trend lines. Debating whether a glass is half full or half empty is only part of the story; what matters just as much is whether the glass is filling up. This particular glass - that of opera and classical music more generally - is measurably fuller than it was even a few years ago.
Opera Hong Kong has just come off a run of Giuseppe Verdi's challenging work Otello, with singers who are far more often seen and heard at the Metropolitan Opera and Covent Garden than here in Hong Kong, a sign of both how far local opera has come and the role it is increasingly carving out for itself as a platform for the creative mingling of Western and Asian artists.
The concert took the opportunity to look forward rather than back, making a point of highlighting the next generation of Hong Kong singers. These, it must be said, have come a long way in the past few years. One of them, mezzo-soprano Carol Lin - admittedly one of the more experienced singers - is giving every sign of having coming into her own, and sings with personality and confidence. But others are nipping at her heels, which is how it should be.
There are several reasons for this. One is just that as the number of local opera productions and concerts of various kinds increases, singers have more opportunities to actually sing. As they consequently improve, the supply of performers deepens, making it easier to arrange operas and concerts. This sort of virtuous circle - a requirement not just in the arts, but in many professions from sports to science - seems to be finally in operation.
Opera singers can sometimes come from nowhere - Mok himself is an example - but such a serendipitous combination of ability, perseverance and external good fortune is not something a society that aspires to "world city" levels of culture - or sport - should rely on. It helps to have some vigorous pump-priming via initiatives such as the Jockey Club Opera Hong Kong Young Artist Development Programme, which is pretty much what its title suggests. Several of this year's 10 participants took part in Otello and perform often in other local productions as well as in recital.
The concert, accompanied by the Hong Kong Sinfonietta, which was in fine nick, was also a reminder - and sometimes we need reminding - that Hong Kong has more than one fine orchestra. This has resulted, as such things do, in an interesting dynamic - a combination of competition, creativity, differentiation of programs and delivery platforms plus more opportunities for musicians.
If Hong Kong wishes "world city" levels of culture - as it should, because culture is synonymous with those world cities to which we wish to compare ourselves - then it cannot import it any more than it can import sports excellence.
In the effort to nurture home-grown talent, infrastructure and institutions matter. The still on-the-drawing-board West Kowloon Cultural District can sometimes obscure the fact that quite a lot of institution-building is going on - orchestras, opera companies, theatre companies, education - sometimes relatively unnoticed. These developments also show that relatively small investments can pay good long-term dividends, if, that is, they facilitate and prime normal supply and demand interactions that happen anyway.
If there are financial compensations for winning sports medals, why can there not be similar incentives for winning or placing in opera and music competitions of similar status? Fewer people, after all, sing lead roles at the Metropolitan Opera than win medals at the Olympics.
(HK Edition 01/25/2017 page9)