A solitary man on a lonely journey to the west
Updated: 2017-01-24 11:46
By Shadow Li(HK Edition)
| | | | | | | | | |
| --- | --- | --- | --- | --- | --- | --- | --- | --- |
|   | | Print | | Mail | | Large Medium  Small | 分享按钮 | 0 |
Some folks just aren't normal and don't want to be. Take Linus Cheng Lin-hin, who gave up his work and set out to become the solitary traveler. Shadow Li reports.
Trapped in the middle of nowhere, on a muddy, isolated road somewhere near the Black Sea between Eastern Europe and West Asia, Linus Cheng Lin-hin had a moment of panic.
His legs were deeply stuck in the mud. So was his only travel companion - his bike. He tried to lift his legs, but he was really stuck. He tried to lever himself up, using his bike as fulcrum. Failed again. Ten minutes went by. Cheng, with mud all over his sweaty face and soaking into his clothes, couldn't move an inch.
One bad choice got him into this mess. The road looked flat but days of heavy rain had turned it into a mire. It was just one of those things we all do: make an innocent choice, and whatever can go wrong, will go wrong. Murphy's Law.
Finally, Cheng managed to drag himself and his bike about 10 meters through the muck. He thought he was good to go. Then came the landslide and no way to get around it. Time to turn back through the mud.
He made it for only three or four meters before his foot sank into the mud, along with his bike. He was really trapped and all alone. There was no one to help him get out. His worst fear was being stuck for days - possibly dying of hypothermia, before someone came along.
Calling the police would be no help, he thought. He didn't even know where he was. And he didn't know if the cops could speak English if ever he got through to them.
He thought he'd better try anyway. He was about to call the police, when he saw a vehicle headed toward him. Cheng waved his arms as wildly as he could. And the people on the car helped him out. His bike had to be taken apart because it was in too deep just to pull it out.
An ambitious adventure
Cheng was pretty rattled but didn't even consider giving up. He is traveling along the Silk Road and wanted to finish his ride from Hong Kong to the farthest western part of Asia. That wasn't even his ultimate goal. He planned to ride all the way down through the desert lands, to South Africa, all the way to the Cape of Good Hope.
On his 253rd day, Cheng had covered 11,156 kilometers. Tang Sanzang, the Chinese monk, whose journey to the west was recorded in one of the four great novels of Chinese literature, rode a horse and had the legendary Monkey King to watch over him. Cheng had neither of these when he landed in Limassol on the south coast of Cyprus, in the eastern Mediterranean.
All he had was his bike and a small bag of life-supporting essentials: his tent and cooking utensils. Cheng, 33, was realizing a dream he'd nurtured since college. He rode all the way from Hong Kong to Xi'an, in northwest Shaanxi province on the Chinese mainland. From there, he rode along the Silk Road, crossing the border into Central Asia.
Maybe it was mission impossible. He knew, but the urge had been too strong to let it go.
Cheng, who grew up in an ordinary middle class family in Hong Kong, studied art in college. It was in college that he learned all about the Mogao Caves at Dunhuang. The caves, along the Silk Road in Gansu province, excited Cheng, with their famous wall paintings and Buddhist sculptures. He wanted to go there and then continue traveling along the Silk Road, the ancient Chinese trade route to the West.
When he graduated from the Chinese University of Hong Kong in 2005, he got a job as a performer at Hong Kong Disneyland, even got promoted to be a team leader after a few months. He hung on for a year. Then he quit and took a gap year to find out what he wanted to do. Australia was calling.
The solitary traveler cuts a kind of romantic figure. That aimless, wandering urge seems to be born into some people. Others come by it through experience, sometimes disappointing ones. Cheng's last girlfriend ended things with him, calling him unsettled, and even unstable.
So he came to Australia and then came Alice. She came from Taiwan and worked in a hotel. Cheng worked in an egg processing plant in Perth. Cheng was soon in love. But the clock was ticking. With only four months left on his 12 month working holiday, he had to move fast.
One day, he picked her up from work. Strolling through the park on the way home, they were caught in a downpour, one of the kind that comes out of nowhere and then, as suddenly, it's gone. Cheng was pretty nervous. It was time to pour out his heart. He made a pact with himself. If they saw a rainbow, he would bare his soul. And there it was, floating above the waters, shimmering in the distance when the rain stopped. Moments later, Alice said no. Rejection. They lived too far apart, she told him. Bubble burst.
Meh, who needed girlfriends anyway, when there was a whole world waiting to be discovered? Sometime during that trip to Australia, he made a choice to become a solitary traveler, only he called it "professional traveler".
Excellence comes in all shapes
Cheng isn't very sportive. Nobody would've believed he'd actually make it to South Africa - on a bicycle! Even after a year of getting ready to wheel his way to Neverland, he only made 60 km on his best days.
"Now, I can ride up to 155 kilometer a day, sometimes," Cheng, with a self-satisfied tone, told China Daily.
"One of the goals was to challenge myself and I kind think I've excelled over the old me," said Cheng.
He'd made a lot of preparations, studied cultures, and looked at maps of the old Silk Road. But, on the early part of the journey there was one big problem he hadn't anticipated. That first, long, lonely stretch took him through Russian-speaking lands. No one spoke English, so he'd resort to charades to try to get his meaning across and sometimes translation apps on his cellphone.
Cheng was moving all the time, never knowing what was going to happen next. What he never knew, though, was where he was going to sleep at the end of the day. Sometimes he'd find an abandoned building. Sometimes he'd pitch his tent in the woods, when his sleep often enough was disturbed by strange animals on the prowl.
The early excitement faded and the trek became a grind.
There were few travelers where he went. Getting any useful information was hard. Like the time, he rolled into Tokmok, near Bishkek, the capital of Kyrgyzstan. It took him hours just to find a hotel.
Someone finally pointed him in the right direction, when he keyed "hotel" on his cellphone and then used Google Translate. Quite the place, with a sort of exotic atmosphere. There was a pink pillow and a leopard pattern sheet. And he was too worn out by his journey. He fell asleep quickly and was not aware that he spent the night in a love hotel, until he went for breakfast the next morning across the street, and the waiter bestowed a knowing smile.
He tries to make some sort of a living as a travel writer. But it's not nearly enough. Getting published is hard, though he is one of the two Hong Kong freelancers of the renowned travel guide book - Lonely Planet, selected from 500 applicants worldwide to join a training camp by the publisher.
Getting sponsorships is even tougher. So, it's back to the old savings account, and the money he saved during his life in the work-a-day world.
"I don't think there is only one way of living for everyone. Society generally thinks success is having cars and flats. But I don't think success should be defined by 'others'. I have my own ideas of being successful," said Cheng.
Contact the writer at
stushadow@chinadailyhk.com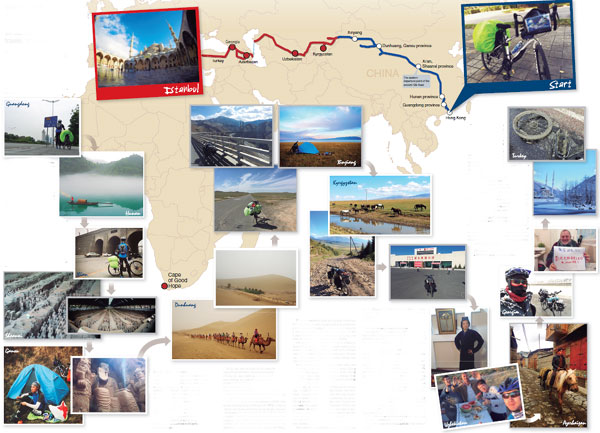 (HK Edition 01/24/2017 page8)