Exchange Fund faces turbulent investment scene
Updated: 2017-01-20 07:51
By Oswald Chan in Hong Kong(HK Edition)
| | | | | | | | | |
| --- | --- | --- | --- | --- | --- | --- | --- | --- |
|   | | Print | | Mail | | Large Medium  Small | 分享按钮 | 0 |
The Hong Kong government should prepare to take a bumpy ride for its Exchange Fund (EF) performance in 2016 due to a volatile investment environment, a strong US dollar and reducing complementary effects on investment returns of bonds and equities.
The Hong Kong Monetary Authority (HKMA), in its inSight article released in early January, cautioned that the EF faced a very challenging investment environment in the fourth quarter (of 2016).
"Investor speculation on changes to quantitative easing (QE) policies has often triggered sharp fluctuations. This coupled with the strengthening of the US dollar created a very challenging investment environment for the EF in the fourth quarter (of 2016)," HKMA Deputy Chief Executive Eddie Yue Wai-man warned.
The city's de facto central bank is due to announce the EF's 2016 full-year result by the end of January. In 2015, the fund registered a net investment loss of HK$15.8 billion - a turnaround of its investment income gain of HK$44.7 billion in 2014. The annual result in 2015 also represented the worst performance since 2008, when the fund posted a return rate of minus 5.6 percent in the year.
In the first three quarters of 2016, unstable global economic conditions prompted the US Federal Reserve to keep interest rates on hold, while Bank of England and Bank of Japan chose to expand their QE programs and boosted investment returns in the period.

The EF in the first three quarters of 2016 delivered an investment return of HK$86.8 billion, a turnaround from a net loss of HK$36.8 billion in the same period of 2015. In the third quarter last year, investment returns were HK$42.5 billion.
However, black swan events such as the Brexit referendum result in June and the US presidential election result in November took the market by surprise, leading to short-term fluctuations. Starting in the fourth quarter last year, the US' second interest rate hike in a decade and the halt of QE programs led to the surge of bond yields that choked returns.
The HKMA adopts both offensive and defensive tactics to deal with challenges amid the growing volatility and unpredictability of the financial market.
Regarding defensive tactics, the HKMA has reduced its holdings in long-term bonds as well as increased short-term bonds and cash to lessen the impact of anticipated US interest rate hikes on bond valuations. It also substantially trimmed its holdings of non-US dollar and non-Hong Kong dollar denominated assets, from 17.5 percent at end-2014 to 12.6 percent at end-2015, to mitigate the negative currency translation effect on non-US dollar assets caused by a strong US dollar.
The proactive approach is diversifying into different asset classes based on HKMA's acceptable risk levels. The HKMA in 2008 has embarked on investments in emerging markets and began to invest in alternative assets such as private equity and overseas real estate in 2009.
Bank of Singapore, the private banking subsidiary of Singaporean OCBC Bank, said it is vital to add portfolio diversifiers such as hedge funds and private equity as well as hold more cash to formulate a moderately defensive approach in asset allocation.
"On equities, healthcare, financials and new China-related stocks are favored while avoiding Asian exporters," according to Johan Jooste, chief investment officer at Bank of Singapore. "We upgrade US equities from underweight to neutral, maintaining underweight for Europe, Japan and Asia."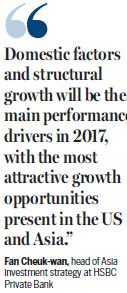 "We overweight risk assets as we enter 2017 when the global economy is gaining momentum and the US governmental policy is set to take a load off the US Federal Reserve. We focus our risk overweight on US assets, natural resources and high yield/emerging market debts for now," according to an investment strategy report by US asset manager Northern Trust.
"Domestic factors and structural growth will be the main performance drivers in 2017, with the most attractive growth opportunities present in the US and Asia," elaborated Fan Cheuk-wan, head of Asia investment strategy at HSBC Private Bank.
Looking ahead, the city's de facto bank is actively exploring new investment frontiers in the areas of medical and healthcare sector, infrastructure, inflation-linked investment products, as well as private equity and credit investment (corporate bonds and high-quality asset-backed securities) in emerging markets.
"A significant increase in allocations to private markets (private equity, real estate and infrastructure) and emerging markets, as well as a reduction in their exposure to listed and developed-market investments, have been witnessed in asset allocation among sovereign wealth funds (SWFs) over the past three to five years," according to the research paper conducted by US investment bank State Street Corporation and International Forum of Sovereign Wealth Funds, a voluntary organization established in 2009 representing more than 30 SWFs.
The HKMA also cautioned that it may slash the interest payments generated from the EF that may affect income of the government and some statutory bodies, as the interest payment rate dropped to 3.3 percent in 2016. Before 2010, the government and relevant statutory bodies enjoyed an annual interest payment rate of 5 to 6 percent in the past few years.
The EF was established by the Currency Ordinance of 1935 (later renamed the Exchange Fund Ordinance) and the government began to transfer its fiscal reserves to the EF in 1976. Since 1988, the fiscal reserves previously placed as Hong Kong dollar deposits with the EF became actively managed and hence returns of these official reserves were linked to the overall EF performance.
oswald@chinadailyhk.com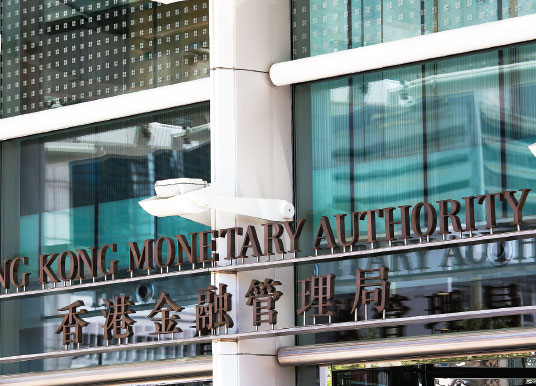 The Hong Kong Monetary Authority, the city's de facto central bank, adopts both offensive and defensive tactics to deal with challenges due to the growing volatile investment environment and unpredictability of the financial market. Jerome Favre / Bloomberg
(HK Edition 01/20/2017 page9)