Greater pressure expectedon HK dollar peg in 2017
Updated: 2017-01-20 07:48
By Zhou Bajun(HK Edition)
| | | | | | | | | |
| --- | --- | --- | --- | --- | --- | --- | --- | --- |
|   | | Print | | Mail | | Large Medium  Small | 分享按钮 | 0 |
The Federal Open Market Committee of the US Federal Reserve announced on Dec 15, 2016 a much anticipated interest rate hike, with probably three more hikes in 2017. The move marked the end of a super-low interest rate cycle, as the US dollar finally began its gradual climb. On the other hand, the exchange rate of renminbi (RMB) fell more than 6 percent against the US dollar last year and is expected to remain low this year. The upward movement of the US interest rate and the RMB exchange rate movement against the greenback in the opposite direction will no doubt affect the linked exchange rate between the Hong Kong dollar and the US dollar, also known as the "peg" system, even more strongly than before.
Under the "peg" system, Hong Kong is theoretically required to raise or cut its own basic interest rates exactly the same way as the US did. However, since June 30, 2004, only the Monetary Authority has followed those rules faithfully, whereas local banks have adjusted their interest rates on their own. People were not surprised when Hong Kong banks opted to stay put after the latest US interest rate hike on Dec 15.
The Hong Kong dollar's market interest rates have refused to follow the US dollar's example mainly because of some structural changes in Hong Kong's economy. As the economic transformation has been very difficult since 1997, the total deposits have always outnumbered total loans on Hong Kong banks' asset balance sheets. If the Hong Kong dollar's market interest rates had followed the rules under the US dollar "peg" system, many local banks would have been crushed by the soaring cost of higher interest due on their huge deposits.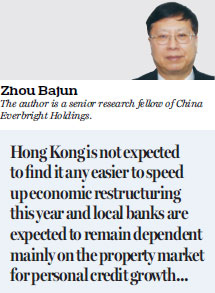 On the other hand, driven by the Closer Economic Partnership Arrangement between Hong Kong and the mainland, Hong Kong's economic integration with the national economy has been advancing since 2003; while its banking industry has been working extra hard to increase RMB business because its Hong Kong and US dollar credit operations have been losing steam. As a result the movements of RMB interest rate and its exchange rate against the greenback have been increasingly affecting the market interest rate of the Hong Kong dollar. From January 1994 to December 2015, the RMB appreciated by 25 percent against the US dollar, from 8.6 yuan for a dollar to 6.5 yuan for a dollar. Meanwhile, huge amounts of hot money poured into Hong Kong's capital market to profit from a strong yuan one way or another. Against this backdrop, Hong Kong's banking industry saw no reason to adjust its interest rates according to the US dollar exchange rate "peg" regime. It therefore became less and less motivated to do so.
With these facts in mind it should not be hard to see why Hong Kong's financial market may continue to ignore the "peg" mechanism when deciding HK dollar interest rate and yuan interest rate adjustments in 2017 as RMB interest rates are likely to move in the opposite direction as the US dollar's and yuan may remain weak against the US dollar.
Hong Kong is not expected to find it any easier to speed up economic restructuring this year and local banks are expected to remain dependent mainly on the property market for personal credit growth, while total deposits will remain above total loans. If Hong Kong banks raise their deposit interest rates and credit interest rates because the US Federal Reserve and Hong Kong Monetary Authority had done so, they will inevitably have to pay more interest for the deposits and incur more bad loans as a result. The SAR government has stepped up efforts to cool down the real estate market in recent years but property prices have repeatedly set new highs nevertheless. That means interest rate hikes in Hong Kong would cause bad mortgage loans to increase. That is why Hong Kong banks will try their best not to follow the US interest rate hikes or at least not closely.
On the other hand, after the RMB joined the basket of currencies preferred for settlement in foreign trade, known as IMF's Special Drawing Rights, on Oct 1, 2015, the Chinese currency has quickened its progress toward full internationalization. More yuan bonds have been issued on the mainland, drawing growing attention from overseas investors to the mainland bond market and adding pressure on Hong Kong's offshore yuan trade business. In order to fortify and expand Hong Kong's offshore yuan trade market in a bid to make up for the limited Hong Kong and US dollar loan market, Hong Kong needs to keep its RMB savings interest rates above those of the mainland's so as to attract more yuan capital to the SAR. The city must build up and maintain a yuan capital pool large enough to support its world-leading offshore yuan trade business, especially when the RMB is declining against the US dollar. That means Hong Kong's financial market will remain "defiant" to the "peg" mechanism and become more sensitive to RMB's exchange rate and interest rate movements instead.
(HK Edition 01/20/2017 page1)