Leung reveals plan to cancel MPF offsetting mechanism
Updated: 2017-01-19 07:35
By Joseph Li in Hong Kong(HK Edition)
| | | | | | | | | |
| --- | --- | --- | --- | --- | --- | --- | --- | --- |
|   | | Print | | Mail | | Large Medium  Small | 分享按钮 | 0 |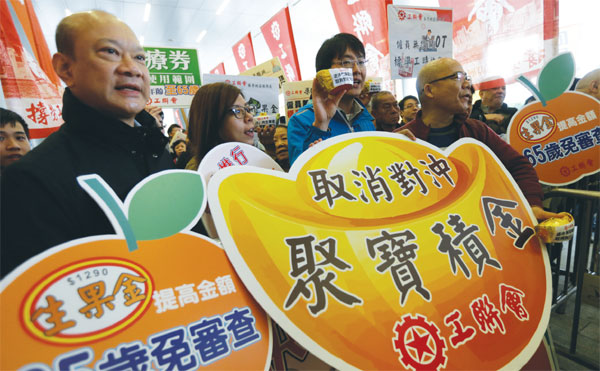 Members of the Hong Kong Federation of Trade Unions protest outside the Legislative Council Complex to urge the government to terminate the offsetting of severance and long-service payments with Mandatory Provident Fund contributions on Wednesday, when Chief Executive is delivering the 2017 Policy Address. Roy Liu / China Daily
Govt will share part of expenditure of severance or long-service payments, Chief Executive says
In this year's Policy Address, Chief Executive Leung Chun-ying proposed abolishing the offsetting of severance and long-service payments with Mandatory Provident Fund (MPF) contributions.
Leung explained that the proposal to abolish offsetting had three key elements. First, it had no retrospective effect. This means employers will be allowed to offset before a specified "cut-off" date.
Second, the amount of compensation will be reduced from two-thirds of an employee's monthly pay to half. Third, to assist employers, particularly small- and medium-sized enterprises, the government will share part of the expenditure of severance or long-service payments. This will be within 10 years after cancelation of the offsetting mechanism.
"In the three coming months, the government will discuss intensively with the business sector, labor sector, MPF trustees and relevant advisory committees and hope to finalize the proposal by the end of June," Leung said.
"I hope all stakeholders will strive to resolve this long-standing, difficult problem with the spirit of mutual respect and mutual understanding," he said.
The CE said new measures to provide a living allowance and subsidized healthcare for elderly people would require recurrent expenditure of over HK$9 billion a year. This is on top of a one-off expenditure of HK$6 billion so the government can share part of the expenditure.
He also said a loss of revenue of HK$18 billion might occur in the next 10 years. This is on top of an annual loss of tax income which could be as high as HK$2.6 billion after the government stops subsidizing employers.
Pro-livelihood and pro-labor political parties are generally positive about the step-by-step abolition of the offsetting mechanism.
Starry Lee Wai-king, chairwoman of Democratic Alliance for the Betterment and Progress and Hong Kong (DAB), described the new plan as the first step in resolving a contentious issue. Lee said she hoped the government would handle this effectively and within a definite period of time.
DAB legislator Wong Ting-kwong, who represents the import and export functional constituency, opposes cancelation of the offsetting mechanism. But he said the business community understood the concerns of the labor sector, and discussions were needed to come up with a win-win solution.
The Hong Kong Federation of Trade Unions (FTU) also said the new proposal was a step in the right direction. He hoped the business community would not resist it, adding accepting it would be best in the interests of harmonious employer-employee relations.
FTU lawmaker Wong Kwok-kin is worried about whether or not a bill will be tabled to the Legislative Council before July and if the next government will take up the proposal.
Wong said it was a big opportunity to reduce the ratio of compensation from two-thirds to half. But he revealed the FTU will seek opinions on this from the labor sector.
Nelson Chow Wing-sun, emeritus professor of social work and social administration at the University of Hong Kong, said employees would be the bigger beneficiaries because the proposal would not take away their benefits.
Chow said employers would also benefit because the government would subsidize them for 10 years. "This is a step forward and both sides should make concessions without deadlocking, while the labor side should realize it is very difficult to cancel it altogether," he told China Daily.
Chow also said the government could afford to implement the plan. In 2015, the amount of MPF contribution offset was HK$3.3 billion. If the government covered employers financially for 10 years, HK$33 billion in funding would be required.
"Most of the CE election hopefuls come from the civil service with a moderate financial philosophy, yet (former financial secretary) John Tsang Chun-wah is the most conservative of them.
"Since (former chief secretary) Carrie Lam Cheng Yuet-ngor had a part in formulating this proposal, she would unlikely not honor the proposal to cancel offsetting if she became CE," he said.
joseph@chinadailyhk.com
Additional tier to OALA planned
Instead of launching a retirement protection plan, the government plans to implement an additional tier of the Old Age Living Allowance (OALA), which will pay a HK$3,435 per month allowance compared with the current amount of HK$2,495. At the same time it will relax the asset limit. About 500,000 elderly will benefit from the new measure.
In announcing the proposals, Leung said elderly groups have different retirement needs and so the government cannot adopt a one-size-fits-all approach. If all elderly, regardless of whether they are rich or poor, are granted the same pension, support for the elderly people more in need will be affected.
Nelson Chow Wing-sun, emeritus professor of social work and social administration at the University of Hong Kong, said this was acceptable, although he added that it was a long way from his universal pension proposal of HK$3,000 a month for elderly people aged 65 and over which he had drafted for the government. "Close to 500,000 elderly people will get an extra HK$1,000 per month over the old amount. No political party will dare to object or else the elderly will gain nothing. To be pragmatic, people should 'pocket it first', while negotiating for a better option in the long run," he said.
(HK Edition 01/19/2017 page3)