Hong Kong is doing better than many people realize
Updated: 2016-11-24 09:14
By Peter Liang(HK Edition)
| | | | | | | | | |
| --- | --- | --- | --- | --- | --- | --- | --- | --- |
|   | | Print | | Mail | | Large Medium  Small | 分享按钮 | 0 |
If the gloomy economic outlook that is getting gloomier coupled with escalating home prices aren't enough to give you the blues, add to them the incessant political bickering that has made it impossible for any sensible discussions on major social issues.
Feel free to be depressed. Hong Kong people are finding many convenient reasons to indulge in the unbearable feeling of helplessness.
It doesn't have to be that way.
There is no shortage of things that can make Hong Kong people feel good. It's just that you won't read too much about them in your favorite media where the old adage still holds true: Bad news and controversies sell newspapers. The good is oft interred in the bottom of those inside pages, to paraphrase a line from the great Bard.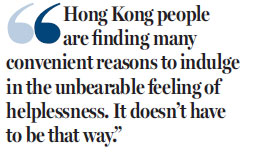 Many Hong Kong people must have read about Japan's lost decade marked by stagnant economic growth and declining competitiveness in the global marketplace. The once mighty Sony, for instance, is but a shadow of its former self, without a blockbuster product to wow its die-hard fans.
But anyone who has visited Tokyo or other major Japanese cities would have been surprised by how well the average Japanese people have coped with years of anemic economic growth and the constant threat of getting stuck in a deflation spiral. They are now getting an extra lift from playing host to the 2020 Summer Olympics.
Here in Hong Kong, people love to talk full of self-pity about the decline of the city in comparison with Shanghai, Shenzhen, Beijing and, of course, its favorite rival, Singapore. It's a matter of perception. It's not that Hong Kong is on the decline but, rather, those cities are fast catching up.
Anyone who has spent time in those cities can tell you that the various advantages that Hong Kong people have come to take for granted have remained unmatched. For instance, Hong Kong still has the most efficient public transport facilities, centered around the underground railway system, which is a source of pride for local people.
Some development-first politicians and business leaders have argued that the low visitor counts don't justify the need to keep so many country parks. But easy access to these open spaces can ease the pressure of city life by making people feel that they can seek relief whenever they choose to.
You may not like the constant diet of negative news from the local media. But a free press is one of the major advantages that have made Hong Kong unique among most other regional cities.
To be sure, housing costs in Hong Kong are among the highest in the world. That has been a perennial source of public discontent. But before using that to criticize the city, it is important to bear in mind that nearly half of all Hong Kong families live in government-built subsidized apartments. Only Singapore, among all neighboring cities, has done a better job than Hong Kong in housing its people.
But Hong Kong people need something new to jolt them out of the growing sense of self-denial. Hosting something as big as the Summer Olympics shall remain a dream. But past experience has shown that even small-scale, localized events can make a big impact in lifting public morale.
For example, the experiment of turning a stretch of a thoroughfare in Central into a pedestrian-only fun fair on a recent Sunday was widely hailed as a resounding success, drawing a large crowd of people from around the city to spend an afternoon of leisure right in the urban center. It's a pity that the government has no plan to hold similar fairs in other parts of the city.
The recent electric car race co-sponsored by the government and private enterprises did much more than just promote green cars for the sake of the environment. It was an event cheered by many thousands of people on site and at home watching the live broadcast on TV.
Of course, the food festival held recently was designed mainly for the promotion of tourism. But many local visitors also came to enjoy the festive atmosphere.
In preparation for the annual policy speech, the government has mounted a campaign to encourage people to come forward to tell it what they want. I think they all want to regain the sense of feeling good which they have missed for too long.
The author is a veteran current affairs commentator.
(HK Edition 11/24/2016 page9)