Binging on success
Updated: 2016-11-17 07:19
(HK Edition)
| | | | | | | | | |
| --- | --- | --- | --- | --- | --- | --- | --- | --- |
|   | | Print | | Mail | | Large Medium  Small | 分享按钮 | 0 |
Evelyn Yu explores the hard-partying culture of the financial sector in Hong Kong, and meets some of those helping the young high fliers who inevitably crash and burn.
Work hard, play harder is the golden axiom among the high fliers in the city's financial services.
Just a few drinks is softball stuff. The real heavy hitters need at least five or six lines of coke and a supply of hookers close to hand. Being buzzed all day is no problem. The Wolf of Wall Street is on the loose in Central, Hong Kong, and hungry for action.
A third of the clients at The Cabin Hong Kong, an addiction rehab center, are from the financial sector. Self-indulgence is epidemic among the self-styled "Masters of the Universe", as Tom Wolfe called the inmates of the financial sector in the 1987 novel The Bonfire of the Vanities.
"We don't know the pattern yet, but at some times all our clients are from financial services - traders, bankers, managers - one after another," said Seamus MacAuley, lead addiction counselor in the center.
The city was stupefied by the savage cruelty inflicted on two Indonesian sex trade workers, found with their throats cut in the apartment of former Bank of American Merrill Lynch banker Rurik Jutting. A psychiatrist testified that the grisly crimes came at the climax of a six-week cocaine binge, during which the ex-banker's drug abuse escalated out of control. The psychiatrist, who described Jutting as a sadistic narcissist, said the Briton was acting out sadistic sexual fantasies. After killing the two women, Jutting, high on cocaine, shouted at pedestrians on the street below his upscale Wan Chai apartment while brandishing a knife. Then he called the police and turned himself in.
May, a female sex worker in her 30s from the Chinese mainland, told China Daily many of her clients come from the skyscrapers in Central. They start showing up at her place after 6 pm. She says they are all "highly strung". She earns from HK$400-600 per hour for her services.
"The traders keep telling me they are terrified at the thought of making mistakes and of missing their sales quotas."
Illicit trades
One former analyst named Zhang described the grinding ordeal of working at an investment bank from 7:30 am till 9:30 pm, confessing that even at that, he was the last to arrive and the first to leave the office.
"The moment you opened your eyes in the morning, the battle was on."
Zhang described getting up at 6:30 am every day, tuning in to a review the US overnight market while brushing his teeth. He took a taxi to the office from Quarry Bay, figuring it was worth it. It allowed him an extra five minutes of sleep.
He spent his first half hour leafing through market data, profit and loss statements, balance sheets, cash flows and corporate disclosures through the stock exchange. He'd brief the traders, then spend the rest of the day drafting and writing research reports. In little over a year he started to down dopamine boosters, medication generally prescribed for patients with depression and anxiety, to help him get through the day.
He quit the job in after few years despite the enviable pay to escape the stress.
Yang, a trader at a Hong Kong-based asset management company, says it's the expats who get heavily into drugs. The Chinese in the financial sector are more into sex. It is their "job culture" to visit bars after work. Rumors fly in offices about who slept with many girls the night before, with or without a condom.
The "curtain bars" around Lockhart Road in Wan Chai are often seen full of working women from Southeast Asia who wait for patrons to buy a drink for them. Following that, it's pretty much anything goes.
Compared with London and New York, sex workers here are not just available but also charge less for their services.
Binge culture
The Cabin Hong Kong has been around only a couple of years, but already has more than 500 clients, over 80 percent of them expatriates. Among the clientele are lawyers, architects, teachers - but financial industry workers comprise the majority.
MacAuley recounted the story of one client, a banker in his 40s, who told of drinking himself comatose on a business trip to Thailand a few months ago. His family had to come and get him. He started when he got on the plane and when he landed he was completely out of control and couldn't stop. He went on a five-day binge.
The man wasn't worried about his job. All that any dysfunctional banker needs to do is call in sick and the bank will rearrange everything and wish them a speedy recovery. MacAuley believes managers in financial institutions are fully aware of this culture among their employees but have no intention of curbing the high spirits or controlling the plague of abuse.
"They can't. We see the top managers here," said MacAuley. Most of their clients from the sector are mid- to senior-level managers. "It's a problem from the lower end up to the very top," he added.
Bundle of nerves
MacAuley attributes stress and overbearingly long working hours in the industry as primary reasons that drive its denizens to addictions.
It is believed that in Hong Kong one gram of cocaine is priced at HK$1,000, barely a concern for loaded customers from financial sectors.
According to the Banking & Financial Services 2016 Salary Guide conducted by recruitment consultancy firm Morgan McKinley, an associate fund manager earns HK$55,000 to HK$70,000 per month; a supervisory analyst in an equity research company bags HK$100,000 to HK$180,000 monthly; and a managing director in investment banking earns up to HK$250,000 every month - just to list a few. These are basic salaries without bonuses factored in.
A three-month program in MacAuley's rehab center costs HK$36,000. Those with severe symptoms will be recommended to be transferred to their luxury patient center in Chiang Mai, Thailand, at a cost of $14,000 per month. About 40 percent of the center's clients from the financial sector are referred by their company. Their employers will cover part of their cost for them.
"These are people who have money. They can find the money to do drugs and they can find the money for treatment to stop using drugs," MacAuley said.
Hong Kong's drug problem is showing no signs of abating. Figures from Hong Kong Customs show that while in 2015, 135 kg of drug was seized, the first eight months of 2016 already pulled in 358 kg. Among all the drugs cocaine remains the most common and accessible.
Sitting in his office one block from Lan Kwai Fong, MacAuley said: "I could walk out of here today and obtain drugs in probably half an hour. I can walk into the bar and the bartender will tell me the number of drug dealers, or hop into a taxi and the taxi drivers will probably tell me too."
"The environment in Hong Kong makes them more vulnerable to addictions, but I won't blame a job. A bus driver might just have the same level of stress as a banker."
The excess does come with a toll. MacAuley cautions that the negative consequences can start from a headache that begins from the first waking moment. It devolves into relationship turmoil, or car crashes and other life threatening situations.
Until catastrophe strikes, however, life goes on. A paralytic banker in Hong Kong found staggering on the streets of Wan Chai will be escorted home by a friendly policeman. An attentive domestic helper will help the debauchee once he reaches the front door. When a person gets too messed up his employer will send him to a luxury rehab center. But despite all the breaks they are given and the attention they get, some end up completely out of control.
Contact the writer at
evelyn@chinadailyhk.com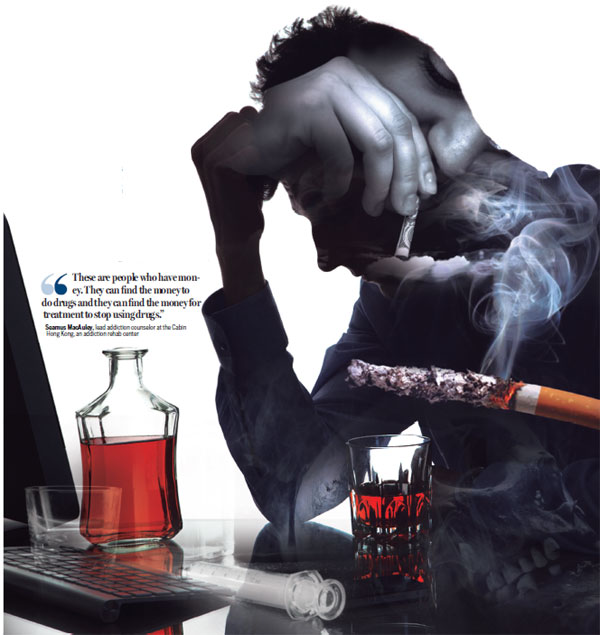 (HK Edition 11/17/2016 page6)