Hong Kong's perfect location is going to boost fintech growth
Updated: 2016-11-11 07:03
By Charles Ng(HK Edition)
| | | | | | | | | |
| --- | --- | --- | --- | --- | --- | --- | --- | --- |
|   | | Print | | Mail | | Large Medium  Small | 分享按钮 | 0 |
The lexicon of tech speak has an abundance of buzzwords consigned to the scrapheap, but "fintech" is one word - fusing "financial" and "technology" - that's set to stick around for a while. In Hong Kong, fintech is one of the most exciting new industries - one that's ideally suited to the city, given its location and status as the region's leading financial center.
Fintech isn't just the preserve of a few data analysts and programmers - like the internet itself, it affects all of us. It's changing the nature of commerce, the way we pay for things, financial services and a lot more. While the public may not necessarily understand what is inside the box, it's important to recognize the value and impact it will have on everyday life.
The most obvious example is that typically in the past people went to bank branches or ATMs for basic banking services. In recent years, however, increased smartphone penetration rates have been accompanied by greater awareness of mobile applications. The convenience of these applications has enabled many to convert at least some of their banking functions to online activity, saving them the hassle of visiting a physical bank branch. It's a huge behavioral change that we are seeing and it's generating a plethora of new opportunities for enterprises and startups.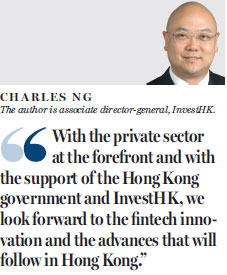 In Hong Kong, the government embraces fintech. It's creating jobs and spurring innovation among fresh startups and small businesses. And that's not surprising. Financial institutions and other traditional industries are constantly looking for new ways to increase efficiency, streamline processes and optimize costs wherever possible, and that's where the emergence of fintech has enabled enterprises to achieve digital transformation of service delivery and operations.
The integration of fintech into the local infrastructure has already brought tangible benefits to both enterprises and consumers. Meanwhile, startups are working hard to develop new applications to help transform traditional products and business processes. The most obvious example of fintech in action is mobile payments. These provide clear benefits for consumers and merchants - saving time and cost, offering greater security and simplicity, and giving more transparency.
Besides B2C (business to consumer) applications such as mobile payments, fintech covers a range of other areas including blockchain, robo-advisers, network and data security and big data. Spin-offs include InsurTech, MedTech, EduTech and others, all of which tap into big data and other facets of fintech.
Blockchain technology brings transparency and greater security to financial transactions by attaching an identifier - or code fingerprint - for every party that handles it as it's processed, so as to make it more traceable. By offering such security and speed, it improves efficiency significantly. Blockchain can be applied in mortgage applications, for example, to reduce fraud and shorten mortgage application time.
The government's approach to fintech development is to encourage, support and facilitate. This includes helping with infrastructure and regulation, but to let the private sector really drive it.
In September, the Hong Kong Monetary Authority (HKMA) announced two new initiatives to support fintech development in Hong Kong. The first is a collaboration with the Hong Kong Applied Science and Technology Research Institute to set up its own Fintech Innovation Hub. This will be equipped with all necessary systems and support resources to allow those in the banking and payment industry to conduct proof-of-concept trials of products and services.
When a new product is ready, HKMA's second initiative, a "Fintech Supervisory Sandbox", allows banks to conduct testing and trials of new technologies and applications on a pilot basis. Within the sandbox, banks can try out new products without the need to achieve full compliance with HKMA's supervisory requirements. This enables banks to gather real-life data and user feedback on their fintech products or services in a more direct and effective way, and then move on to make refinements before the official launch.
Invest Hong Kong (InvestHK) has established a dedicated fintech team to assist startups, investors and research and development institutions from overseas and the Chinese mainland to establish a presence and expand business in the city. In September, InvestHK announced that Hong Kong will host its first "Hong Kong Fintech Week" in early November, part of a drive to position the city as the go-to place in Asia for fintech companies and startups looking to grow their business, as well as for accelerators, incubators and investors searching for fintech innovation.
The Fintech Week (Nov 7-11) will turn the spotlight on the industry's latest trends. Each day will include pitching and panel sessions, demos, workshops and networking events, with different days curated by different expert organizers in fintech, such as FinovateAsia, Fintech O2O and HKMA. All will highlight how Hong Kong provides a nexus for growth in this sector.
With the private sector at the forefront and with the support of the Hong Kong government and InvestHK, we look forward to the fintech innovation and the advances that will follow in Hong Kong. It's an exciting time for fintech, a word that's going nowhere near a landfill anytime soon.
(HK Edition 11/11/2016 page9)