Know your patent pitfalls
Updated: 2016-10-05 07:19
By Wang Yuke(HK Edition)
| | | | | | | | | |
| --- | --- | --- | --- | --- | --- | --- | --- | --- |
|   | | Print | | Mail | | Large Medium  Small | 分享按钮 | 0 |
Before venturing into the global market, HK's innovation-based startups need to secure their product against intellectual property theft and other issues. Wang Yuke reports.
What's bugging Hong Kong's startup sector? The city is home to some very fine technological brains, and creative ideas do not seem to be in short supply either.
Eric Yeung Chuen-sing, executive vice-president of the Hong Kong General Chamber of Small and Medium Business, has an explanation. He points to the fact that while many startups can boast of a highly evolved research and development culture they often fail to apply common sense-based marketing wisdom that might turn a highly original idea into a sustainable return-oriented venture. Most businesses, he says, can't be bothered with figuring the intricacies involved in obtaining foolproof patents to protect the intellectual property rights of the products they market. It's a vital aspect of doing business that entrepreneurs wishing to compete in the international market would not want to ignore.
Yeung, who is also a member of the Advisory Committee on Innovation and Technology, says sometimes locally successful startups are jolted out of their complacence once they begin considering expanding into the international arena. The hard reality kicks in when they discover they are not fully aware of the nitty-gritty of executing such a move.
Vitargent, a bioscience company that uses genetically engineered fish to detect toxicity in food and cosmetics, might make for a typical case study. The company has held a patent for their product right from 2010 when they started the venture, and yet has spent the better part of the last six years trying to work out how to deal with international patent issues.
Developed at City University of Hong Kong (CityU), the Vitargent method entails taking green fluorescent protein from jellyfish, modifying its DNA and injecting these into embryos of the medaka fish or zebra fish. Once exposed to harmful toxins, like estrogen compounds, the genetically engineered fish release protein, creating fluorescence.
Company co-founder Eric Chen pitched the technology in a business proposal competition in 2010. The proposal picked up several awards. After some hard slogging and many rebuffs from potential investors, Chen put together about HK$10 million. With matching funds from the Innovation and Technology Commission and a rental exemption from the Hong Kong Science and Technology Park, Vitargent went into business.
The first few years went well. The lack of forward planning became a problem when Vitargent decided to go global. They were looking to break into markets in Europe, the Chinese mainland and Taiwan, but the investors there were sceptical. "They said there were a few other technology companies in their localities holding similar patents. They didn't want to get embroiled in a suit over patent infringement," lamented Jimmy Tao Wai-leung, chief executive officer of Vitargent.
"The original patent was owned by the university (CityU), as the inventor of the technology. It turned out, to our dismay, that the patent was not widely recognized," complained Tao.
Lawyers specializing in patent work are expected to run a search for similar inventions to help protect clients from getting sued. Evidently, the lawyer who had reviewed CityU's patent filing failed to carry out a thorough research. Tao described having to fly to the home countries of every potential European investor, meeting with prospective clients' lawyers and trying to convince them that Vitargent held an original patent. Vitargent lost a huge chunk of capital, amounting to millions of Hong Kong dollars, in the process.
Plugging the loopholes
Ho Wai-hung is an intellectual property lawyer with the Hong Kong branch of global law firm Dechert. He specializes in working with startups on patent issues. Ho said he found that on many occasions patent filings made on behalf of universities are dangerously scant on details. In one case, for example, a local bio-tech company created a chemical compound intended to be used in cancer treatment while simultaneously developing an innovative approach to manufacturing the chemical.
The patent application listed the chemical processes for creating the compound and outlined the basic technology. Details about the properties of the chemical compound, its structure, variations, and formulation, were omitted. The application did not mention the product's applicability to anything other than medical care.
Ho suggested to the client that the patent should elaborate the potential application of the chemical as a basis for optical fibers and lubricants. He also suggested mentioning in the application that the manufacturing technique was unique and simple and the final product was pure and cheap to process.
He said failure to take note of a product's potential other than those specified in the patent application can create nightmares for a startup company. The application actually may serve up vital clues that rival companies could adapt to develop competitive products or even new products, based on the original patent. Competitors may copy an original innovation, tweak it a little and market it in a different form, thereby evading liability for infringement on the original patent.
Ho said in this case the original application had failed to note potential alternative uses for the newly invented chemical. Other companies could adapt the product for other uses, with impunity, as a result.
A high-value innovation patent should stipulate the technology's commercial values, explicitly listing its uses in every conceivable industry. Ho suggested that patent applications for biotech companies should cover "everything" including the structure, formulation, variations of chemicals, the manufacturing process, recommended dosages for every possible use etc. The more comprehensive the patent the lesser the chances of the technology getting copied by competitors.
The way the patent is written can help the entrepreneur monetize an invention, said Ho. "Universities in Hong Kong and the Chinese mainland are careless about the quality of patent applications because their inventors can't even bother to patent their ideas. They're too busy churning out research papers. They are short of vision for the future of the technology they've created and don't spare a thought for the survival of the startups (when selling the innovation)."
Universities tend to pour their limited research funding into research and development and don't invest much in drafting patent applications, remarks Ho. It is left to the startups to bear the considerable expenditure of applying, sometimes more than once, to obtain patent rights.
If Vitargent ended up facing a lawsuit over copyright infringement in Europe, the legal fees would be astronomical, argued Tao. To pre-empt such an eventuality, he decided to apply for a fresh patent. Even that proved difficult. "Silicon Valley has a high concentration of top-notch lawyers. A startup like ours couldn't afford them." Tao also had a feeling high-profile lawyers may not be interested in fighting a case on behalf of a small enterprise.
Luckily, Vitargent's largest investor, Nan Fung Group, a Hong Kong real estate conglomerate, has close connections with some of the world's top law firms. They helped Tao reach out to some legal heavyweights. "We paid a hefty price, more than $2,000 per hour for consultancy, shelling out millions of dollars to handle patent issues alone," said Tao.
Lengthy negotiations
An entrepreneur marketing a technological innovation-based product needs to acquire patent licensing authority from the original patent holder, such as a university.
"The negotiation process with the university is cumbersome and lengthy. It would normally take six months just to get the university's approval," bemoaned Tao, suggesting that the university would rather sit on a patent than see it put to commercial use, which takes away some of its exclusivity.
Universities and institutions in Hong Kong are simply satisfied with holding a local patent. It's rare for them to register for an international patent offering global protection. The process is time consuming and of little import to the innovators themselves as their focus is more on completing research and publishing papers, said Edmund Lau Kin-on, vice-president of the Hong Kong Association for the Advancement of Science and Technology. He said an international or a European patent would ensure greater protection for the entrepreneur, the reason why it was vitally important for a startup wishing to expand its business globally to obtain these.
Yeung points out there are no incentives for scholars at Hong Kong universities to want to patent their inventions. In other developed countries and regions, patents accumulated by an academic add to his prospects, giving him a reason to apply to get his work patented. In Singapore, for example, the government provides both financial and logistical support to academics during the application process. Singapore's Patent Application Fund covers 50 percent of legal, official and other related fees. In Hong Kong professors have to reach into their own pockets if they want to apply for an invention patent, remarked Yeung. Also universities don't like to share the benefits of the innovative products created in their labs, even with the scholars who helped in developing these, he added.
In the US and Europe, however, governments encourage universities to distribute the net income generated from technology transfers back to the scientists who invented it, the department supporting its development and the institute to which it belongs, publishing a break-up of how the money was shared. At the University of Florida, 40 percent of net income up to $500,000 is distributed among academic developers. Stanford University apportions net royalties equally among inventors and the inventors' departments and colleges.
Lau, however, says, although "to commercialize an innovative technology is a complex matter, involving people from various areas to brainstorm and work together", it's not as if Hong Kong innovators are oblivious to the importance of getting their work patented for a global market. It's all about teamwork, he says. "The professors or a research team behind the invention provide the research theories and principles. Specialists from engineering industry understand how to operate the new technology. People having experience in business areas come up with marketing strategies. Intellectual property attorneys weigh in to handle patent issues."
Contact the writer at
jenny@chinadailyhk.com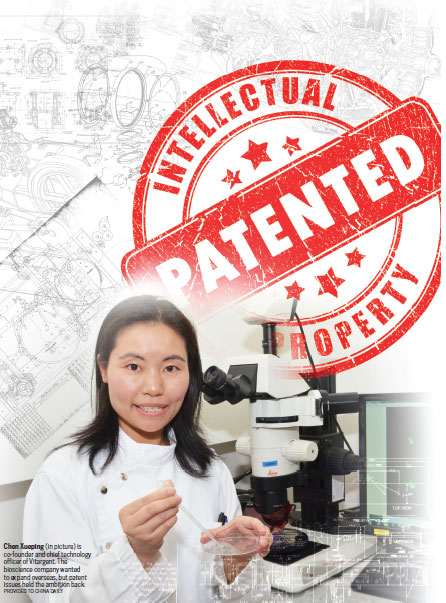 Chen Xueping (in picture) is co-founder and chief technology officer of Vitargent. The bioscience company wanted to expand overseas, but patent issues held the ambition back. Provided to China Daily
(HK Edition 10/05/2016 page4)