Govt includes pre-schools in free education scheme
Updated: 2016-09-12 08:17
By Ming Yeung(HK Edition)
| | | | | | | | | |
| --- | --- | --- | --- | --- | --- | --- | --- | --- |
|   | | Print | | Mail | | Large Medium  Small | 分享按钮 | 0 |
Small kindergartens at risk. No mandatory pay for teachers
Pre-school policy to promote market Darwinism threatens survival of small kindergartens and also fails to assure teachers of a stable career, finds reporter Ming Yeung.
Pre-schools (K1 to K3) have functioned outside the public education system of Hong Kong since the colonial era. The kindergarten gap was filled by charities, religious bodies and non-profit associations. Teachers were an informal mix of volunteers, retired housewives and career child-education professionals.
Although kindergartens make a vital contribution to society, they have remained outside government supervision and support, till recently. They help working parents as day-care centers and play-schools, preparing pupils for entry into the 12-year primary and secondary public education system.
In 2007, the SAR government reviewed the neglected kindergarten sector, in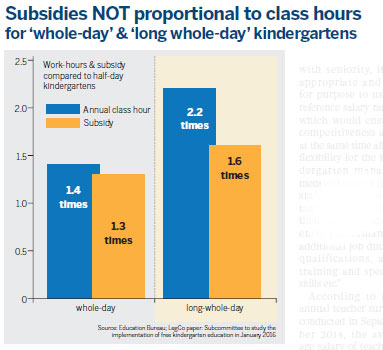 troducing the Pre-primary Education Voucher Scheme (PEVS) as an annual subsidy of permanent residents of Hong Kong. The value of the voucher was HK$22,510 per student per annum in the 2015/16 school year, and parents from low-income families are also eligible to apply for means-tested financial assistance to help cover the outstanding tuition fee.
The government opted for competitive market pressure to upgrade kindergarten quality. The policy intent was to reward the better-run kindergartens which attract more parents, have better teachers, and provide superior facilities. The PEVS subsidies would flow naturally by student head count, to the bigger and better kindergartens.
Policy bias
This policy bias toward the better resourced, larger kindergartens, was not seen by all as wise or fair. It acts against neighbourhood pre-schools for local communities, which are small. Pre-schools located where families reside, saves transportation cost and time. It works for parents from low-income families.
Most local community pre-schools are small, having less than 300 pupils. The Education Bureau (EDB) sends them students with special needs. That further stresses teachers and fellow students. Specialist teachers are required at a ratio of eight special needs pupils to one specialist teacher.
The 300 threshold is linked to the headcount the EDB recognizes a kindergarten needs, and as a result, linked to the amount of subsidy the school will receive. The Committee on Free Kindergarten Education under the EDB holds that a vice-principal may be needed for kindergartens with an enrollment of more than 300 half-day students to assist the principal in overseeing school administration, curriculum development and operation matters.
Nancy Lam Chui-ling is principal of Tsuen Wan Trade Association Chu Cheong Kindergarten, a half-day kindergarten enrolling about 275 students. She doesn't understand why the EDB sets the threshold at 300 students to be counted as a big kindergarten, as most kindergartens have less than 300 students because of the declining birth rate. There are about 420 big kindergartens in Hong Kong.
"The outcome would be the big ones get bigger, and the small ones get smaller to a point they disappear from the industry," said Cheung Yu-wei, principal of Allway Kindergarten.
The Committee on Free Kindergarten Education, set up in April 2013, came up with proposals to improve existing policy in 2015.
"There must be significant enhancement to the quality of the existing (kindergarten) education as provided under PEVS, or else it would not be too meaningful for the government to inject more funding into (kindergarten) education without corresponding improvement to quality," the committee report says.
Free coverage extended
The government announced it will implement 15-year free education from the 2017/18 school year.
In the 2014/15 school year, of the total 978 kindergartens, 760 are local non-profits, enrolling 144,700 students. The 114 privately-run kindergartens have 22,000 students. Among the non-profit making kindergartens, 381 operate both half-day & whole-day classes (around 50 percent), 235 run whole-day classes (31 percent) and 144 only run half-day classes (19 percent).
The current PEVS voucher scheme of HK$22,510 for each kindergarten pupil covers full tuition fees for about 17 percent of eligible children. The basic unit subsidy for the 2017/18 school year will be HK$33,190 per student for half-day kindergartens, HK$43,150 for whole-day kindergartens and HK$53,100 for long-whole-day kindergartens.
It is estimated that would cover 70 to 80 percent of half-day kindergarten free places, according to a paper submitted to the Legislative Council (LegCo) on Feb 1.
Parents benefit, not schools
Lam felt that the existing PEVS, with several enhancements, could continue to be adopted. If the government is to increase the amount of PEVS to fully cover most students' tuition fees, many problems could be solved, she said.
The "half-day unit subsidy" will be taking over the responsibility of paying for the tuition fees of students from their parents, but the amount of funding for kindergartens as a whole will remain largely the same. That means parents, not kindergartens, will be the only beneficiary under the new arrangement.
This is exactly why the new 15-year free education fails the demands of kindergartens, said Lam, as the government does not make provisions for the varying needs of each kindergarten - in terms of teacher experience and salary.
Inadequate subsidy
Over 90 percent of teachers polled believe the subsidy for whole-day and long whole-day kindergartens to be grossly inadequate.
"Students attending whole-day and long whole-day kindergartens stay at kindergartens two or three times longer than their peers attending half-day kindergartens, therefore, the required manpower will be two or three times more to take care of these kids. Should the government take the manpower issue also into consideration?" asked Cheung Yu-wei.
The overall teacher-pupil ratio for eligible kindergartens would be enhanced from 1:15 to 1:11 (principal not included), a ratio Nancy Lam sees as acceptable.
The Education Bureau approved a hefty hike of tuition in about 800 kindergartens, with some rising by almost 50 percent. The most expensive pre-school, Yew Chung International School in Kowloon Tong, could hit HK$177,364 a year, after a 6.5 percent increase.
The hefty hike was the last chance for kindergartens to raise tuition fees under PEVS, as they would come under the government's free kindergarten scheme from the next school year. Expenditures will soar as schools will need to hire more teachers to satisfy the government's teacher to student ratio of 1 to 11.
What about teachers?
Before PEVS was implemented, kindergartens were required to pay teachers according to the Recommended Normative Salary Scale. Upon the introduction of PEVS, the Recommended Normative Salary Scale was abolished to allow kindergartens full discretion in determining salaries for teachers on experience and performance.
The result is that popular kindergartens had the financial ability to hire experienced teachers while smaller ones are left with green teachers on low salaries with limited prospects. The management structure of kindergartens is flat, with one principal and one vice-principal at the top leaving little room for career progression.
Teachers and senior teachers have to wait many years until their seniors retire, for promotion. Establishing a separate salary scale for teachers holding bachelor's degrees, would retain them in the industry.
Nancy Lam maintains a salary scale in her kindergarten to ensure teachers' stability and morale. "As a conscientious employer, would I dare to abolish the salary scale for my teachers, who work long hours every day? Therefore, the turnover rate is low but I cannot promise what will happen in the years ahead."
Teachers find the abolition of the Recommended Normative Salary Scale unfair, compared to their counterparts in primary and secondary schools. There were calls for a mandatory salary scale for compliance by all kindergartens. Teachers' experience should also be recognized on transfers to other kindergartens.
The Report of the Committee on Free Kindergarten Education explains "rigid adherence to the aided schools' salary policy by kindergartens will actually hamper the stability of the teaching force. There might even be pressure for closure of some very small kindergartens in times of student population drop."
No standard pay
Despite the demand by teachers and unions, the new policy does not mandate a standardized salary scale that's binding on all kindergartens, like it is in public primary and secondary schools. Only a broad salary range - from HK$20,000 to HK$37,000 - has been suggested.
At least 60 percent of the basic unit subsidy must be used on teaching staff salaries and related expenses. However, kindergartens can apportion more of the subsidy to teachers' salaries. Lam said teachers' salaries should be reimbursed in full as they account for more than 70 percent of expenditures for many kindergartens.
The LegCo policy paper calls for competitive salaries rather than a mandatory scheme: "We recommend a pay range for each position with a boundary for kindergartens to set reasonable salary for their staff within the range. As compared to a mandatory salary scale in which teacher salary is determined solely in accordance with seniority, it is appropriate and fit for purpose to use a reference salary range which would ensure competitiveness and at the same time allow flexibility for the kindergarten management to decide on their staff remuneration, taking into account their teaching experience, performance, additional job duties, qualifications, and training and special skills etc."
According to the annual teacher survey conducted in September 2014, the average salary of teachers working full-time in kindergartens under PEVS was about HK$18,800.
"Under the new system, a kindergarten having more experienced teachers will have difficulty in operation," said Christine Choi Yuk-lin, convener of the Kindergarten Teachers' Salaries Concern Group.
Why only two-year grant?
The government will introduce a one-off time-limited tide-over grant for eligible kindergartens for two years, to provide additional financial support for eligible kindergartens, which have a large number of long-serving teachers who are receiving higher salaries.
Lam calls the two-year criteria unreasonable as kindergartens count three years as a cohort. "Teachers follow students from K1 to K3. Does it mean that teachers have to leave after two years? What to do with the students? Why can't the safety net be expanded to three years?" argued Lam.
Some kindergartens which are receiving full subsidy for rents now will see the subsidy reduced when the policy is in place.
About 22 percent of the kindergartens, which are renting private premises, will get a subsidy covering half of their rent, or 15 percent of the total student-per-head subsidy, whichever is lower. Among these kindergartens 30 are now receiving a full rental refund. The quantum of subsidy for these preschools will thus decrease when the policy comes into effect.
Cheung's kindergarten's rent bill leaves her limited resources to match teachers' salaries given in other kindergartens like Lam's.
"We try our best to catch up, but it all depends on the number of student enrollments, rental, and the subsidy given by EDB," Cheung remarked, adding that the pressure is heavier when the rental market rises.
From 2012, kindergartens under PEVS are required to employ a sufficient number of teachers possessing the Certificate in Early Childhood Education qualifications based on the teacher to pupil ratio of 1:15.
"It is the policy that can't keep up with our teachers, rather than our teachers not being able to keep up with the policy," stressed Christine Choi.
"Free education policy should not only be about students, but also the teachers. This so-called 15-year free education is really giving us a headache," said Lam.
Lam believes the sector is thriving, with more kindergarten teachers continuously improving their qualification and professional competence, but their hard work has to be recognized and honored with a decent pay.
(HK Edition 09/12/2016 page8)