A stitch in time
Updated: 2016-08-19 07:24
By Chitralekha Basu(China Daily)
| | | | | | | | | |
| --- | --- | --- | --- | --- | --- | --- | --- | --- |
|   | | Print | | Mail | | Large Medium  Small | 分享按钮 | 0 |
A defunct industrial building is being turned into a creative space where fashion designers will take cues from HK's textile history. Chitralekha Basu reports on the MILL6 project, whose highlights will be shared with the public this weekend.
Hong Kong's last textile manufacturing unit, Tai Hing Cotton Mill, ended its run not quite so long ago. The company joined a long line of manufacturing industries which have moved base from Hong Kong to more conducive climes - an exodus that began way back in the 1990s and have accelerated in the last few years as owners struggled to keep up with spiraling overheads. Just before they closed shop, the company found a new home for some of their machinery - veritable juggernauts weighing 2 tons each. These will be on show at the MILL6 art space in Tsuen Wan when it opens in 2018.
MILL6 is a 40,000-square-feet space that used to be the site of another defunct textile mill, owned by the Nan Fung group. It thrived in the 1970s and 80s, but moved to the Chinese mainland in 1990. In 2014 the owners decided to dedicate the space to memorializing Hong Kong's once prosperous textile history as well as channel the inspiration derived from the city's textile heritage to create anew. They have engaged curators, fashion designers, art historians, pattern-makers, writers and film directors to work out ways of putting conservation together with innovation in a happy marriage.
The project is not just about employing professionals though. The beauty of the MILL6 project is that what was once a commerce-oriented, mechanized, regimented workshop floor will soon turn into a space where a free flow of creative ideas is encouraged and the public has free access. A concerted effort is being made to involve the local community in Tsuen Wan - where 1970s-style stitching and altering is still followed in some of the vintage tailoring shops and a sense of community bonding prevails.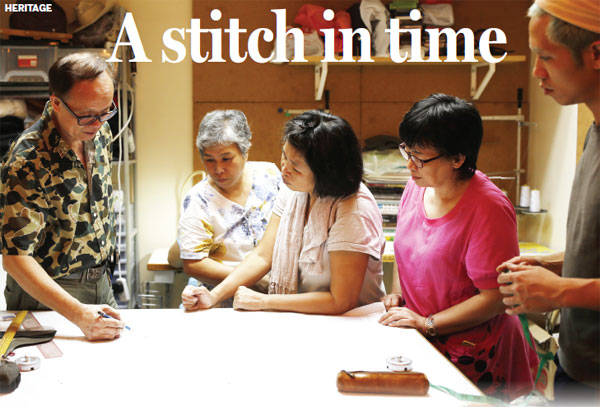 "I call it co-learning," says Angelika Li, director of MILL6 Foundation. She mentions how the young members of the Boys' and Girls' Clubs Association of Hong Kong, who come from marginalized communities, are working with professionals from Hong Kong House of Literature to collect oral histories of people with experienced or inherited memories of Hong Kong's textile history. They usually meet in a renovated traditional market space at Hau Tei Square in Tsuen Wan for recording the interviews, she informs. There is still a ventilation problem, but not big enough to distract from the magical tales of Tsuen Wan's repositories of textile lore.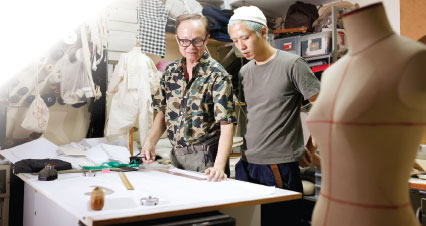 "Tsuen Wan contains one of the roots of textile industry in Hong Kong," says Li. "Before we open in 2018 we need to start building these communicative platforms. I totally see this project as a community research."
Things to see and do
Those interested in Hong Kong's textile heritage will get a taste of what MILL6 is about through a series of events planned this weekend. Collectively being called MILL6 Warm Up, the activities will include sharing research, fashion-themed performances by differently abled children and a sewing race among several others.
Young fashion designer Hung Ming-kin will pair up with a veteran pattern master, Cheung Chi-mou, to give a demonstration, based on what Li calls "inter-generational dialogue" but is also about sharing across cultures. Hung trained in Japan, in a largely Western tradition, but is keen to demonstrate an ethos that he feels is closest to the spirit of Hong Kong. "Mixing Oriental and Western cuts is very Hong Kong. It's about mixing our Chinese tradition with our colonial heritage," says Hung.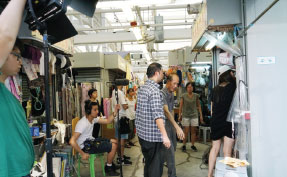 Students of Ying E Chi shot the film about a day in the life of a seamstress on location at Yen Chow Street hawker's market in Sham Shui Po.
Both Hung and Cheung believe sewing is not necessarily a professional's job. Cheung will try to teach people with no background in tailoring how to draw a basic template for making a shirt, which with a few variations could just as well be used to cut a vest or a dress. "I hope I am able to pass on the knowledge to people who might like to try making a shirt for a loved one as a hobby. I am interested to see how we can learn together," says Cheung.
The sense of building together is evident in the short film, The Ordinary Day of Hing, created by the students of Ying E Chi. It will be screened at a cha chaan teng in Hau Tei Square this Saturday, followed by a discussion with its makers. The story of a middle-aged laid-off garments factory worker who finds an alternative means of livelihood by working at altering and repairing clothes from her cubicle at the Yen Chow Street Hawker Bazaar in Sham Shui Po was developed collectively. The team took several field trips, conducted exhaustive research, followed by brainstorming sessions before they could come up with a workable script.
The film carries a message for those who care for Hong Kong's past. If the government's plan to pull down the hawkers' market to make way for housing comes through, a part of Hong Kong's textile heritage will die with it. Demolishing that structure will bring the practice of traditional craftsmanship to an end besides breaking up the community, says Wong Sze-mei, who co-directed the film and was also part of the script-writing team. "We want to underscore the value of textile culture and heritage and its relation to the community which are still very important to us today," she adds.
Vincent Chui, artistic director of Ying E Chi, who mentored the young filmmakers, however, was struck by the extraordinary resilience shown by some of the laid-off textile factory workers, whose lives inspired the character of the film's protagonist played by Hui So-ying, the star of Allen Fong's 1983 film Ah Ying. "While the movement of the textile industry to the mainland was perhaps inevitable, the tailor in the film managed to find an alternative and sustainable source of livelihood in Hong Kong," he points out.
Indeed, the textile heritage of Hong Kong is not just a legacy but also its continuation and the MILL6 project, as its director Li says, "is about weaving all of that together".
(China Daily 08/19/2016 page1)