When food trails tourists
Updated: 2016-08-10 07:34
(China Daily)
| | | | | | | | | |
| --- | --- | --- | --- | --- | --- | --- | --- | --- |
|   | | Print | | Mail | | Large Medium  Small | 分享按钮 | 0 |
Hong Kong government's plan to lure visitors with local cuisine will soon have a test run. Honey Tsang examines how food trucks positioned at strategic points might help boost tourism.
Gavin Chan Chi-wah spent the last three months in the kitchen, trying to develop a new burger recipe. Chan is among the chosen 16 who will participate in the inaugural edition of the Food Truck Pilot Scheme - a two-year pilot plan announced by Financial Secretary John Tsang Chun-wah in 2015-16 Budget, expected to start running by the end of the year to early 2017 at the soonest.
The idea is to re-invent Hong Kong cuisine with a dash of quirkiness while keeping an eye on quality as part of a larger program to boost local tourism.
The off-the-wall Hong Kong element is easy to identify in Chan's burger, a winning entry of the scheme. It contains a substantial succulent pork chop with a sunny-side-up egg on top, layered with caramelized onions, and placed in a crumbly, not-too-sweet pineapple bun. The ultimate clincher is of course the swirl of char siu sauce, commonly used to add flavor to barbecued pork in Cantonese dishes. Evidently, it struck a chord with the jury, and will, doubtless, with many longtime Hong Kong residents.
Chan, 35, owns a fast-casual burger joint in Kowloon City. He will soon get his food truck rolling and start selling his newly developed product from its windows. He doesn't see the truck as an extension of his brick-and-mortar restaurant. "I want to hit the streets, and bring the locals and tourists a memorable dining experience, with a menu featuring slightly tweaked versions of Hong Kong staples which I think is delectable," Chan said.
For a while food critics in the city have been complaining that eateries serving traditional local food had lost some of their sheen.
As Brian King, associate dean of School of Hotel and Tourism Management at Hong Kong Polytechnic University (PolyU), told China Daily: "The sky-high rents in Central and other localities have crowded out a lot of small scale authentic food offerings and produced a standard 'international' offering which is less charming."
Chan and his co-winners are ready to shun the sit-down dining format and serve their innovative dishes out of 16 trucks, hoping to restore some of the lost glory of local cuisine.
"Well the timing is certainly auspicious," said King. "With luxury retail now in decline, it's timely to introduce innovative (food truck) concepts and especially those offering local, authentic dining experiences.
Testing waters
Chan and his fellow participants are in the middle of hectic activity, trying to adapt to a new business model. He admits he had not quite imagined the volume of work it would take him before his food truck was ready to roll. The job entails paying attention to several different things, all at once - from drawing up a menu, to dressing up the truck, to very basic logistical matters, such as loading and unloading. Learning to manage the nitty-gritty of operating a truck service has not been easy.
The founder and Chief Executive of Hong Kong Food Truck Association (HKFTA) Simon Chung, who is also a consultant with several food truck vendors of the scheme, calls the winning applicants "pathfinders" of a local food truck movement.
Chung is often credited with bringing the food truck concept to Hong Kong in 2014. For several years Chung lived in Los Angeles, considered as the birthplace of haute food truck cult. And then it struck him the food truck concept could be especially suitable for Hong Kong, where eatery owners struggle to cope with the ever-rising rents.
Setting up a food truck business requires less investment than starting a conventional eatery, or even takeout joints. Ricky Cheung Kam-cheung, a renowned French cuisine chef in Hong Kong, says prospective entrepreneurs who feel they lack the business acumen to run brick-and-mortar restaurants might still be willing to give the food truck model a go, as there is less risk involved.
A food truck, excluding the engine, costs between HK$350,000 and HK$400,000, according to Chung. Chan contends the whole thing will cost him at least HK$500,000.
For big enterprises, a food truck is more of a marketing tool than a lucrative business, asserts Chung. However, small vendors will have to work hard and whole-heartedly to make a success of the food truck model, he adds.
"I don't see the food truck scheme as a money machine. In the worst-case scenario, I might even end up paying from my own pocket to cover the losses," says Chan, even as he is making every effort to prevent such an outcome.
Discovery trail
Unlike the practice in the United States, food truck vendors in Hong Kong are prohibited to do business in parking areas, or conduct business across districts. They are allowed to operate in eight locations - Hong Kong Disneyland, Ocean Park, Golden Bauhinia Square, Central Harbourfront Event Space, Salisbury Garden, Tsim Sha Tsui Art Square, Energizing Kowloon East, and Wong Tai Sin Square - on a rotation basis.
One of the ways food truck vendors could help promote tourism is by operating around relatively less-known tourist spots and those with tourism potential. When tourists put food trucks on their itineraries, they might be encouraged to seek out the less familiar destinations of the city, says King of PolyU. More importantly, the presence of food trucks might give tourists one more reason to visit Hong Kong, he adds.
"Just as the image of the Star Ferry or the double deck trams are emblematic of Hong Kong, there is a chance that food trucks could emerge in the same way," added King.
Hong Kong government's food truck program is more than just a tourist scheme, says King. It is a culture which should be able to take root in the local community, he adds. For it to create a real buzz, Hong Kong people should embrace the concept and see the food truck as a part of their lives, suggests King, adding such a trend was likely to attract curious foodies from outside of the city to check out the meals that the locals eat.
One way of gaining popularity, as Simon Chung of HKFTA suggests, is that the food truck vendors should be warm and hospitable not just toward customers, but to restaurateurs as well. This is to broaden their client base and avoid any unwanted resentment in the dining industry.
As the countdown begins for his food truck to hit the road, Chan is busy trying to reduce the time spent rustling up a burger to less than six minutes. "We can't have patrons waiting on the streets, just for a burger," said Chan.
"I hope the scheme could live up to the expectations it has generated and help promote the local food items that seem to be of niche interest," said Chan. "I will play my part in elevating the status of the humble burger so that tourists might spread the word back home."
Contact the writer at honeytsang@chinadailyhk.com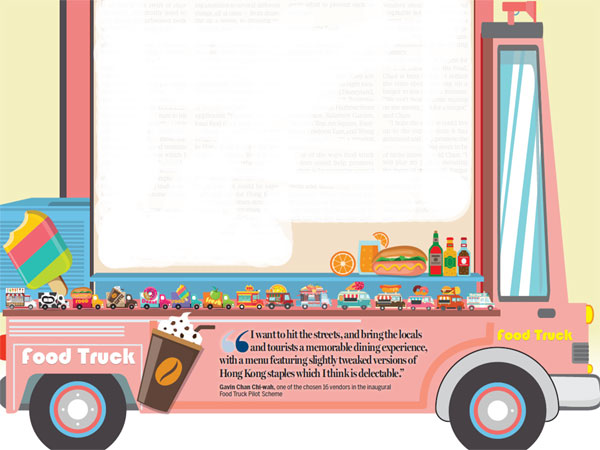 (China Daily 08/10/2016 page9)