Air pollution is taking a serious toll on society
Updated: 2016-07-19 07:21
By Fung Keung(HK Edition)
| | | | | | | | | |
| --- | --- | --- | --- | --- | --- | --- | --- | --- |
|   | | Print | | Mail | | Large Medium  Small | 分享按钮 | 0 |
Air pollution has caused 821 premature deaths in Hong Kong in the first half of 2016. It is time the government adopted measures to prevent more premature deaths in our beloved city.
The premature deaths data were collected by the Hedley Environmental Index, published by the School of Public Health, the University of Hong Kong.
The Clean Air Network, a concerned green group in the city, said in mid-July that concentrations of nitrogen oxides in the air in the city have consistently surpassed maximum safe levels set by the World Health Organization (WHO) in the last five years. In its mid-year review, Clean Air Network said the average roadside emissions of nitrogen oxides in the city's three business districts (Central, Causeway Bay and Mong Kok) were 2.5 times higher than WHO standards.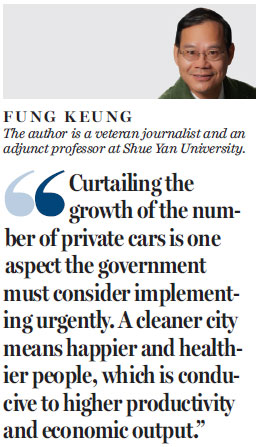 In 2015, a total of 50,322 private cars were newly registered with the Hong Kong government, up 8 percent from 46,636 in 2014, according to the Transport Department's latest statistics.
It is a no-brainer that emissions from vehicles are the major source of air pollution in Hong Kong. There have been calls for the government to limit the number of private cars and other vehicles in the city. Sadly, the relevant authorities have dragged their feet. One can't help but think that the upper- and middle-class people who can afford to own cars are being favored.
Setting up electronic road pricing systems in busy districts such as Central and Mong Kok will definitely discourage some drivers from driving to work in those areas. Instead, they would take public transports including buses and the MTR. Unfortunately, nothing has been done to discourage citizens from driving to work.
For instance, quadrupling private cars' annual registration fee also would make some middle-class people think twice about owning cars. The move could also increase the government's revenue, which in turn could be used to enhance medical facilities such as by setting up more hospital beds.
The Hedley Environmental Index estimated that a total of 23,378 doctors' visits at government clinics and hospitals were required due to pollution-related diseases on July 10, 2016, about three times the 7,735 visits recorded on July 15, 2015. Meanwhile, the visits cost the government HK$19.8 million on July 10 alone - up more than 200 percent from HK$6.13 million a year earlier, according to the Hedley index.
Construction of buildings and infrastructure projects never ceases in Hong Kong, a vibrant and fast-moving city. Construction work inevitably fuels pollution in the city. Fuel used by vessels in the Victoria Harbour also causes pollution. The government also needs to tighten environmental protection regulations in these two areas.
In short, it is imperative for the government to take swift and bold actions to control air pollution in the city and save precious lives. Curtailing the growth of the number of private cars is one aspect the government must consider implementing urgently. A cleaner city means happier and healthier people, which is conducive to higher productivity and economic output.
(HK Edition 07/19/2016 page10)