Entrepreneur offers ways to make corporate social responsibility work
Updated: 2016-07-01 07:47
By Sonia Awale in Hong Kong For China Daily(HK Edition)
| | | | | | | | | |
| --- | --- | --- | --- | --- | --- | --- | --- | --- |
|   | | Print | | Mail | | Large Medium  Small | 分享按钮 | 0 |
Shalini Mahtani's Zubin Foundation aims to promote racial integration, patient care, and special education for non-Chinese-speaking children in Hong Kong
Despite good intentions, corporate social responsibility (CSR) has often become a euphemism for private companies to carry out token acts of generosity. But not for social entrepreneur Shalini Mahtani, who lives it every day.
Mahtani, former CEO of the non-profit Community Business and initiator of the Zubin Foundation, was at the Hong Kong Foreign Correspondents' Club one recent afternoon discussing her latest project: HospitalAdvisor, a platform that allows patients to share hospital experiences.
Launched in May, HospitalAdvisor is the first website of its kind for user-generated data on the quality of care and service in Hong Kong hospitals, making it easier for other patients to make informed choices about the right hospital to go to.
"We have surveys and data for which phone to buy, the best university, and so on. But our lives depend on hospitals and yet there is no information about them," Mahtani explained.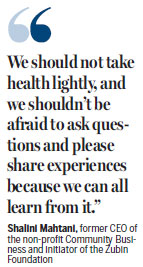 At Community Business, Mahtani advised companies on making CSR more effective. But when her 3-year-old son, Zubin, died suddenly in 2009, she left it to set up Zubin Foundation with help from friends and work on three issues: Racial integration, patient care, and special education for non-Chinese speaking children in Hong Kong.
"It was very sudden. Zubin was a healthy child with no preexisting condition. On Friday he got sick and on Sunday he died," Mahtani remembered, her voice breaking and eyes tearing up. "But I wanted to make sure that if I am to exist without my child, life has to be meaningful, but even that word isn't strong enough."
Social discrimination
All three issues that Zubin Foundation works on are problems Mahtani has herself faced as a Hong Kong-born daughter of Sindhi immigrants from India. She has had to live with discrimination all her life, face challenges of being non-Chinese in Hong Kong, and a lack of information about medical care.
"I have witnessed first-hand discrimination because of my color, my gender," says Mahtani, whose family has been in Hong Kong since 1911 and are the founders of Harilela Group. "I saw injustice in my personal life as a woman, and as a brown person in corporate Hong Kong and it's blatant."
Mahtani says she has faced racism in Hong Kong and in Britain, but of different kinds.
"In England where I lived three years I was treated horribly only once and was extremely hurt, but in Hong Kong there are slights every day," she says. "In London it was like being punched. In Hong Kong it is lots of small blows, and that is worse than one big racist slur in three years."
Hong Kong is called "Asia's World City", but even some long-term residents say they have experienced discrimination. The city's Equal Opportunities Commission deals on a daily basis with complaints from ethnic minorities of racism.
There have also been stark reminders of xenophobia, particularly at mainland visitors and students by Hong Kong locals. In addition, women still face discrimination in the workplace and unequal pay. There is also the ostracism of people with disabilities and on account of their sexual orientation.
Mahtani believes a lot has changed in Hong Kong over the years; it is more inclusive toward women now, but being brown is still very hard. "There are times you're called 'cha mui' and denied a job because you're not Chinese," she says, her eyes wide with surprise and irritation. "But Hong Kong is my home."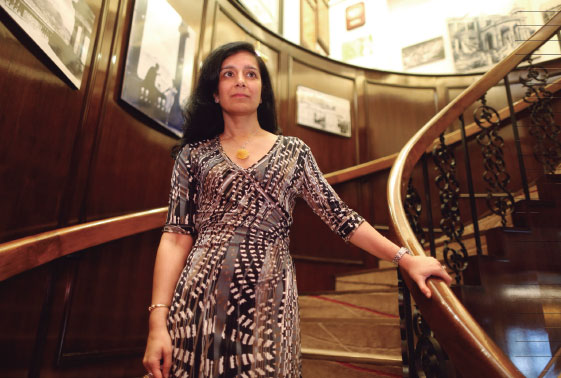 Shalini Mahtani, former CEO of the non-profit Community Business and initiator of the Zubin Foundation, launched HospitalAdvisor, a platform that allows patients to share hospital experiences. Photos by Roy Liu / China Daily
At age 13, Mahtani went to India for the first time, and seeing the grinding poverty in the land of her forebears was transformative. It shaped her thinking about social injustice, inequality and neglect.
"There were girls my age who were half naked, their mothers with babies at their breasts begging on streets," recalls Mahtani, indignation in her voice.
"For me it was totally unacceptable. A developed society isn't one that is just materially wealthy, but also one morally enlightened and I wondered how a society could accept that level of poverty."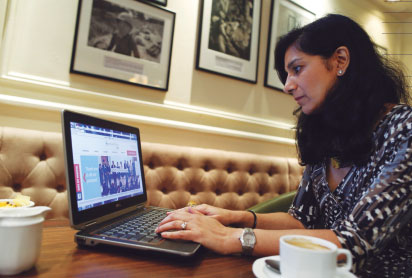 Shalini Mahtani, descendent of an immigrant family from India, said she has witnessed first-hand discrimination because of her color and gender.
After graduation from the London School of Economics, she returned to Hong Kong and became an accountant and then a banker. But her true passion was always to serve, so in 2002 she set up Community Business which helped large companies with social responsibility, and promoted diversity and inclusion among staff.
She found out that half of Hong Kong's workforce was made up of women, but less than 9 percent were at board level. The workforce also had negligible participation of disabled and sexual minority people.
It was a challenge for Community Business to convince corporates in Hong Kong to be more inclusive of women and minorities at senior positions. But Mahtani persevered and was recognized with various awards and titles, including the Order of the British Empire in 2008.
Mahtani has continued her push for greater inclusion in Hong Kong with the Zubin Foundation, which has drawn up the Race for Opportunity-Diversity List 2016 that contains 16 members of ethnic minority groups to be represented in government committees. Ethnic minorities make up less than 2 percent of the membership of various government committees in Hong Kong.
The Zubin Foundation called for applications and came up with 60 candidates who were screened by executive search consulting firm Spencer Stuart and installed in March. Mahtani is glad that Chief Secretary Carrie Lam Cheng Yuet-ngor was very supportive of the initiative.
New project
Zubin Foundation's latest project is HospitalAdvisor, and this was a direct outcome of Zubin's death, when Mahtani realized that patients and families do not get necessary information about hospitals and doctors.
"We should not take health lightly, and we shouldn't be afraid to ask questions and please share experiences because we can all learn from it," urges Mahtani, explaining that the HospitalAdvisor intends to empower patients so that they can make more informed decisions about hospital care and to celebrate hospitals that put patients first.
The platform is available in English, traditional Chinese and simplified Chinese. Patients are asked to answer a total of 23 questions, nine of which are personal, 15 about quality of care, and two open-ended queries about their overall experience.
Three private hospitals have so far agreed to be a part of the platform, and get notifications from HospitalAdvisor about the review and have a choice of responding to them. In less than a month that the site has been online, there have been more than 500 registrations.
Mahtani says the inspiration for HospitalAdvisor came to her while she was at the Harvard Kennedy School's Global Leadership and Public Policy in the 21st Century event where a professor spoke about how a hospital measured its "outcome". Returning to Hong Kong, she found it difficult to locate hospital-related data, and even when the information was available it was too hard to understand.
Then, in 2015 Mahtani was at the World Economic Forum in Davos where health ministers from around the world talked about the goal of "patient-centered care" in which patients themselves are actively involved in healthcare decisions that affect them.
But such involvement isn't possible without the means to share information about hospitals and their level of care. Mahtani decided that if she couldn't get data from hospitals, she could get it from patients who could share their experience.
Patients are asked specific sets of questions like "Did you see the hospital doctors wash their hands before attending to you?", "Did the nurse explain clearly how to use discharge medication when you left the hospital?", "Did the doctor give you enough time to ask questions about your healthcare?"
At Harvard Mahtani learnt that positive answers by patients to these questions had a correlation to the readmission and mortality rate of the hospitals which tended to be 3-4 percent lower than others.
The Harvard Global Health Institute developed a set of questions. The Zubin Foundation worked with Janice Mary Johnston from the School of Public Health at the University of Hong Kong, who validated them at public and private hospitals before launching the platform in May.
Mahtani says that although being a mother is her biggest achievement in life, losing a child has left a gaping hole that will probably never be filled. However, she has turned a deep personal tragedy into meaningful work not only to upgrade the quality of healthcare but to help minorities overcome injustice and discrimination.
To strengthen her commitment to carry on her work, Mahtani reminds herself of what her grandfather once told her: "The most important thing you can do is give back to the community. Nothing else matters at the end of your life, what matters is the lives you have touched."
(HK Edition 07/01/2016 page9)