Recession fears mount amid slowdown in SAR's economy, global uncertainties
Updated: 2016-05-24 07:06
By Oswald Chan in Hong Kong(HK Edition)
| | | | | | | | | |
| --- | --- | --- | --- | --- | --- | --- | --- | --- |
|   | | Print | | Mail | | Large Medium  Small | 分享按钮 | 0 |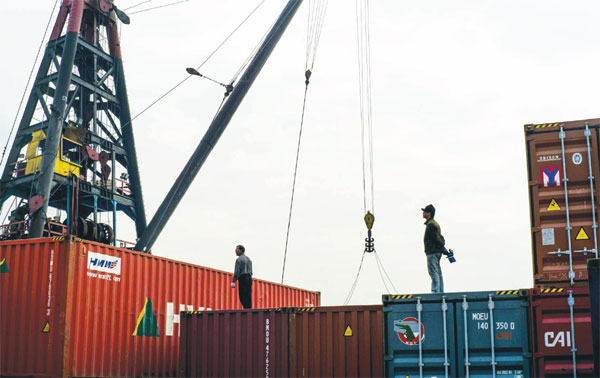 Hong Kong's total goods exports in the first quarter of 2016 declined 3.6 percent in real terms from a year earlier, while services exports dived 4.9 percent due to the sharp fall in tourist arrivals and weaker visitor spending. David Paul Morris / Bloomberg
Hong Kong runs the risk of sliding into recession this year with a host of factors that's not conducive to continued economic growth, economists have warned, citing fundamental structural flaws in the city's export trade, consumption market and property sectors.
To start with, the SAR's gross domestic product (GDP) growth rate in the first quarter of 2016 year unexpectedly contracted 0.4 percentage point from the previous quarter, while the local economy expanded by a meager 0.8 percent on a yearly basis, marking the slowest annual growth in four years.
The government attributed the anemic growth to sluggish external demand and fragile local consumption sentiment.
For the same period, Hong Kong's total goods exports declined 3.6 percent in real terms from a year earlier, while services exports dived 4.9 percent due to the sharp fall in tourist arrivals and weaker visitor spending.
"The external environment deteriorated during the quarter, characterized by subdued global growth and sharp gyrations in global financial and monetary conditions, leading to a deeper setback in both goods and services trade," Andrew Au, the government's principal economist, said earlier this month.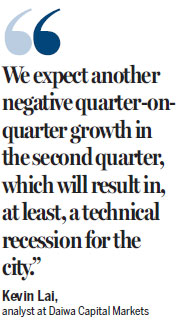 At the same time, domestic demand is increasingly being negatively impacted by an austere economic environment globally.
Private consumption expenditure saw a mild 1.1 percent year-on-year rise in the first quarter, while investment expenditure tumbled 10.1 percent over a year in the review period.
"Uncertainties surrounding global economic prospects and financial market volatility have been weighing on consumer confidence and hence spending," Hang Seng Bank Acting Chief Economist Thomas Shik said.
"With personal consumption expenditure accounting for about two-thirds of GDP, slowing consumption would likely mean less support for overall GDP growth this year, compared with last year," he said.
Hong Kong-based Hang Seng Bank expects local economic growth to be at 1.8 percent for 2016 - down from last year's 2.4 percent.
Besides volatility in the financial markets, faltering retail sales arising from plunging mainland tourist arrivals have dented economic growth prospects.
The city's total value of retail sales dived 12.5 percent in the first quarter this year from a year ago, while mainland visitor arrivals plummeted 15.1 percent year-on-year to 10.42 million in the same period.
Investment bank CLSA reckons that Hong Kong will be a notable loser in attracting mainland tourists although mainland visitors' thirst for outbound travel is expected to continue in the next few years. The brokerage firm expects the number of mainland outbound tourists to swell to 200 million by 2020.
In a research report in April, CLSA again slashed the compound annual growth rate (CAGR) of mainland tourists in Hong Kong for the next four years. The CAGR from 2016 to 2020 is estimated to slow down further from 2 percent to a negative growth rate of 0.7 percent.
"We expect Hong Kong's retail sales to face stiffer headwinds as tourist spending is likely to remain weak on the slowdown in inbound tourism," a Bank of America Merrill Lynch report said late last year.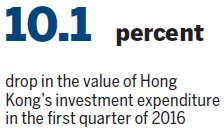 "Domestically, the weakness in inbound tourism is likely to spill over to employment in travel-related sectors, and this could weigh on local consumer demand," the report warned.
The SAR's jobless rate for the period from February to April this year stands at 3.4 percent - the same as that for January to March.
The subdued property sector is another factor that could dampen local private consumption and investment following the rapid rise in homes prices in the past few years.
US-based credit rating agency Moody's Investors Service warns: "US interest-rate hikes will increase the potential for a local property price correction (through escalating households' debt servicing burdens) that would hurt private consumption and investment, and create financial stability risks (in Hong Kong)."
Local real estate prices in March slumped 13 percent from a historical peak registered in September last year, whereas homes sales tumbled to a 25-year low in February amid economic uncertainties.
If property prices continue to fall, it's expected to aggravate dwindling domestic consumption as the number of negative equity mortgages has seen a dramatic rise in the city. Investment bank Goldman Sachs had earlier forecast that Hong Kong property prices would plummet a further 20 percent this year as borrowing costs surge through 2016.
The number of Hong Kong people with apartments worth less than their mortgages in the first quarter of 2016, or having fallen into negative equity, soared 15 times to 1,432 with a total value of HK$4.9 billion, compared with 95 such homes loans worth HK$418 million in the previous quarter, the Hong Kong Monetary Authority said late last month.
Daiwa Capital Markets has said Hong Kong could slip into economic recession later this year.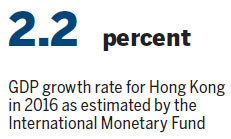 "We've decided to trim our (Hong Kong) economic forecast) to 0.4 percent for 2016 (from the original 1.2 percent forecast) and minus 0.5 percent in 2017 (from an earlier 1 percent forecast)," said Kevin Lai, an analyst at Daiwa Capital Markets.
"We expect another negative quarter-on-quarter growth in the second quarter, which will result in, at least, a technical recession for the city."
"The dollar peg prevents any natural currency adjustment. The domestic economic deterioration would create a perfect 'storm' in Hong Kong, whereas the end result for Hong Kong is most likely a multi-year debt deflation," Lai warned.
Hong Kong saw a severe and prolonged period of deflation from late 1997 to the end of 2004. The fall in consumer prices was mainly due to the 1983-established linked exchange rate system, which scrapped an independent interest rate policy for Hong Kong to fine-tune macroeconomic changes.
The International Monetary Fund (IMF) has also trimmed its economic growth forecast for Hong Kong - from 2.7 percent it made in October to 2.2 percent although it's higher than the government forecast of 1 to 2 percent announced in the 2016-17 Budget in February.
As part of a "Regional Economic Outlook" report for Asia Pacific economies, including the Chinese mainland and Hong Kong, IMF's resident representative in Hong Kong, Sally Chen, said earlier this month: "Hong Kong has a strong financial position and buffers, including a strong banking system, and its openness will bring benefits to the local economy."
oswald@chinadailyhk.com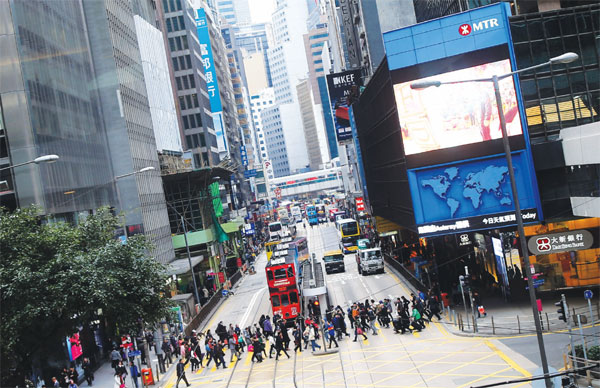 Some consulting groups and financial institutions have dialed back their forecasts of Hong Kong's economic growth for 2016, due to sluggish external demand, fragile local consumption sentiment and uncertainties surrounding global economic prospects and financial market volatility. Edmond Tang / China Daily
(HK Edition 05/24/2016 page9)