The presence of mainland police in Europe is a lesson for Hong Kong
Updated: 2016-05-11 08:37
(HK Edition)
| | | | | | | | | |
| --- | --- | --- | --- | --- | --- | --- | --- | --- |
|   | | Print | | Mail | | Large Medium  Small | 分享按钮 | 0 |
Most Hong Kong people may not be aware that mainland police officers almost went on patrol in the streets of Paris in 2014 to help tourists from China, before starting to patrol the streets of Rome and Milan in Italy earlier this month.
The two Italian cities are "must" destinations for the 3 million-plus Chinese tourists who visit Europe every year, and the officers' presence has proved very helpful. They provide directions and aid of various kinds to countrymen who are lost or face other problems. Italian Police Chief Alessandro Pansa has hailed the breakthrough in law enforcement collaboration between different countries, saying: "This is a cooperative project which would have been unthinkable a couple of years ago, even between European police forces."
Unthinkable indeed! I just tried to imagine what would happen if one day we saw mainland police officers patrolling the streets of Mong Kok alongside members of the Hong Kong police. I am sure we would be deafened by the thunderous vocal objections of the "pan-democrats" and the so-called "localist" and "indigenous" groups screaming blue murder, followed by violent street demonstrations, with some of them shouting: "Over my dead body!"
So why don't Italian citizens and politicians object to Chinese police officers patrolling the streets of their biggest cities, a popular initiative so welcome that it will be extended to other cities in Italy? Why is no one in Italy seeking a judicial review about how it contradicts Italy's constitution?
I am equally astonished that the usually vigilant local media have never asked our normally vociferous politicians for their views on this unprecedented yet obviously successful European experiment affecting visiting Chinese tourists. It would be most enlightening to hear their response.
These developments in Italy clearly reflect the absurdity of the "pan-democrats'" strong opposition to any proposed co-location arrangement for the forthcoming Guangzhou-Shenzhen-Hong Kong Express Rail Link.
When a European country can allow mainland police officers to patrol their streets and offer help to Chinese tourists, it automatically means that those police officers enjoy the right to take law enforcement action on another country's soil if the circumstances make this necessary. For example, if they see someone picking the pocket of a Chinese tourist, surely they will alert the local police officers also on duty at the scene so that together they can jointly chase after the criminal and try to apprehend him.
So now we come to the question of why Italy can take such a pragmatic attitude while in Hong Kong some blinkered legislators focus on the narrow print of the law to object most strongly to the co-location arrangement.
In the fast-moving world of today, law enforcement has no borders, because crime has no boundaries. Hardened criminals fly in one day, strike suddenly, and are soon aboard the Airport Express and within hours have escaped by jetliner with their loot. To counter these cross-border crimes, law enforcement agencies rely on mutual assistance. Today in Europe, for example, you can find police officers crossing borders to assist each other in crime investigation, anti-smuggling and anti-terrorism operations. Therefore the cooperation between Italy and China will be a model for many other countries in the future.
The co-location arrangement is really another example of cross-border law enforcement cooperation and should be viewed as such. Hence if Hong Kong's "pan-democrats" could take a macro view of the world around them, they would surely find many such examples of multi-national law enforcement cooperation in the form of one-stop border posts: Malaysia/Singapore; UK/France; UK/Belgium, US/Canada and so on.
In none of the above cases has anybody come forward to lodge a complaint over a constitutional issue.
Another example that already exists concerns Hong Kong disciplinary officers is the Shenzhen Bay Control Point, where Hong Kong Immigration and Customs officers are stationed at the Shenzhen post to carry out the customary border checks. This is made possible through a resolution from the National People's Congress Standing Committee authorizing Hong Kong officials to exercise their law enforcement functions in a piece of restricted area on the mainland. This has been the long-established practice since 2006 and so far has encountered no problem at all - so why can't the reverse be done?
The most important consideration for the co-location arrangement is surely the convenience of commuters. With very large numbers of commuters traveling to and from the mainland every day, I sincerely hope that they will stand up and raise their voices against the absurdity of the "pan-democrats", whose sole intention is to discredit the central government and the SAR government for their political gains - in the end sacrificing the convenience of all commuters. I sincerely hope that this large group of our "silent majority" will come out to vote in the September election to make their voice heard.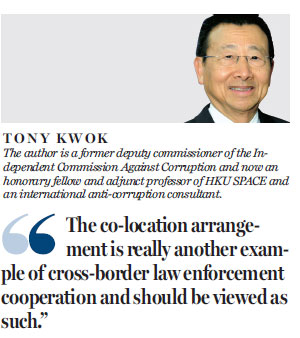 (HK Edition 05/11/2016 page10)