Greater transparency needed in higher education circles
Updated: 2016-05-06 06:45
By Fung Keung(HK Edition)
| | | | | | | | | |
| --- | --- | --- | --- | --- | --- | --- | --- | --- |
|   | | Print | | Mail | | Large Medium  Small | 分享按钮 | 0 |
The recent revelations that some local universities have secretly established companies in tax havens such as the British Virgin Islands point to the need to strike a balance between academic freedom and financial transparency.
The University Grants Committee (UGC), which provides government funding to, and supervision over, publicly funded universities in the city, must walk a fine line between allowing local universities to be administratively independent but financially accountable to the supervisory agency. Citizens will welcome tighter supervision of local universities.
Nobody is accusing the UGC of dereliction of duty. But it seems that closer scrutiny over local universities' finances is desired. In recent years, most of the eight government-funded universities in Hong Kong have launched numerous self-financing degree courses and they have reaped huge profits from these operations. Some might hide such profits in private companies registered in offshore tax havens. The media have reported that these offshore companies don't even appear in the universities' financial reports. Their secrets would remain unknown if not for the disclosure of the so-called Panama Papers recently.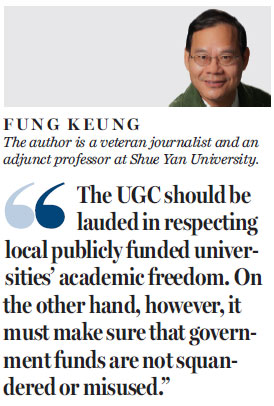 According to reports carried by the local media, Hong Kong Polytechnic University, University of Hong Kong and Chinese University of Hong Kong have all established companies in the British Virgin Islands. Nobody is accusing them of sheltering profits in these offshore private companies. However, many citizens are quite curious as to why public universities need to establish companies in tax havens. It might be legal for local universities to form private companies in tax havens but morally, they owe the public an explanation.
The UGC should be lauded in respecting local publicly funded universities' academic freedom. On the other hand, however, it must make sure that government funds are not squandered or misused. A gray area remains that universities' privately run self-financing programs or courses are using facilities in the universities such as classrooms and libraries. The UGC must ensure that such privately run programs are compensating the government for using publicly funded facilities.
For the universities to come clean, it is desirable that they allow the UGC to inspect the books of their secretly established companies in offshore tax havens. The UGC must also make sure the self-financing programs of local universities are paying the government for using university facilities.
If the universities' accounts in offshore tax havens cannot be touched by the authorities, it could lead to mishandling, and perhaps corruption, of earnings from self-financing programs. It is no secret that some university administrators and educators use these funds for vacations or training programs overseas. Such usage definitely requires closer oversight.
In a nutshell, the UGC is well-advised to play a more active role in inspecting universities' private companies formed in offshore tax havens to ensure there is no improper conduct or misuse of funds, irrespective of the sources. The universities, meanwhile, should be more transparent in informing the UGC and the public how much money they have stashed away in companies in tax havens and whether they are using government funds appropriately. Universities should try not to give the public an impression that they behave like "little independent kingdoms".
In Hong Kong's higher education circles, more transparency is clearly required.
(HK Edition 05/06/2016 page10)